Kakashi Hatake is one of the strongest ninjas and the mentor of the young ninja team. I would like to show you how to draw Kakashi eyes.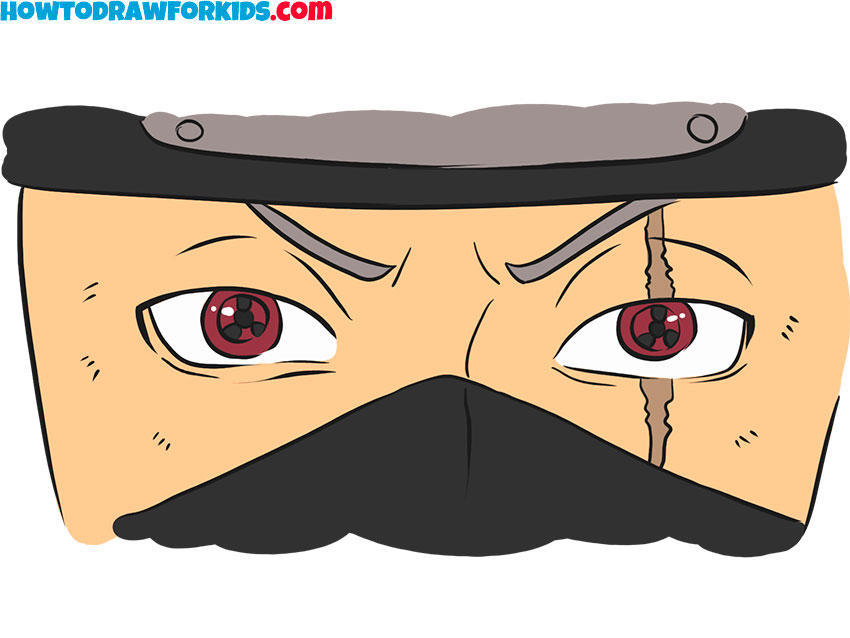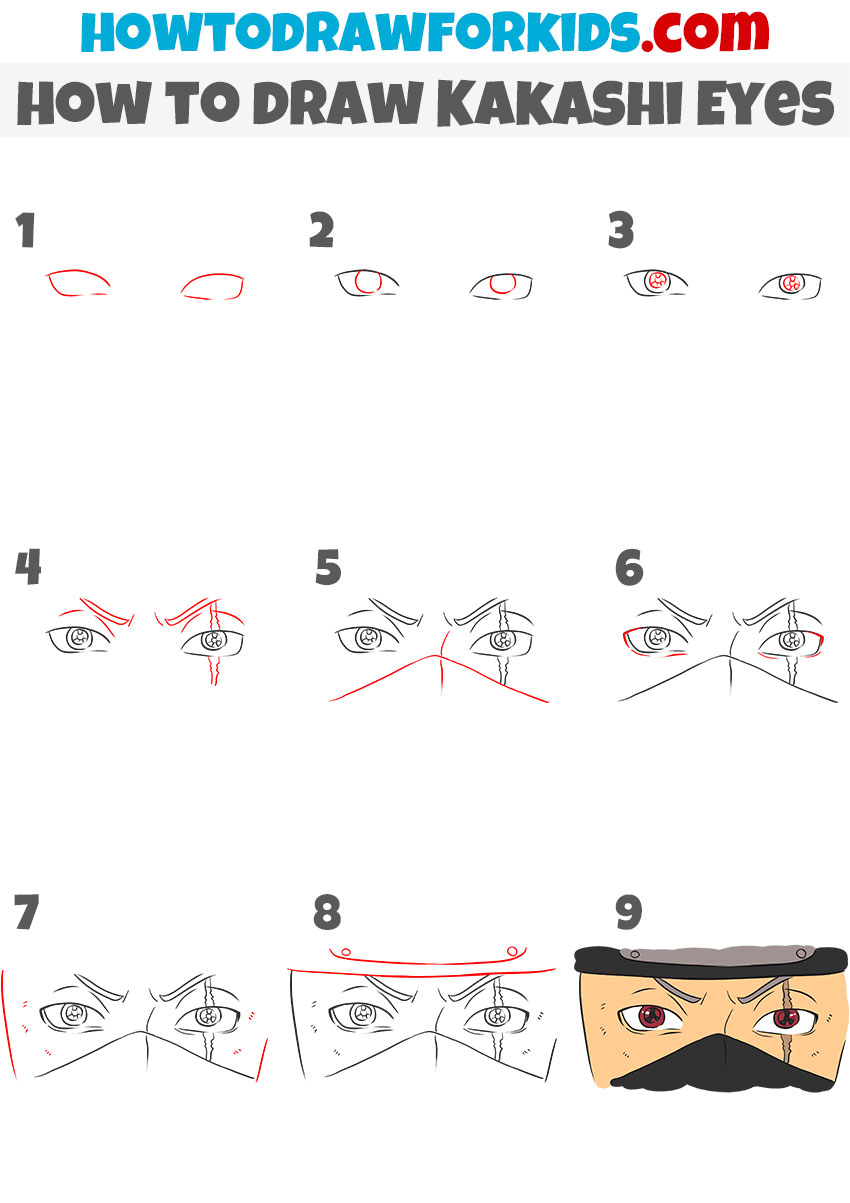 Now you will learn how to draw Kakashi eyes. Kakashi Hatake is one of the most powerful ninjas. This is a popular character in the manga, and later Kakashi becomes a hero of anime series and video games. Kakashi is the mentor of the young ninja team.
Immediately this character is presented as dispassionate and indifferent, but further such character traits as devotion to his friends and students are revealed. Kakashi pays great attention to mutual assistance and teamwork. He is fluent in martial arts, has great strength, agility, and quick reaction.
Kakashi lost his left eye in a fight with an enemy ninja, but a dying friend donated his own eye to Kakashi. In this tutorial, you will only be drawing part of the face, because Kakashi constantly wears a mask that covers the lower part of his face. In the drawing, the ninja looks very formidable and focused.
Kakashi eyes drawing tutorial consists of a few simple steps that you can easily follow. There are no unnecessary elements and complex lines here, so you will quickly complete this tutorial.
So, get ready to step by step through this task.
Materials
Pencil
Paper
Eraser
Coloring supplies
Time needed: 17 minutes
How to Draw Kakashi Eyes
Depict the eyes.

Determine the location and size of the eyes and draw some smooth lines.

Sketch the iris of the eye.

To do this, draw circles inside each eye.

Portray the pupils and highlights.

Make some small circles inside the iris.

Create the eyebrows, folds and scar.

Use a few lines to add the eyebrows, wrinkles, and upper eyelid. Draw the scar with a jagged line.

Depict the beginning of the nose and the outline of the mask.

To do this, draw some smooth lines. Watch out for proportions.

Detail the eye.

Sketch the lower eyelid and sharpen the corners of the eyes.

Add the contours of the face.

Draw two straight lines on the sides and make some small short strokes around the eyes.

Portray the headband.

Create the outline of the bandage using smooth lines.

Color the face.

Color the face beige, bandage and mask dark gray, iris brown, brows and scar gray.
Kakashi eyes drawing tutorial is over and now you can evaluate the result. I hope that you did your best and that you like the outcome of this work. Did you manage to correctly convey the emotions on the ninja's face? Share your impressions in the comments.
As usual, I have prepared the PDF for you. Download this file and complete the lesson at any convenient time.