I invite you to a lesson in which I will show you how to draw Kaneki. In this lesson, you will once again practice drawing a human figure.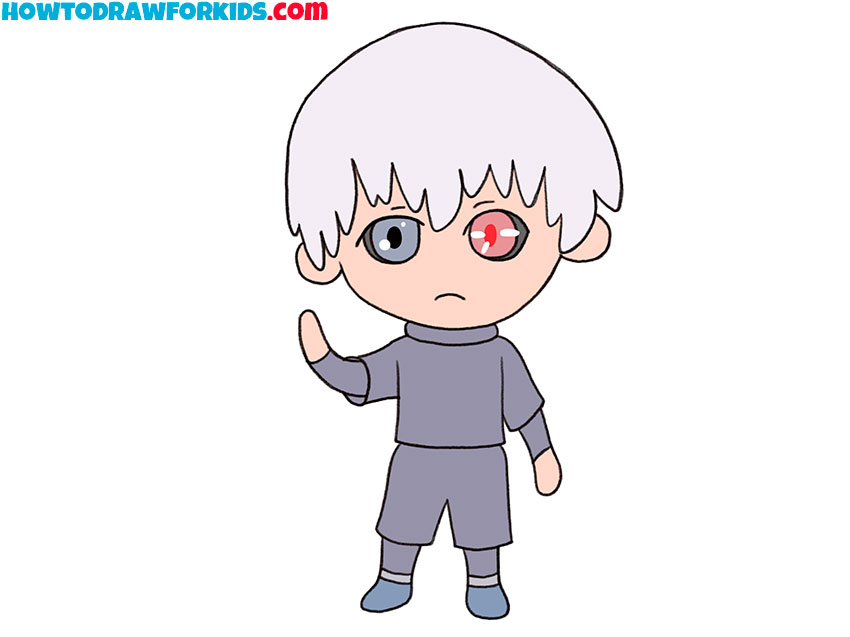 Especially for beginners, I have prepared a new lesson, which is dedicated to drawing popular anime and manga characters, and now you will learn how to draw Kaneki.
This is a first-year student who studies at the literary faculty of the university. Kaneki has a modest and reserved character, but at the same time he perceives life events with optimism.
The young man's life changed dramatically after a tragedy happened to him at a construction site and in order to save Kaneki's life, doctors had to perform an organ transplant.
After that, Kaneki's appearance changed a lot, in particular, the color of his hair changed, and the young man began to wear a bandage that covers one eye. In this drawing, Kaneki is shown without a bandage, but you can see that his eyes have a different color.
Materials
Pencil
Paper
Eraser
Coloring supplies
Time needed: 35 minutes
How to Draw Kaneki
Draw the head.

Determine the size of your drawing and draw a circle.

Depict the hair.

The upper contour of the hair has a rounded shape, and draw strands along the lower edge.

Add facial features.

Sketch out the big eyes, thin eyebrows and the small mouth.

Draw the ears.

Depict small rounded lines on each side.

Sketch out the T-shirt.

With the help of several straight and curved lines depict the wide neck, short sleeves.

Depict the hands.

One hand is down, the other hand is up.

Add the shorts.

Draw some smooth lines to depict the shorts.

Draw the lower parts of the legs.

Sketch out the short legs and add the shoes.

Color the Kaneki.

To color this character, you will need beige, light gray and dark gray.
I want to remind you that especially for your convenience, I have previously created a short version of the lesson in the form of a PDF file. Download the file so that you can return to this lesson at any time.