I bring to your attention this fascinating drawing lesson in which you will learn how to draw popcorn step by step.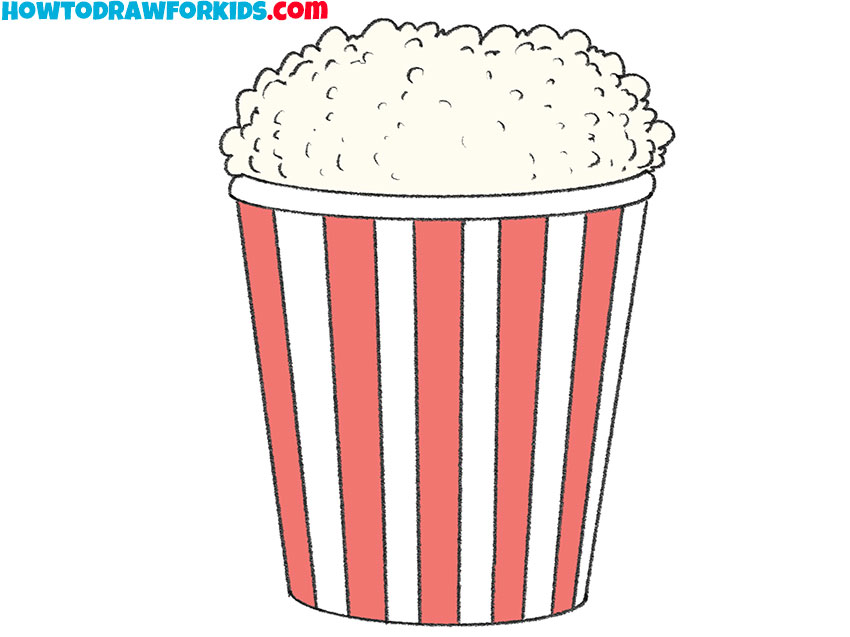 So, I am glad to offer you this lesson in which I will tell and show you how to draw popcorn step by step. To do this tutorial well, you need to be able to draw straight lines. This lesson is suitable for all novice artists and children.
If you want your drawing to look more perfect, you can use a ruler when necessary. This simple lesson consists of only seven steps, each of which has a detailed description.
Get your art supplies ready and start painting right away. This lesson will be interesting and unusual, so each of you will like it.
Materials
Pencil
Paper
Eraser
Coloring supplies
Time needed: 30 minutes.
How to Draw Popcorn
Start drawing the cup of the popcorn.

To complete this step, you need to draw two slightly slanted straight lines.

Draw the bottom of the cup.

Using one arc, connect the lower ends of the two previously drawn straight lines.

Add the top of the cup.

Now you should draw some arcs as shown, placing them at the top of the straight lines.

Depict the outlines of the popcorn in the glass.

Above the previously drawn elements, draw a lot of arcs and rounded lines of various sizes.

Make the popcorn pop.

To make your drawing look more voluminous and realistic, add a lot of rounded lines.

Finish drawing the cup of the popcorn.

Inside the previously drawn outline of the cup, you need to draw a lot of straight lines.

Color the drawing.

To color the popcorn, use red and light yellow.
I remind you that you can download the PDF file that I have prepared especially for your convenience. This file contains a short version of this lesson and has additional useful training materials.