I bring to your attention a very useful and exciting drawing lesson, in which I will tell you how to draw realistic eyelashes.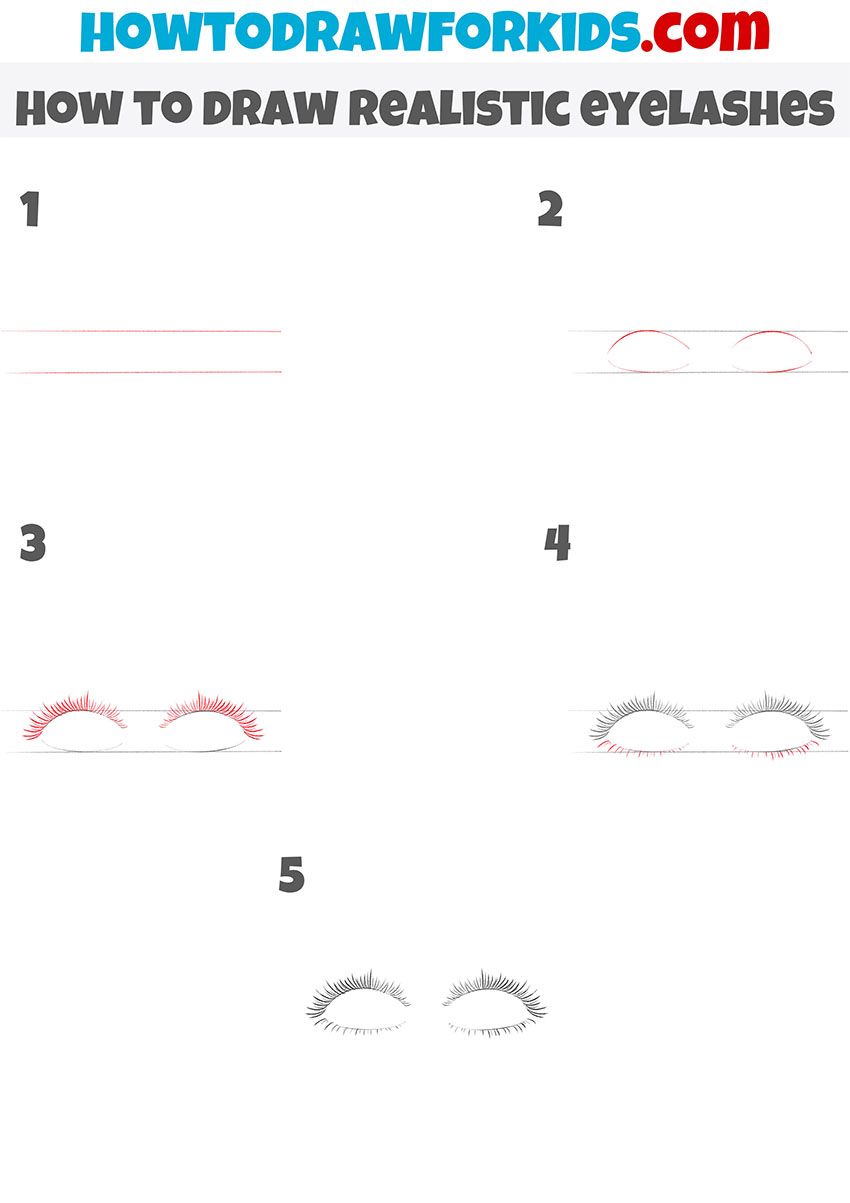 I have prepared for you a great drawing lesson with which you can learn how to draw realistic eyelashes step by step. This drawing lesson will be very useful and easy to follow for every aspiring artist or child. I remind you that the ability to draw facial features of people and characters is one of the most important skills of artists. Having learned how to draw realistic eyelashes with the help of this instruction, you can easily add this image to any portrait of a person or character you have drawn. Thus, the implementation of this lesson will help you greatly improve your artistic skills.
Eyelashes are not just an element of human beauty, but also an important organ that protects our eyes from small foreign objects. Eyelashes are individual hairs located along the edges of the upper and lower eyelids. All eyelashes have a root with a base in the ciliary bulb and hair shaft. It is believed that eyelashes are the toughest and thickest hairs on the human body. Their structure, length, color depend on genetic inheritance, as well as race, habitat, and lifestyle. The main function of eyelashes is to protect the eyes from dirt, dust, and other third-party substances. Another significant fact is that eyelashes serve as a kind of filter and protective barrier against direct ultraviolet radiation. The appearance of eyelashes also matters, since eyelashes are an element of appearance that can make eyes more expressive.
When completing this lesson, you will first need to draw auxiliary lines that will help you indicate the location and size of the eyes. You will also need to follow the rules of symmetry so that the eyelashes of the right eye look like a mirror image of the eyelashes of the left eye. If necessary, you can use a ruler so that the lines you draw are perfectly even. And now I recommend that you prepare all the necessary art supplies in order to start this lesson as soon as possible. I am sure that you will easily cope with this work and enjoy the creative process.
Materials
Pencil
Paper
Eraser
Coloring supplies
Time needed: 30 minutes.
How to Draw Realistic Eyelashes
Draw the guidelines.

To complete this step, you need to draw two straight parallel horizontal lines.

Add the outlines of the eyes.

Draw symmetrical arcs between the previously drawn horizontal lines to represent the eyelids.

Depict the top lashes.

Along the upper contour of the drawn upper eyelids, add many curved lines of different lengths.

Sketch out the bottom row of the eyelashes.

Add many curved lines of lesser length than drawn, placing them on the lower eyelids.

Correct inaccuracies.

Now use the eraser to remove the auxiliary lines and complete this drawing.
Don't forget to download the PDF file, which contains a short version of this lesson, as well as additional practice materials to help you complete it.