Stitch is one of the cutest and funniest cartoon monsters out there. In this tutorial, I will show you how to draw Stitch step by step.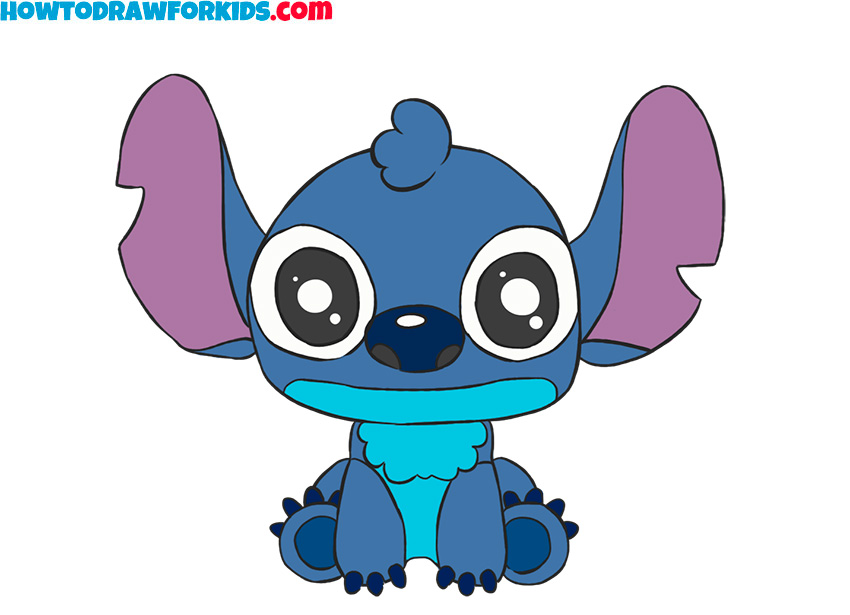 Now you will learn how to draw another popular hero. Hope you enjoy my drawing guide and have a nice time. In this lesson, I will show you how to draw Stitch. This character won the love of the audience right after watching the cartoon.
Stitch is a little alien from space. Stitch has an unusual appearance, it looks a bit like a koala. Stitch has short legs, curved claws, large ears. Its color is also unusual. Stitch is funny, mischievous, noble, and caring. This is probably why children like him so much. Stitch has some amazing powers. Stitch is very smart, has good hearing, can move on any surface, and lift heavy objects. This creature was created for destruction and chaos, but Stitch became kind thanks to his friendship with Lilo.
The Stitch drawing lesson consists of a few simple steps. Use the instructions and carefully follow all my tips, then a good result awaits you.
Materials
Pencil
Paper
Eraser
Coloring supplies
Time needed: 20 minutes
How to Draw Stitch
Draw the head.

Create an irregular circle. The lower part of the circle is flatter.

Draw the torso.

The torso is much smaller than the head.

Add the hind legs.

Make two circles on the sides of the torso and add small, curved lines above them.

Draw the ears and crest on the head.

The ears of Stitch are large and bumpy at the edges.

Sketch the eyes and outline the outline of the forelegs.

The eyes are close to the ears. The contour of the paws is made up of two curved lines.

Draw the inside of the eyes, ears, and paws.

Add the necessary elements with simple smooth lines and add small toes.

Draw the mouth, nose, and upper torso.

The nose is a small oval. The mouth is very wide.

Add elements on the nose and fingers on the front.

Draw some small circles on the nose and feet as In my example.

Color the Stitch drawing.

Use a wide range of blue, from light to dark. As well as white, black and purple.
So our little alien is ready. Hope you succeed and the Stitch drawing looks very cute and funny. What emotions did you experience while working? Are you happy with the result? Write about your impressions in the comments.
By tradition, I suggest using a PDF file that contains a short version of the lesson. Download the file and draw at any convenient time.