A super simple lesson on how to draw sushi for kindergarten is ready. This guide contains just four easy steps.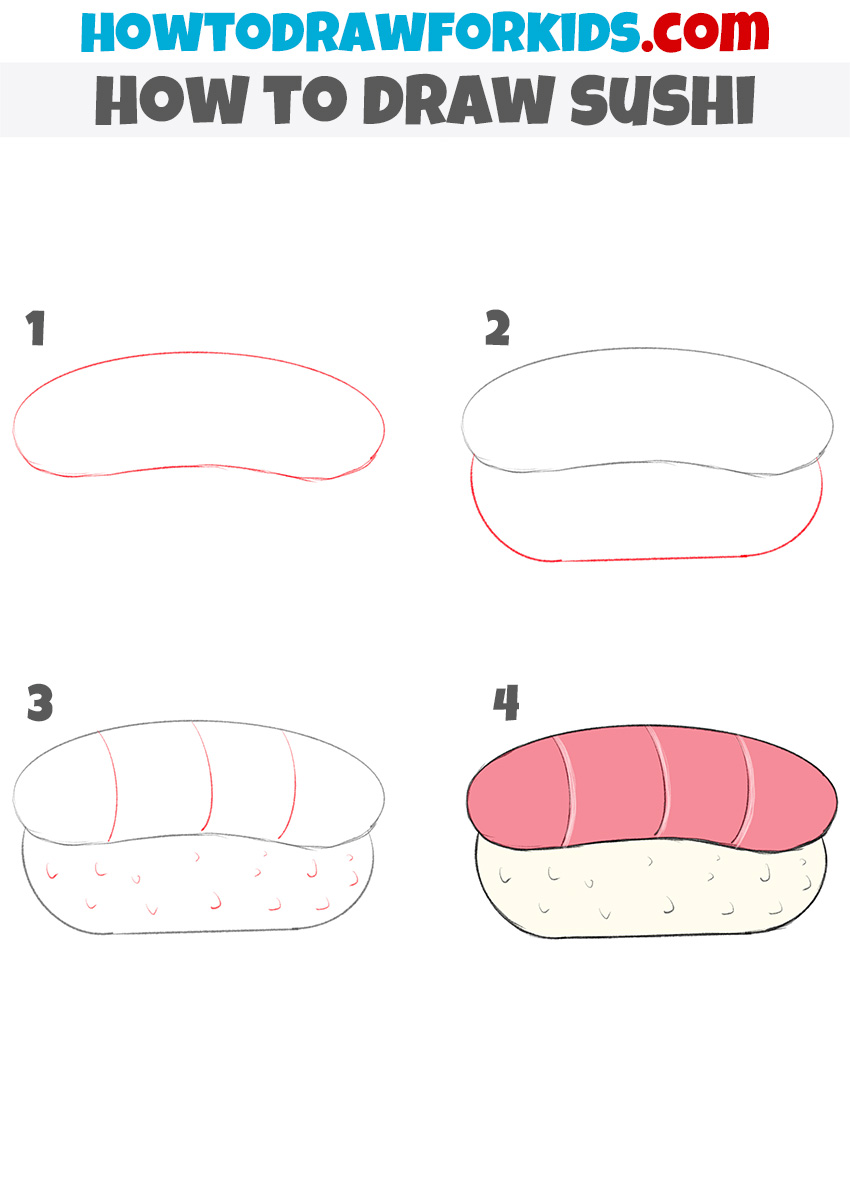 In this tutorial, I will show you how to draw sushi for kindergarten. Sushi is a traditional Japanese dish. Nowadays, this dish has become widespread, and sushi is eaten with pleasure far beyond the borders of Japan.
This dish has its own history. Initially, the fish was rubbed with salt and placed in rice grains, which significantly increased the shelf life of the fish. Over time, this dish has changed, the method of preparation has improved and various additives have been used. Now sushi is prepared in many restaurants around the world, and this dish can also be prepared at home.
Sushi comes in different types, it all depends on the filling, sauce, and seasonings. This tutorial presents the simplest version using a minimum of ingredients. This picture only shows a piece of fish and a piece of rice.
This tutorial contains a few simple elements, and you will easily draw sushi even the first time. Perform this task in stages, show patience and accuracy and the result of the work will please you.
Materials
Pencil
Paper
Eraser
Coloring supplies
Time needed: 15 minutes
How to Draw Sushi for Kindergarten
Draw a piece of fish.

To do this, draw an oval of the same shape as shown in the example.

Add a lump of rice.

Draw a smooth, curved line at the bottom.

Add details.

Sketch out some smooth lines on the piece of fish and draw the grains of rice.

Color the drawing.

Choose pink or yellow to color the fish piece.
Now you have learned how to draw one of the popular Japanese dishes. I recommend supplementing your drawing and creating a background. For example, you can draw a dish that contains sushi and several other foods. You will get a beautiful still life. Share your result in the comments, and write your impressions of this lesson. Also, write what other famous dishes you would like to draw in the next lessons. I will take into account all your wishes when drawing up new exciting lessons.
Traditionally, at the end of the lesson, I suggest you download a PDF file. This will help you complete drawing lessons even without internet access.