After watching the cartoon "How to Train Your Dragon" many people liked Toothless. In this tutorial, I will show you how to draw Toothless.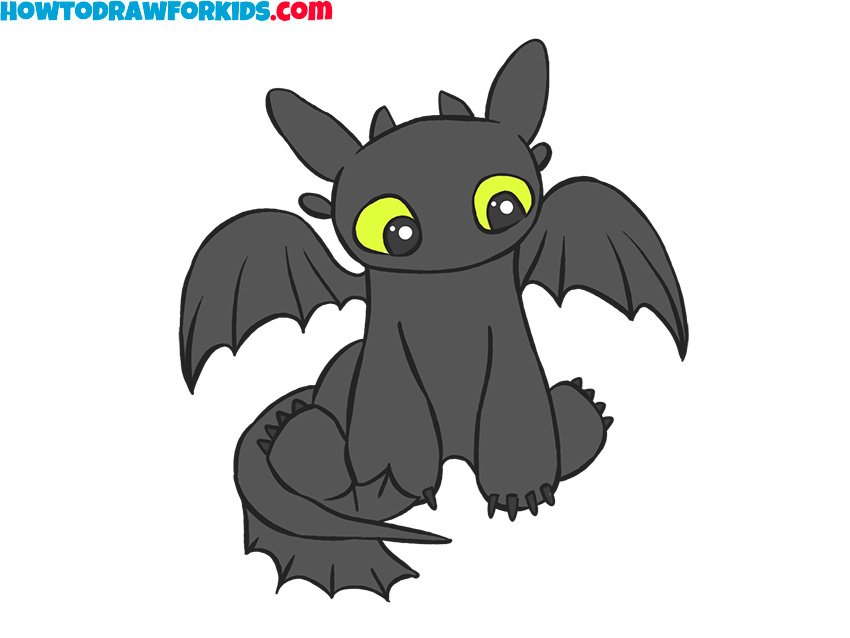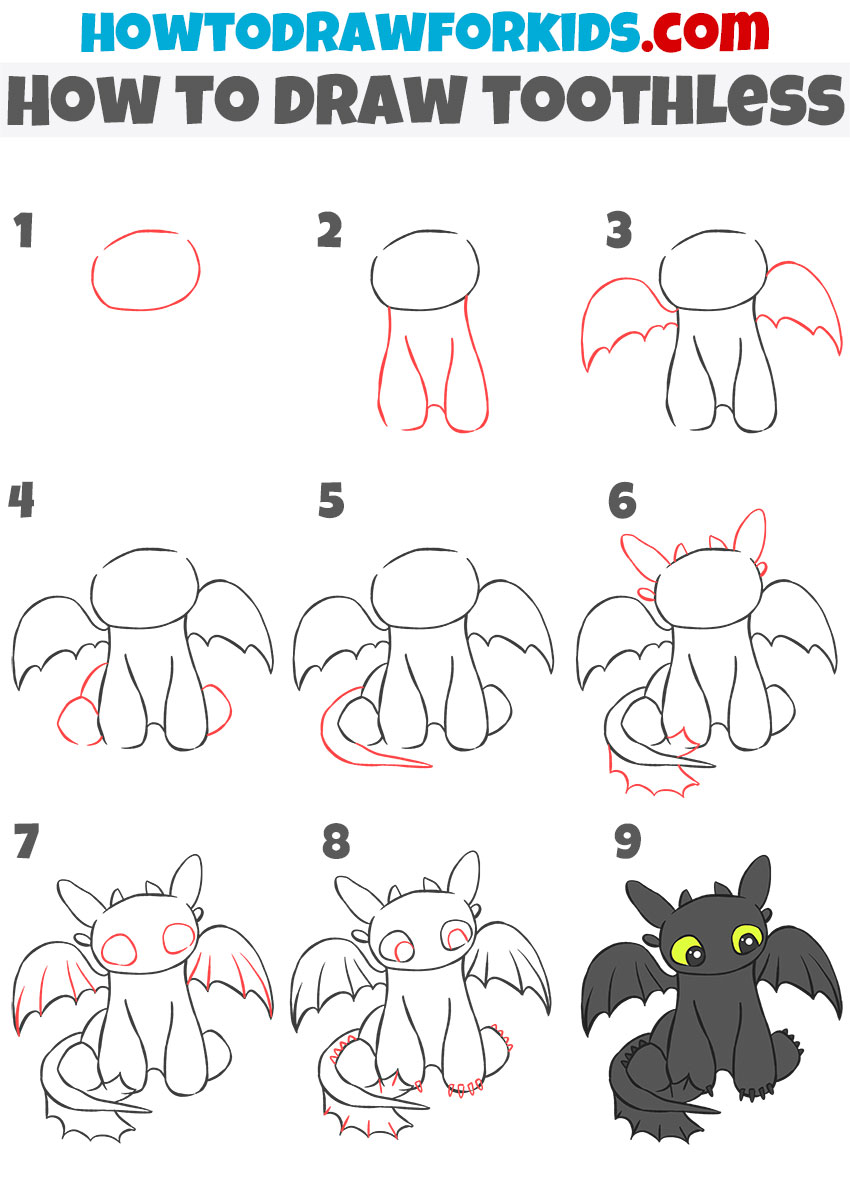 In this tutorial, I will show you how to draw Toothless. This is the same popular hero as all the previous ones. This is a character in a full-length animated film that shows the friendship of a boy and a dragon. The cartoon has earned the love and attention of the audience due to its interesting plot and unusual characters.
Of course, Toothless is an amazing character. This is a very cute dragon that has wings, two large and two small ears, and a large tail. In the first part of the cartoon, Toothless lost a part of the tail, but the boy was able to restore the tail and the dragon was able to fly normally.
Toothless is curious and playful. In fact, Toothless has teeth, only they are hidden behind the gums. But since the boy did not immediately notice them, he gave the dragon such a nickname.
This Toothless drawing tutorial will be simple and fun. Follow all the steps and you will get a good result. Make yourself comfortable, prepare all the supplies you need to paint. Don't forget to be in a good mood!
Materials
Pencil
Paper
Eraser
Coloring supplies
Time needed: 19 minutes
How to Draw Toothless
Draw the head of Toothless.

Create the oval and leave small gaps for the ears.

Draw the torso and front legs.

Note that the forelegs are quite large, narrow at the base, and widening towards the bottom.

Add the wings.

On the sides of the torso, add semicircular lines and draw the wavy lower part of the wings.

Draw the hind legs.

Add some semicircular lines along the sides of the torso.

Sketch the tail.

The tail has a curved shape and a narrow tip.

Draw the ears and tail elements.

The dragon has several ears of different sizes.

Add the eyes and folds on the wings.

Make two large circles around the sides of your head. Add some folds to the wings.

Add the necessary elements to the eyes, tail, and legs.

Create the pupils, folds on the tail, and claws on the feet.

Color the Toothless drawing.

Use a dark gray for the torso and yellow for the eyes.
Now you have learned how to draw another character. Hope you enjoyed the Toothless drawing tutorial. Show the result to your friends. I suggest doing drawing lessons together and sharing your impressions.
If you liked this tutorial, then I recommend that you download the PDF file that contains a short version of the tutorial. Thus, you will be able to draw your favorite characters even without internet access.