How to Draw a Bear Step by Step
Today you will learn how to draw a bear step by step. This guide consists of just nine easy steps with helpful hints.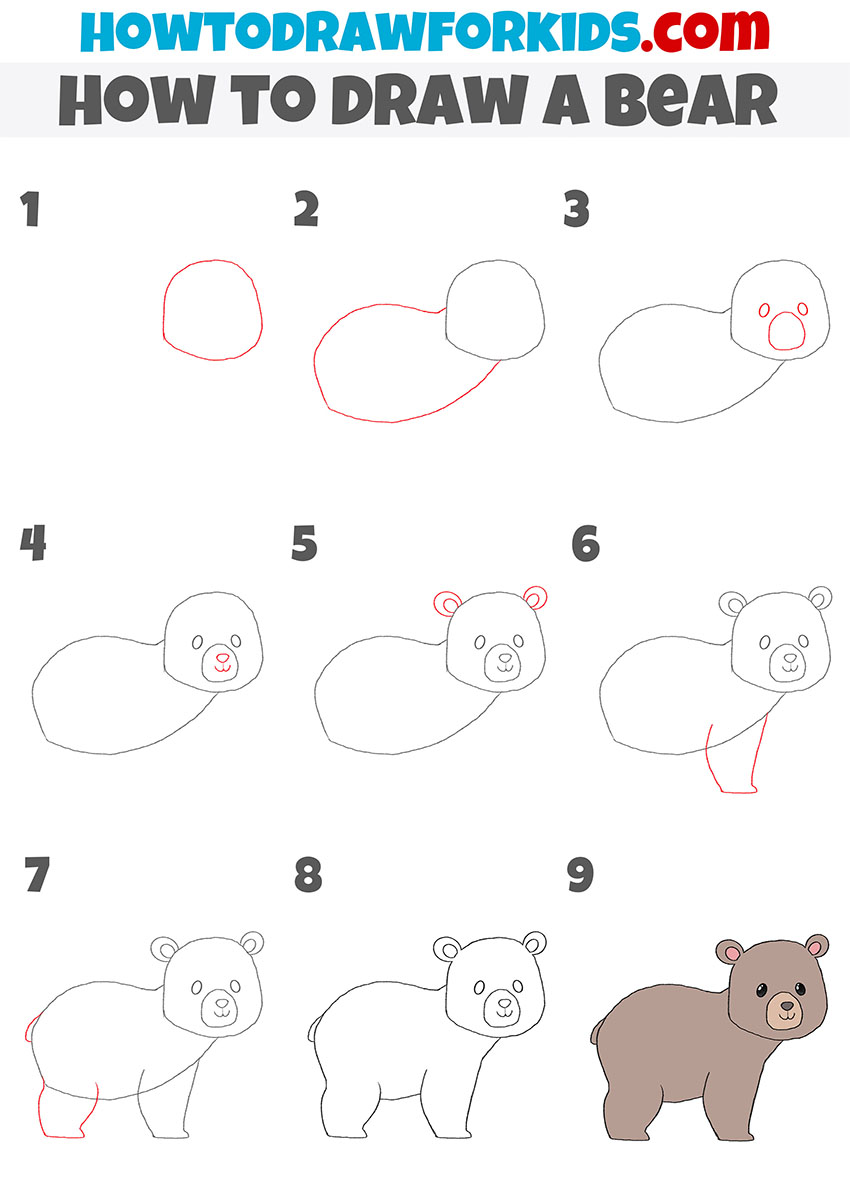 Now I will show you how to draw a bear step by step. You will like this tutorial if you love animals and want to improve your art skills.
Here is a simple step-by-step tutorial that will show you how to draw a bear. This wild beast lives in many countries.
The bear is an excellent hunter that runs fast, swims well, and can climb trees. The bear has a stocky, powerful body, a short tail, thick hair, and an excellent sense of smell.
In the picture you see a bear standing on all its legs and turning its head towards the observer. During this lesson, observe the proportions, take your time, and carefully draw all the lines.
Materials
Pencil
Paper
Eraser
Coloring supplies
Time needed: 30 minutes
How to Draw a Bear Step by Step
Draw the outline of the head.

Use rounded lines, but note that the head is not perfectly round, but has small bulging parts.

Depict the torso.

From the head, draw smooth, curved lines to depict the torso.

Add elements of the muzzle.

Draw the eyes as two small ovals, and depict the front of the muzzle.

Add details.

Sketch out the nose and mouth.

Draw the ears.

The ears are rounded. First draw the outer outline, then add the inner part of the ear.

Depict the front leg.

Draw smooth lines from the body to depict the wide leg.

Sketch out the hind leg and tail.

Draw the hind leg of the same shape as in the example. Add the short tail.

Correct inaccuracies.

Remove all unnecessary lines with an eraser.

Color the bear.

You will need brown, pink and black.
Finally, I suggest you download a short version of the lesson in PDF format. Thanks to this, you can return to the lesson at any convenient time.