In this lesson, I want to show you how to draw a candy. I promise that an exciting creative activity awaits you ahead.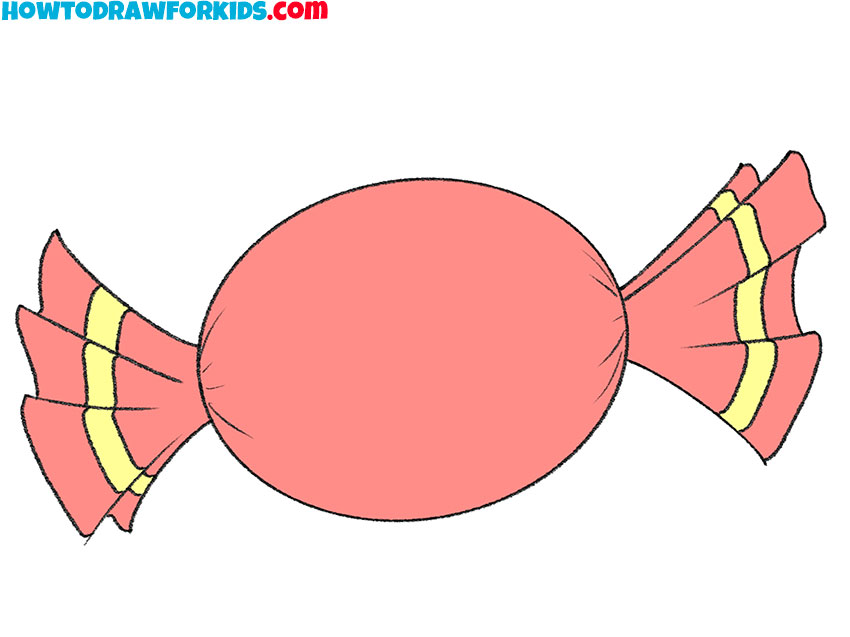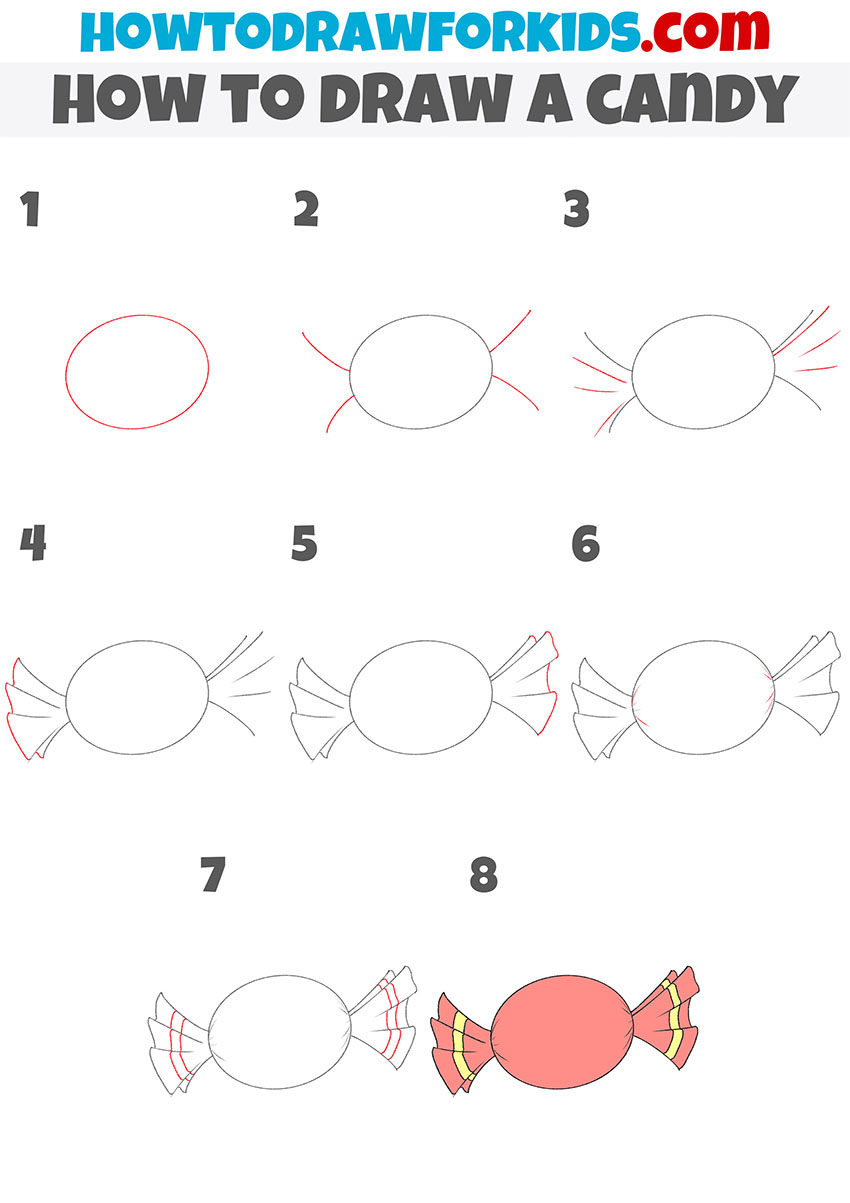 Surely you love sweets and therefore, with pleasure, complete the lesson in which I will show you how to draw a candy step by step. Sweets are a popular confectionery product, a favorite treat for children and adults.
There are different types of candies that differ in shape, taste, and packaging. Candies are made from chocolate, caramel, fruit, or pralines. Almost all sweets have a sugar base, to which various food raw materials, aromatic, and flavoring additives are added.
In this lesson, you will draw a candy in a wrapper. The candy has an oval shape, and the ends of the wrapper have jagged edges. Such a candy can be either chocolate or caramel.
For coloring the wrapper, you can use the same colors that are recommended in the instructions or use any other colors of your choice. The main thing is to choose the brightest shades so that the wrapper looks very attractive.
Materials
Pencil
Paper
Eraser
Coloring supplies
Time needed: 30 minutes
How to Draw a Candy
Draw the base.

Determine what the size of your drawing will be, and draw an even oval.

Add the sides of the wrapper.

Depict small curved lines along the edges of the oval.

Depict the folds.

Draw several strokes of different sizes.

Sketch out the outline of the wrapper on one side.

On the left side, draw a few connecting lines between the folds of the candy wrapper.

Draw the outline of the wrapper on the other side.

Repeat the previous step and draw the same connecting lines on the right side.

Add the creases to the main part of the candy.

Draw a few thin, short strokes around the edges of the candy.

Detail the wrapper.

Draw transverse stripes on each side of the wrapper.

Color the candy.

Choose any bright colors you want.
It was a fascinating lesson on how to draw a candy step by step. I hope you enjoy this lesson. You can further practice and draw a few more candies, slightly changing their shape and color of the wrapper. Practice as often as possible and improve your artistic skills. Especially for your convenience, I have prepared a PDF file in advance, in which you will find a brief instruction and additional useful materials. Use this file any time you want to do this tutorial again.
How to Draw a Candy for Kindergarten
To draw a candy this way, first outline the central part in the form of a circle, then add the side parts and paint the candy in some bright colors.