In this drawing lesson, I want to show you how to draw a chibi face step by step. This drawing lesson consists of eight easy steps.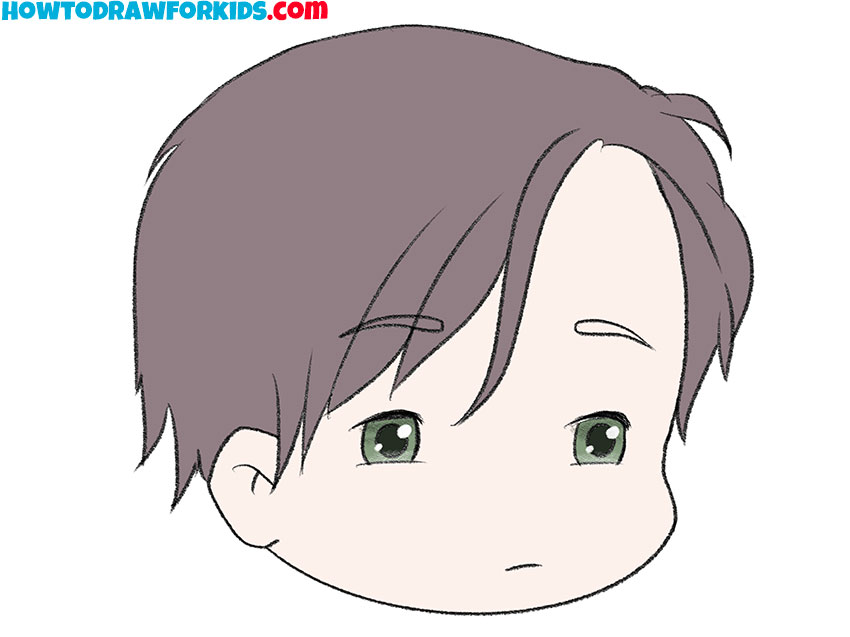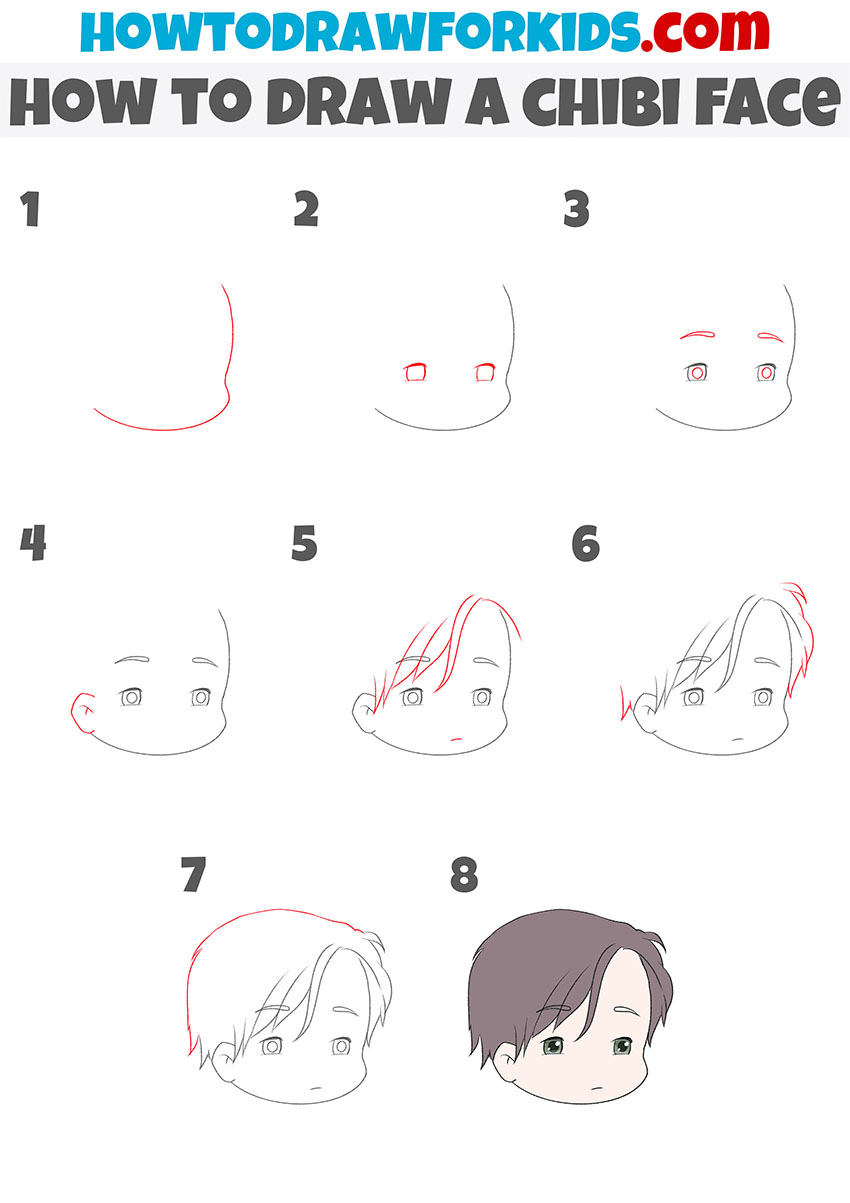 I am glad to bring to your attention a very interesting and unusual drawing lesson, with which you can learn how to draw a chibi face step by step. If you are a fan of manga and anime, then this tutorial will definitely be useful to you. I think you have already seen chibi drawings more than once, and would also like to learn how to draw them yourself. The ability to correctly draw a chibi face is very important, since chibi are drawn specifically in order to more vividly convey the emotions of the character.
Chibi is a drawing style of anime characters with a small torso and a large, almost proportionate head. Usually, the growth of such characters corresponds to children's proportions. Often used in individual scenes to emphasize the comedy of a situation or to express a character's emotions more vividly, but there are also quite a few films shot entirely in the chibi style.
Typically, chibi characters look quite cute, speak with a childish voice, and typically have a moody or nervous character. Other notable features of the chibi style are the huge oval eyes of the characters, which occupy most of the face, as well as the schematically drawn limbs. This tutorial is about drawing a chibi face. Chibi characters are drawn in a simplified way, without using too complex and small details. To convey youth and charm, Chibi characters are drawn with a plump body and a rounded face with protruding cheeks or cheekbones.
It is useful for any aspiring artist to have the skills to draw faces of people or characters. By learning how to draw a chibi face with the help of this instruction, you will be able to depict it as the main object of your drawing, and you can also draw a chibi character as a whole, draw any episode from a comic book, or add images of other characters to your drawing. You can start making this drawing right away if you have already prepared the necessary art supplies. Do this work carefully and slowly, and then you will definitely get a neat and beautiful drawing.
Materials
Pencil
Paper
Eraser
Coloring supplies
Time needed: 30 minutes
How to Draw a Chibi Face Step by Step
Start drawing the outline of the chibi face.

To complete this simple step, you need to draw one curved line, as shown in the picture.

Depict eyes on the chibi face.

Next to the previously drawn curved line, depict two identical eyes using arcs and curved lines.

Finish drawing the eyes and add the eyebrows.

Draw circles inside the previously drawn eyes, and also draw the eyebrows using curved lines.

Add the chibi character's ear.

On the left side of the drawing, add the ear using curved lines of varying lengths as shown.

Draw the mouth on the chibi face and add the bottom outline of the hair.

At the bottom of the face, draw a short line, add pointed strands of hair using curved lines.

Continue drawing hair.

Now you should add a few more curved lines of varying lengths on the sides of the head.

Finish drawing the hairstyle.

At the top and left of the head, add curved lines to draw the top outline of the head and hair strands.

Color the drawing.

To color the chibi face, use brown, green, black, and beige.
I remind you that for your convenience, you can download a PDF file that contains a short version of this lesson so that you can return to it at any time convenient for you, even if you are not connected to the Internet.