Today with this super simple tutorial you will learn how to draw a chibi head in just eight very easy steps.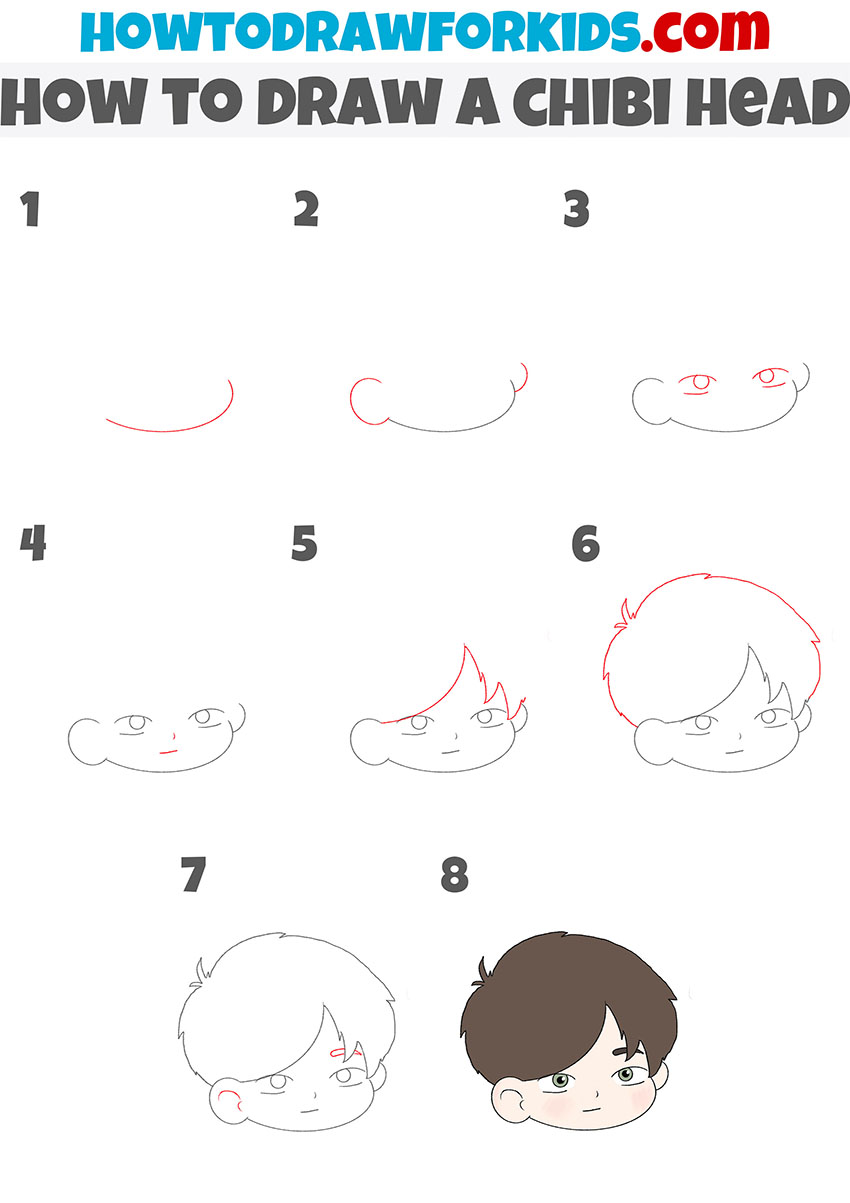 In this lesson, I will tell you and show you in detail how to draw a chibi head. This lesson will be useful for you, and you can use the acquired skills in the future when you want to draw any other characters.
If you often follow the lessons that are presented on this site, then you have probably come across characters that are drawn in the chibi style. This is a drawing style of anime characters with a small torso and a large head. All chibi characters are easily recognizable.
This easy tutorial shows you how to draw a chibi head. Here is a boy's head. You can see that the hair takes up most of the head, the eyes are large and expressive, the nose and mouth are very small.
Materials
Pencil
Paper
Eraser
Coloring supplies
Time needed: 30 minutes.
How to Draw a Chibi Head
Draw an oval for the face.

Sketch out a smooth rounded line.

Depict the ears.

With smooth lines draw two rounded ears.

Add the eyes.

Draw short lines to depict the upper and lower eyelids. Sketch out circles to depict the iris.

Draw the nose and mouth.

Using short strokes depict the small nose and mouth.

Depict the hair from the front.

Above the forehead, draw spiky strands of hair.

Add the rest of the hair.

With smooth lines draw the rest of the hair on the head.

Sketch out the eyebrow and the inside of the ear.

Depict an eyebrow that is hidden under the strand of hair and depict the inside of the ear.

Color the chibi head.

Choose any colors for your drawing.
For your convenience, I have prepared a PDF file with a short version of the lesson in advance. Download the file and enjoy drawing at any convenient time.