How to Draw a Dragon Face for Kindergarten
Dragon Face Drawing Instruction for Kindergarten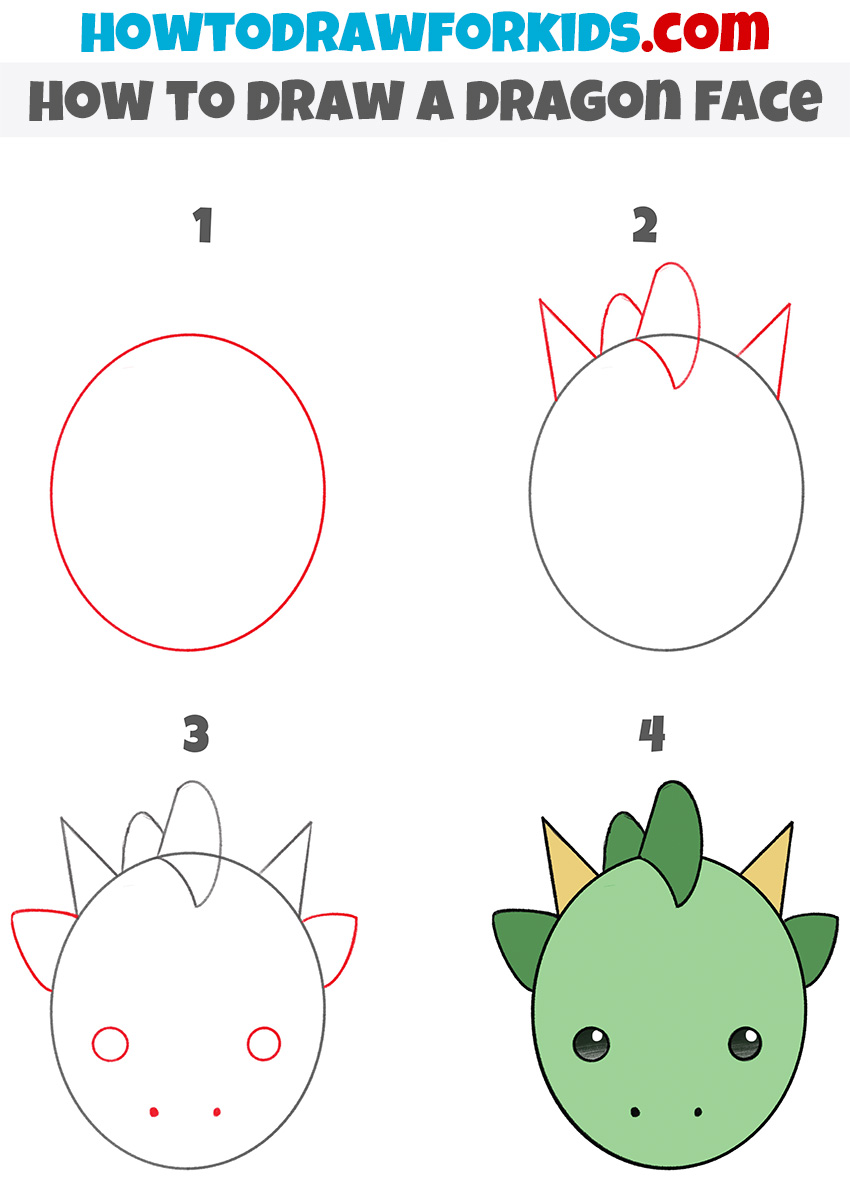 This tutorial will be as fun as all the previous ones. Now I will show you how to draw a dragon face for kindergarten. Many artists love to draw this fairytale character. The image of the dragon can be seen on various objects. Dragon is always of interest to adults and children. This character can be formidable and dangerous or can be funny and cute. In our case, the dragon looks very cute and not scary at all. This drawing is made in a cartoon style, so the dragon looks very attractive.
You can depict a dragon in a variety of ways. The dragon face drawing tutorial is adapted for beginner artists, so the easiest way to draw is used here. The lesson consists of a few simple steps that are easy to repeat if you pay attention and follow the prompts.
In this picture, the dragon is painted in shades of green. You can use the same colors, or you can paint with any other color, for example, red or brown. Don't forget to add highlights to the eyes. I think you will enjoy this tutorial and will be happy to complete it.
Prepare all the necessary drawing supplies and proceed to step by step through this lesson.
Materials
Pencil
Paper
Eraser
Coloring supplies
Time needed: 12 minutes
How to Draw a Dragon Face for Kindergarten
Draw the outline of the head.
Determine the position of the muzzle and depict the even oval.

Portray the horns and spikes.
Use straight lines to draw the horns in the form of triangles. Draw the spikes with smooth lines.

Add the ears and features of the face.
Draw the ears with smooth lines. Portray the round eyes and nostrils in two dots.

Color the dragon.
Use several shades of green for coloring.
The dragon face drawing tutorial is over. As you can see, everything turned out to be very easy. I hope you completed this task quickly and are now happy with the result. Share your impressions in the comments and at the same time write what characters you would like to draw in the next tutorials. I will take into account your wishes when drawing up the new lessons.
Traditionally, at the end of the tutorial, I suggest you download the PDF file that contains a short version of the lesson. Here you will find helpful tools for completing the tutorial. Download the file and complete drawing the lessons at any time convenient for you.