Today I will show you how to draw a dragon face step by step. I am sure that you will easily cope with this creative task.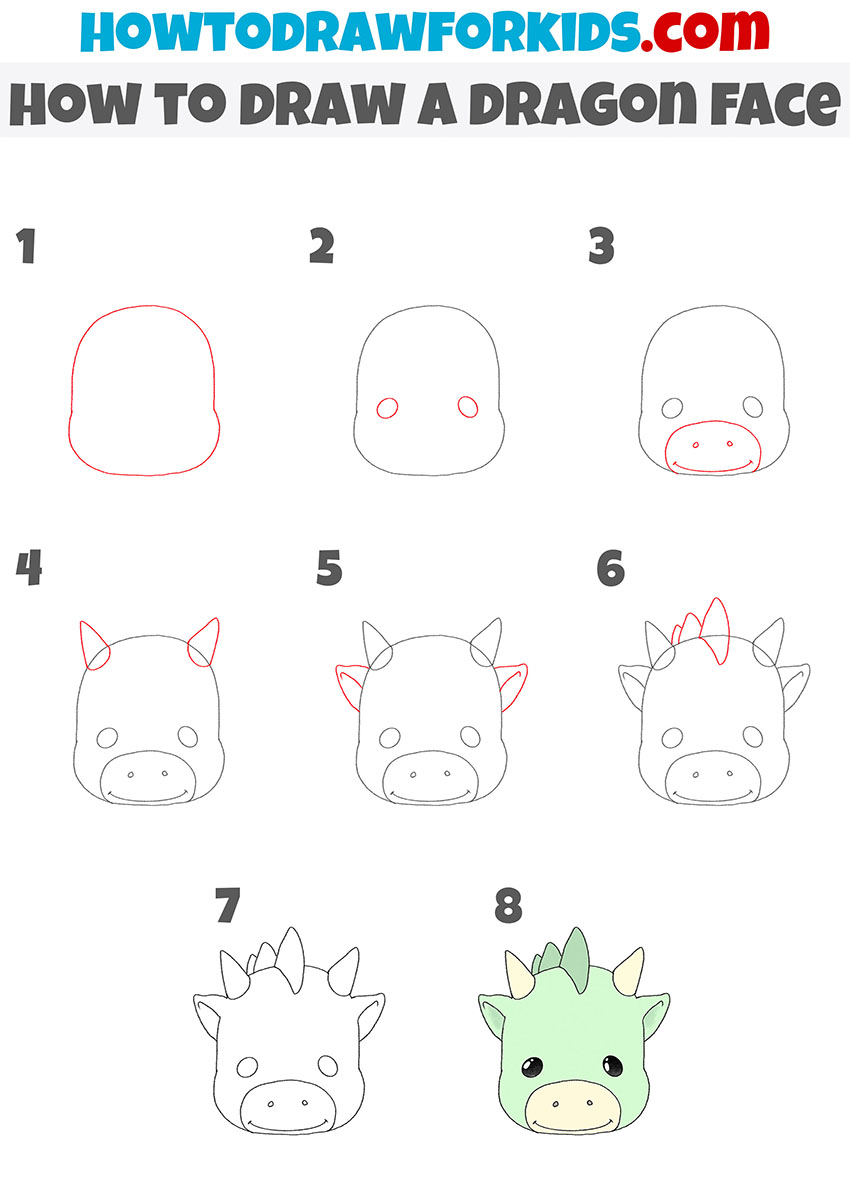 This lesson I created for those who like to draw mythical characters, and now I'll show you how to draw a dragon face step by step. In this tutorial, the dragon is presented in a cartoon form and looks very cute. The dragon face has horns and spikes.
Each step in this guide is one simple action that you can easily follow. Take your time and carefully draw all the lines that are marked in red.
So, grab all the art supplies you need to complete this tutorial and get down to some fun creative work.
Materials
Pencil
Paper
Eraser
Coloring supplies
Time needed: 30 minutes
How to Draw a Dragon Face Step by Step
Draw the outline of the head.

Add the outline of the head, in which the lower part is wider than the upper.

Depict the eyes.

Just below the middle of the head, draw two oval-shaped eyes.

Add the front of the muzzle.

Outline the contour of the front of the muzzle, add the nostrils and the wide mouth.

Sketch out the horns.

Draw two pointed horns on the head, while maintaining symmetry.

Draw the ears.

Add two ears with smooth lines and immediately outline the inner contour of the ears.

Depict the spikes.

At the top, draw one big spike and draw two more spikes behind it.

Correct inaccuracies.

Take the eraser and carefully remove all the extra lines in the drawing.

Color the drawing.

You will need different shades of green, as well as beige and black.
Now you know how to draw a dragon face step by step. You can use the acquired skills in the future when you want to draw a whole dragon. I look forward to your feedback and suggestions. If you want to always have access to this lesson, then download the PDF file right now, which contains a brief instruction and additional training materials you need to complete the lesson at any time.