How to Draw a Dragon Face
In this lesson you will learn how to draw a dragon face. This lesson consists of just nine easy steps with helpful hints.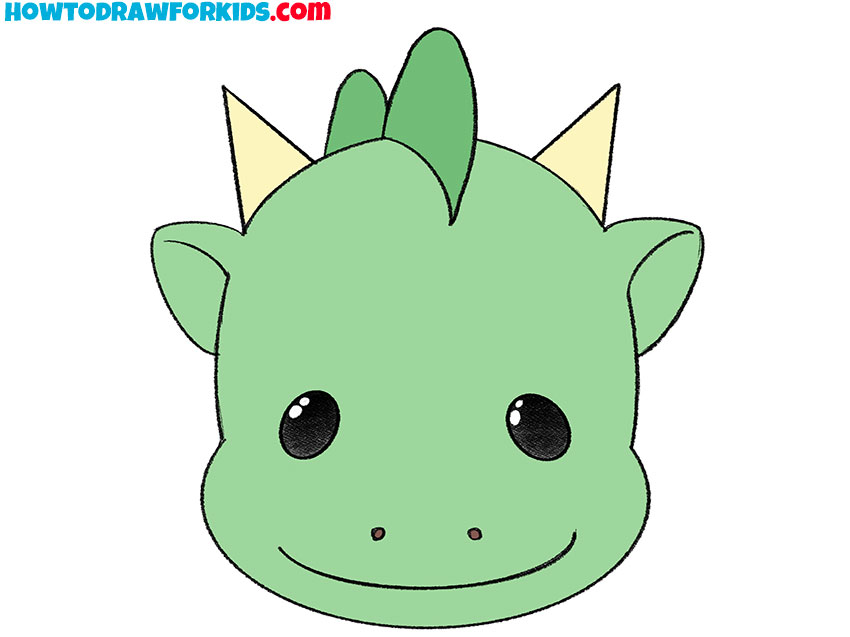 In this tutorial, you will learn how to draw a dragon face. This lesson will be interesting and easy for you. Drawing will give you pleasure, and you will master useful skills.
It is generally accepted that the dragon is a fabulous monster that has a formidable appearance and is able to exhale flames. But in our case, the dragon looks quite harmless. Here you see a cute little dragon.
You will enjoy drawing this character, especially since it is very easy to do thanks to the step-by-step guide. As a result, you will get a great drawing, even if you draw the face of a dragon for the first time.
Materials
Pencil
Paper
Eraser
Coloring supplies
Time needed: 25 minutes
How to Draw a Dragon Face
Draw the top of the head.

Depict a smooth rounded line.

Add the bottom of the head.

Draw another rounded line at the bottom. The bottom is slightly wider than the top.

Sketch out the eyes.

Depict two small identical ovals.

Draw the nose and mouth.

Add two large dots to depict the nostrils and draw a small rounded line.

Depict spikes on the head.

On the top of the head, draw two spikes of a rounded shape.

Sketch out the horns.

With even straight lines draw the horns that have a triangular shape.

Draw the ears.

With smooth lines draw two small ears on each side.

Make the drawing clearer.

Carefully trace the outline of the dragon face.

Color the dragon face.

You will need green, beige and black.
Now you know how to draw a dragon face. If you liked this lesson, then you can share it with your friends and invite them to draw together. It will be fun and interesting!
How to Draw a Dragon Face Step by Step
Each step in this guide is one simple action that you can easily follow. Take your time and carefully draw all the lines that are marked in red. So, grab all the art supplies you need to complete this tutorial and get down to some fun creative work.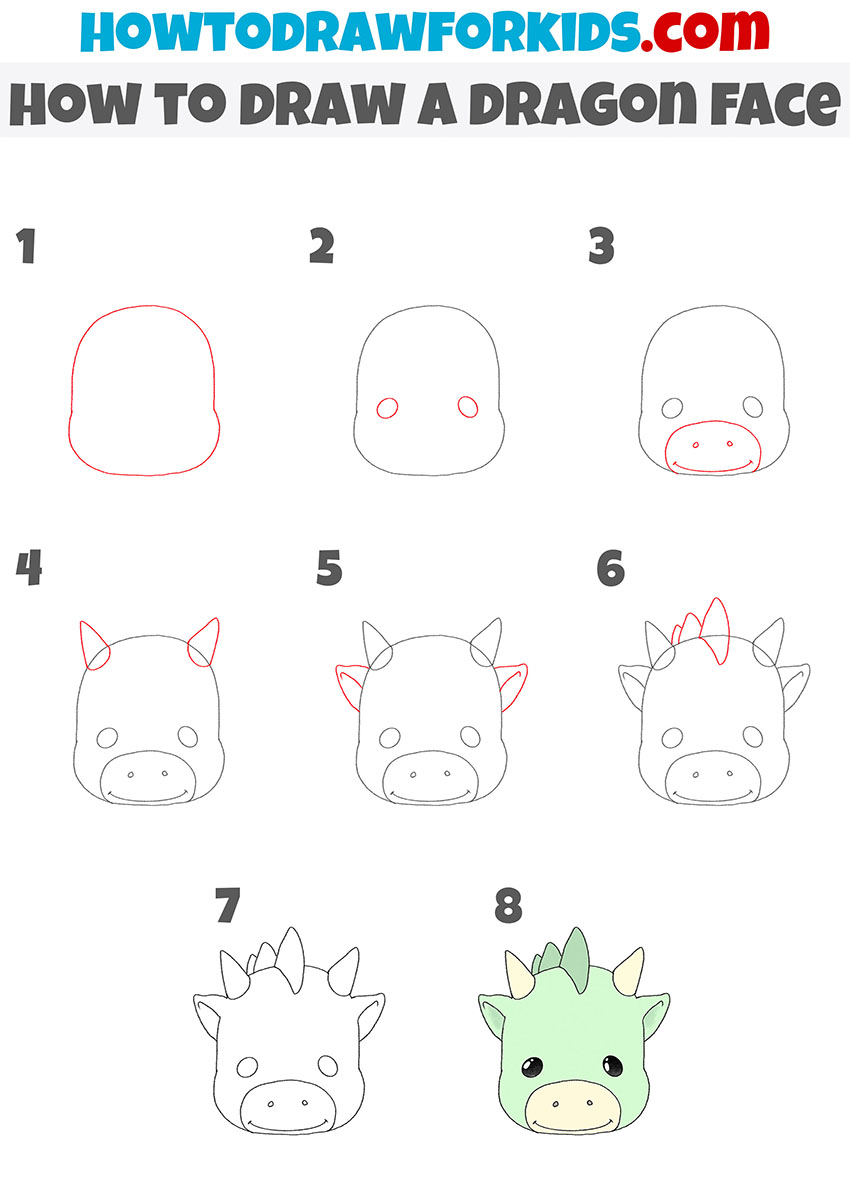 How to Draw a Simple Dragon Face
When you learn how to draw it, you can easily use it as the main subject of your drawing, as well as draw this animal in its entirety. The simple dragon face that you will soon be able to draw with this tutorial will look very cute and funny.
Now you should prepare your art supplies and carefully follow my recommendations. I wish you good luck in completing this drawing lesson, and I am sure that you will easily cope with this work, and also enjoy the creative process!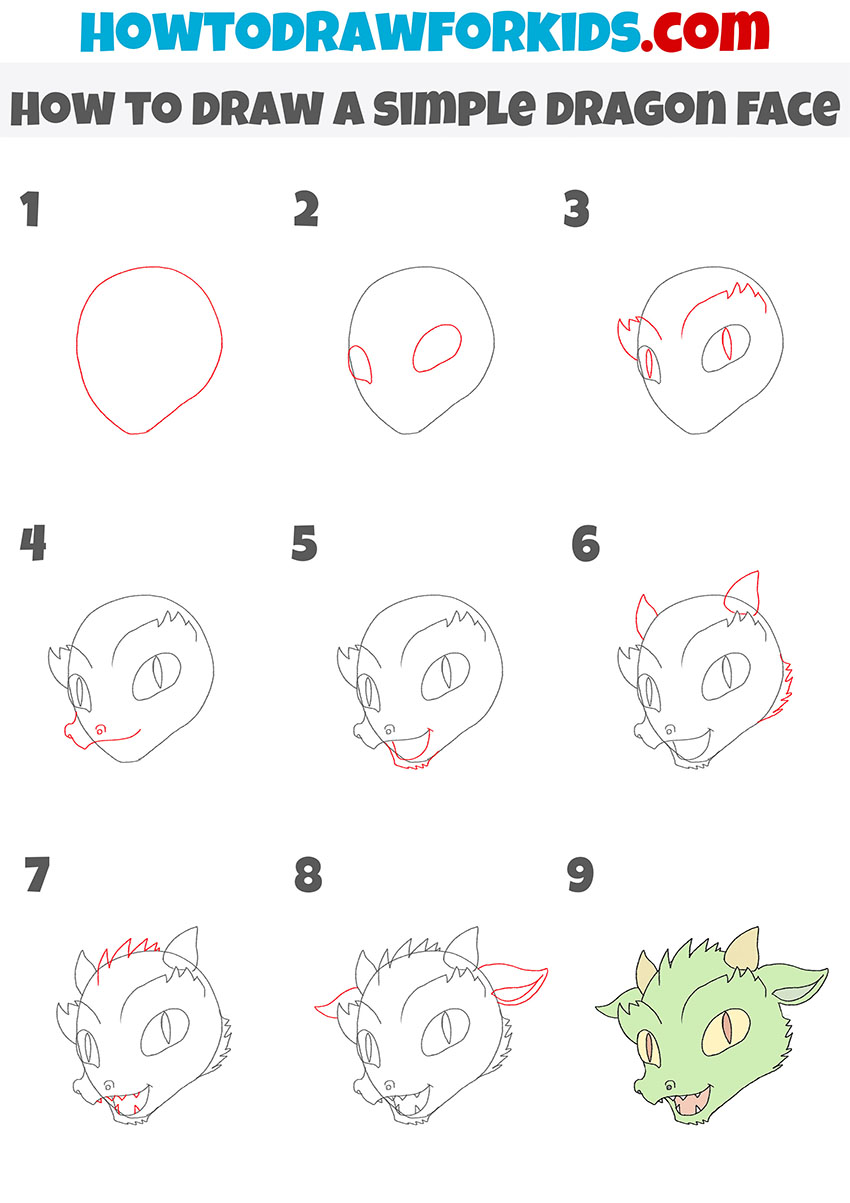 How to Draw an Easy Dragon Face
In this instruction, the dragon has a formidable appearance, there are large horns on its head, and pointed spikes grow on its neck.