Do you want to learn how to draw a Goblin? I will show you now! It will be step by step and very simple and easy.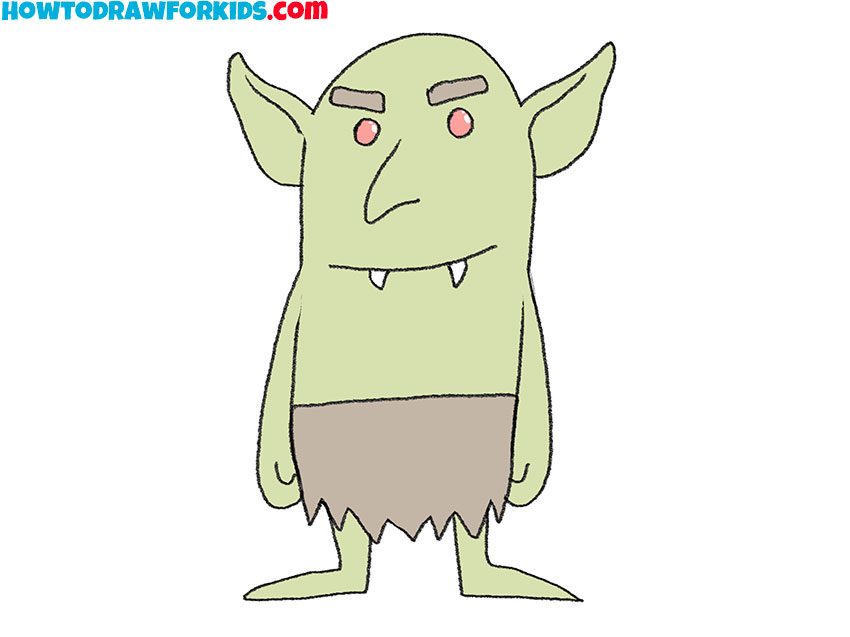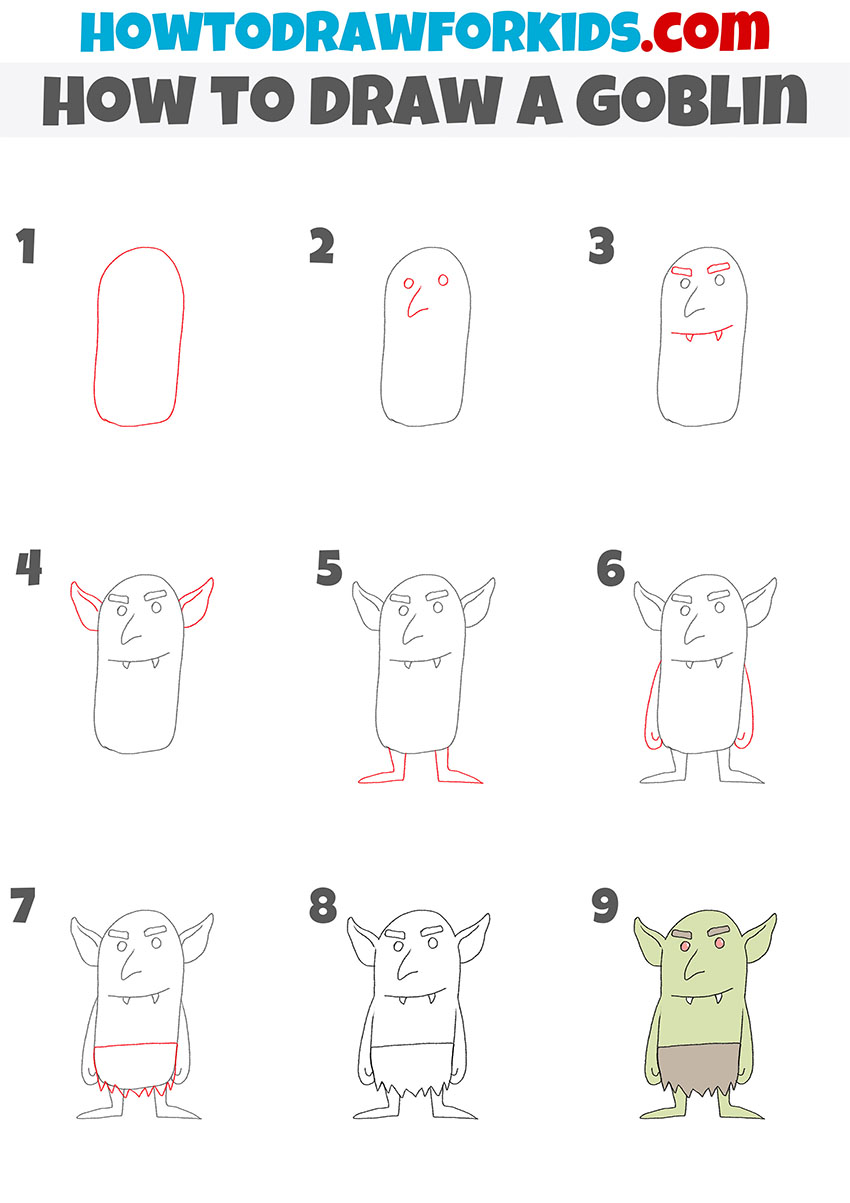 If you want to learn how to draw a mythical creature, then be sure to follow the lesson on how to draw a Goblin. According to ancient legends, this creature lives in underground caves and does not tolerate sunlight.
The Goblin has an unpleasant appearance. His body has an unnatural green color. The ears and nose are very large and pointed. The eyes are red, which makes them look very angry. Sharp fangs make the image of a goblin even more unpleasant.
All these features you have to depict in your drawing. I hope that you can easily draw this unusual creature with the help of my clear and accessible instructions. If all the art supplies are already at the ready, then you can start working.
Materials
Pencil
Paper
Eraser
Coloring supplies
Time needed: 30 minutes
How to Draw a Goblin
Draw the outline of the body.

Depict an oval-shaped figure in which the lower part is flatter.

Depict elements of the face.

Draw two round eyes and use a curved line to draw the nose.

Add the rest of the elements of the face.

Draw the mouth and add two pointed fangs. Depict the eyebrows in a rectangular shape.

Sketch out the ears.

With the help of smooth curved lines depict two pointed ears.

Draw the legs.

At the bottom of the torso, add two legs, in which the feet are directed in opposite directions.

Depict the hands.

With smooth lines, depict the arms that fit snugly against the body.

Sketch out the loincloth.

Draw a horizontal line on the stomach and draw the lower contour with jagged lines.

Correct inaccuracies.

Carefully remove the extra lines in your drawing.

Color the drawing.

You will need green, gray, and red.
Finally, I suggest you download a PDF file with a short version of the lesson so that you can always return to it if necessary.
You have completed another lesson. I try to create simple lessons to make them easier for you to complete. This site has a lot of interesting characters that you can draw and have fun with. I have accounts on social networks, subscribe so as not to miss new lessons.