I am sure that you will really like the lesson on how to draw a ladder for kindergarten. This guide has just four easy steps.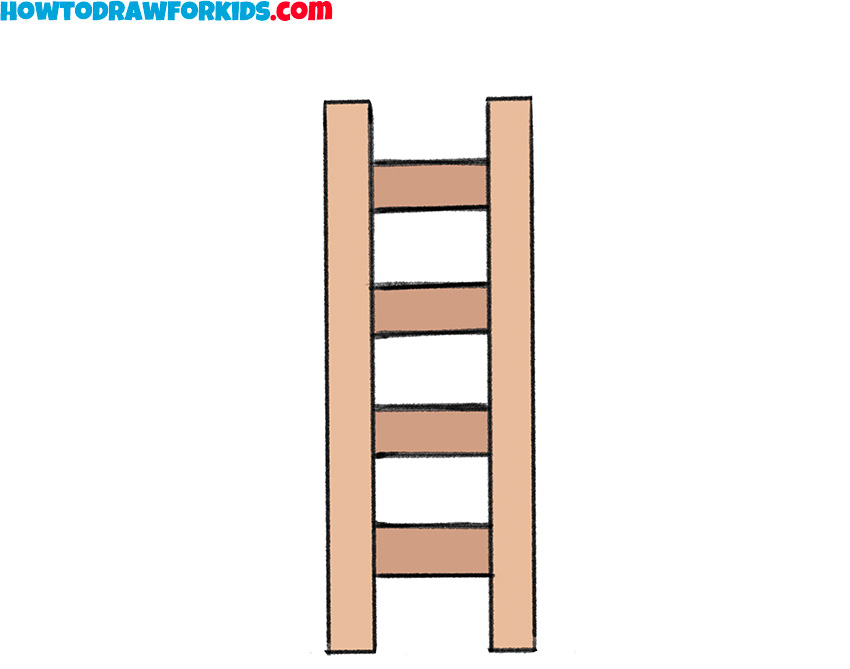 In this lesson, you will learn how to draw a ladder for a kindergarten. You cannot do without it in any private house. Almost every homeowner has a ladder.
A ladder is a simple structure that is used for ascending and descending. With the help of the ladder, you can freely climb the roof or fruit tree. The design of the staircase is very simple – it has two long beams and several steps between them.
The figure shows the simplest model of a ladder, which is easy to repeat for a child. This lesson will require the ability to draw straight, straight lines. You need to start with long beams, then you need to add steps one by one. The finished drawing of the ladder for kindergarten should be painted brown. If you want, you can use different shades, for example, make the side elements dark brown, and use a lighter shade to paint the steps.
Materials
Pencil
Paper
Eraser
Coloring supplies
Time needed: 10 minutes.
How to Draw a Ladder for Kindergarten
Draw the base of the ladder.

Depict a rectangle with which you define the sides and height.

Select the side trims.

To do this, draw two straight, parallel lines.

Sketch out the steps.

Make sure that there is the same distance between the steps.

Color the drawing.

To paint the ladder, you need brown. You can use gray if you want to depict a metal ladder.
I am sure that you easily coped with the task because drawing a ladder is a simple, accessible task that can be completed very quickly. The most important thing in this lesson is to try to make straight lines, then the result will surely please you. Practice making straight lines by hand, without the help of auxiliary tools.
If you liked this theme of the lessons, then be sure to read the lesson on how to draw a table for kids or how to draw a door for beginners.
Download the pdf file of this tutorial and practice drawing various objects around us at any time convenient for you. You can share your impressions of the lesson in the comments.