In this tutorial I want to show you how to draw a manga head. I am sure that this step-by-step guide will be very useful for each of you.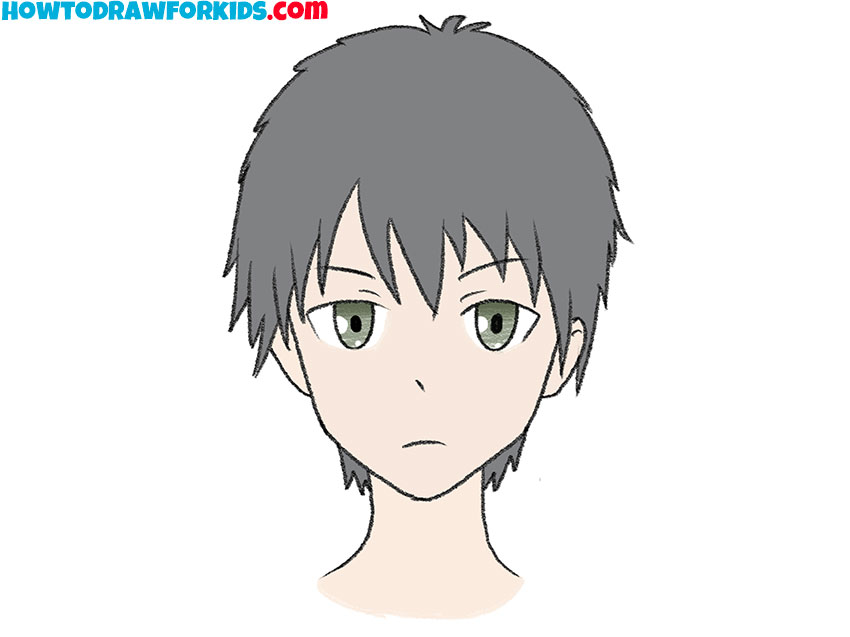 I suggest you continue the topic of drawing Japanese cartoon characters, and now you will learn how to draw a manga head. With this step-by-step guide, you will learn the basic principles of drawing and the salient features of manga characters.
As an example, I want to show how to draw the head of a young man. In the picture you see a young guy who has short thick hair and expressive green eyes. The nose and mouth are not detailed and are short strokes.
If you master this lesson, you can easily draw any other manga character. Be careful at every step of the drawing and use the little tips that I have prepared for your convenience.
Materials
Pencil
Paper
Eraser
Coloring supplies
Time needed: 30 minutes
How to Draw a Manga Head
Draw an oval for the face and neck.

Mark the lower part of the face and draw the contour of the neck with two lines.

Sketch out the eyes.

Draw the upper eyelid, iris, and pupil.

Depict the eyebrows.

Add two short strokes above the eyes to define the eyebrows and add creases on the eyelids.

Draw the rest of the facial features.

With the help of short strokes depict the mouth and nose.

Depict the hair above the forehead.

Consistently depict spiky strands of hair covering the forehead.

Add the top outline of the hair.

Sketch out the hair on the top and sides of the head.

Draw the rest of the hair and ears.

Depict small strands of hair near the neck and draw two ears.

Color the drawing.

Choose a natural shade for skin coloring and any colors for eye and hair coloring.
By tradition, at the end of the lesson, I have prepared a PDF file for you, which contains a brief instruction and training materials necessary for the effective implementation of this lesson. Download the file and draw at any convenient time.