In this tutorial I will show you how to draw a pointing finger step by step. I recommend this lesson to all novice artists.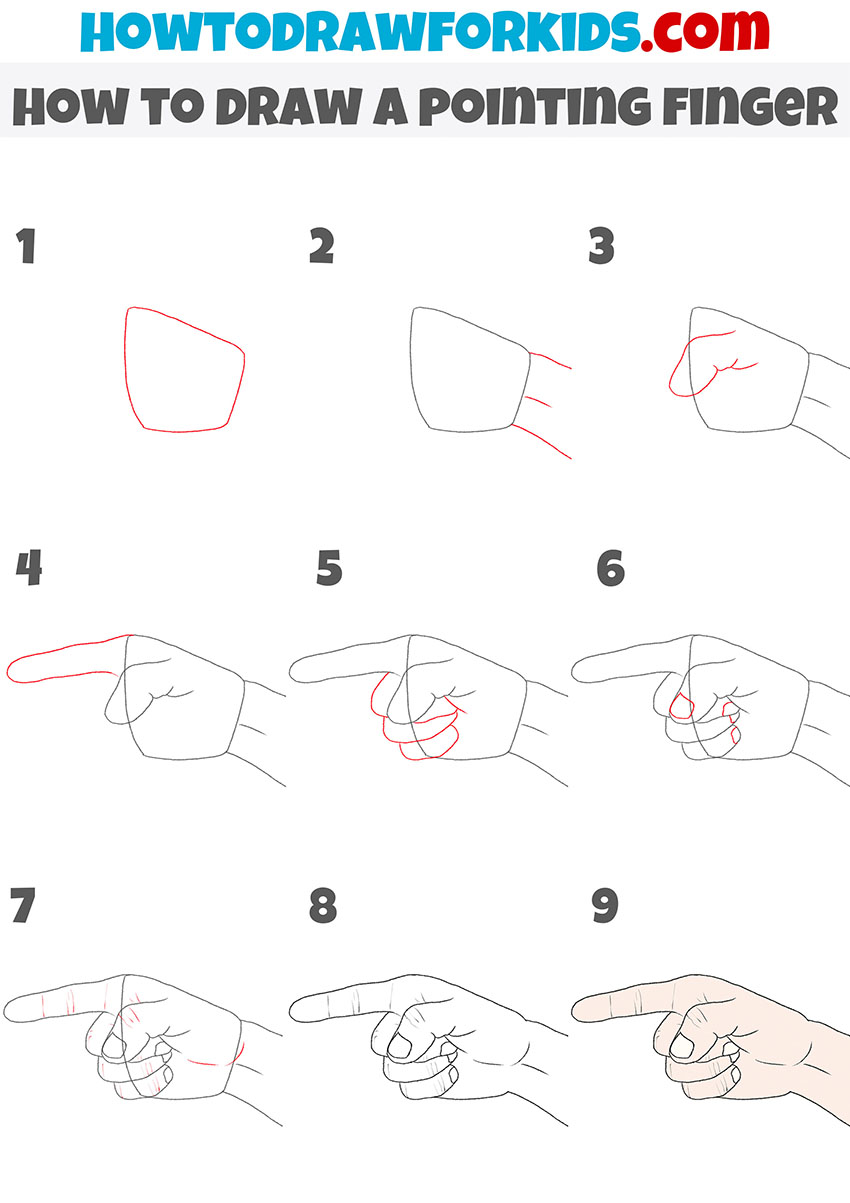 If you want to learn how to draw individual parts of the human body, then be sure to follow the lesson on how to draw a pointing finger step by step. If you master this lesson, then in the future you can easily depict a human hand if necessary.
The figure shows a hand in which the pointing finger is extended forward, and the remaining fingers are closed, while the thumb is located on top.
In this lesson, try to keep all proportions. Carefully draw all the lines so that the hand in your drawing looks natural and realistic.
Materials
Pencil
Paper
Eraser
Coloring supplies
Time needed: 30 minutes
How to Draw a Pointing Finger Step by Step
Draw the palm.

Add the main part of the palm as an irregular rectangle with rounded corners.

Depict the wrist.

From the side, draw several parallel lines to represent the wrist.

Add the thumb.

At the top of the hand, start drawing the thumb, which is bent and pointing down.

Sketch out the pointing finger.

Draw a smooth line to depict the extended pointing finger.

Draw the rest of the fingers.

Use smooth lines to draw the rest of the fingers in the same position as in the example.

Depict the nails.

On each finger, carefully depict the nails.

Add the folds of the skin.

Using thin lines of different sizes, draw the folds of the skin to give the hand a realistic look.

Correct inaccuracies.

Correct the mistakes if necessary and remove the extra lines in your drawing.

Color the drawing.

To color the skin, use any natural shade, paint the nails with a lighter shade.
I hope that you did your best at each stage of drawing, and you like the result of the work. If you have any questions, you can write about it in the comments. At the end of the lesson, I offer you to download a PDF file for free, which contains simplified instructions and additional training materials necessary for the effective implementation of this lesson.