In this drawing lesson, you will be able to learn how to draw a polar bear step by step. This simple instruction consists of nine steps.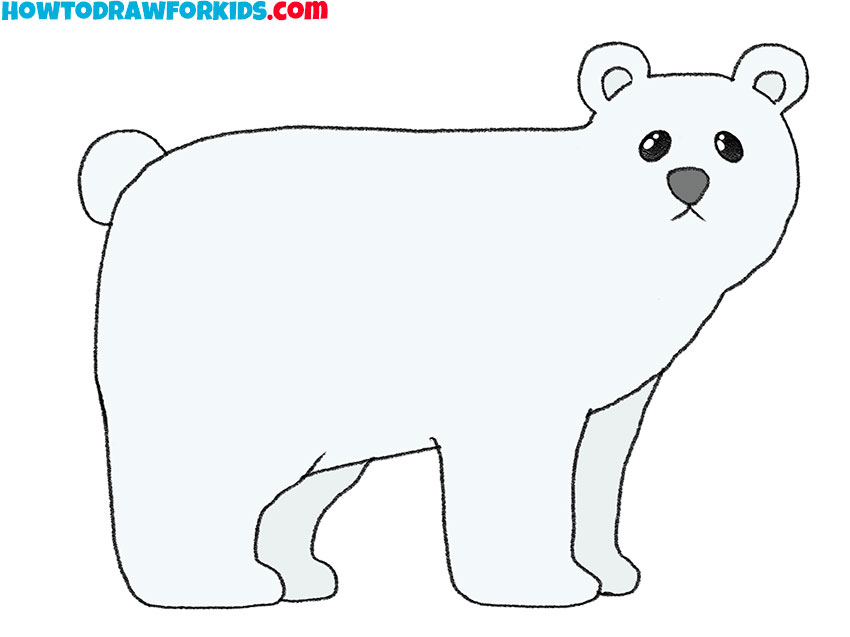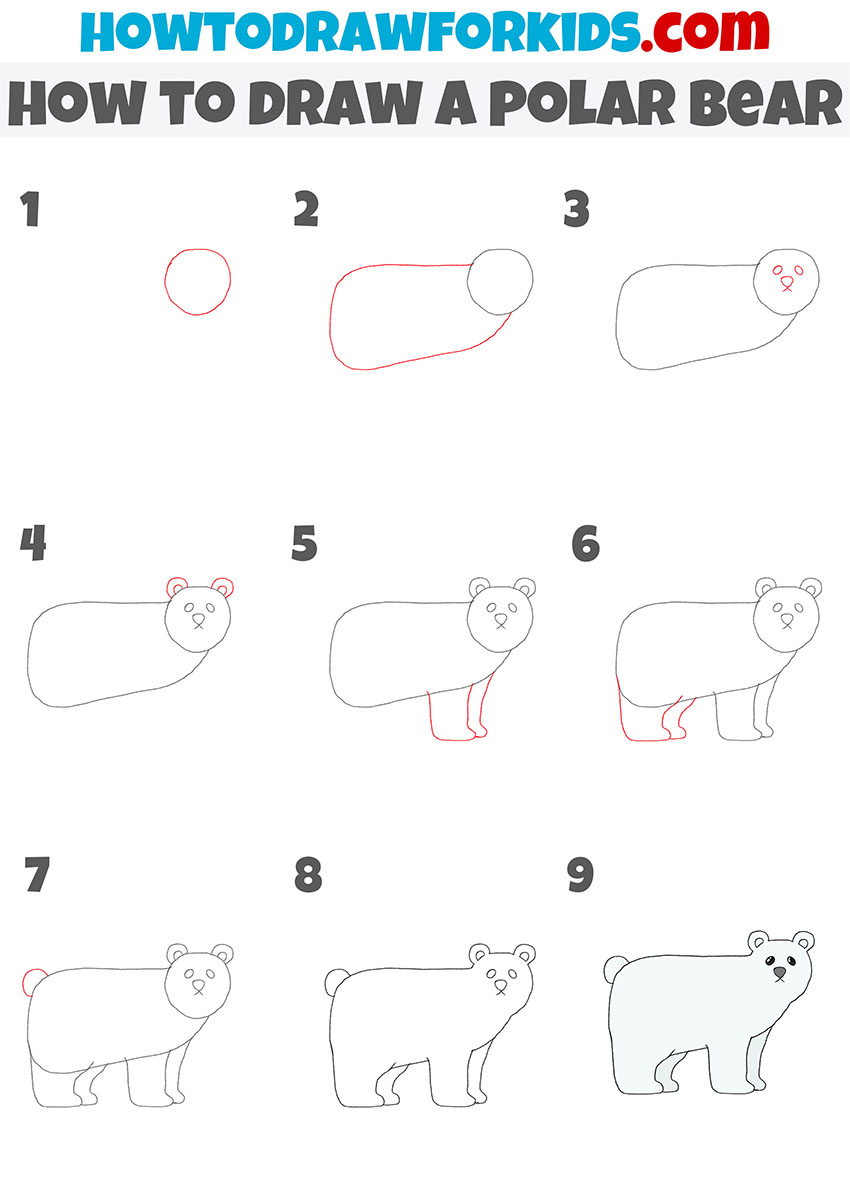 I suggest you complete this interesting drawing lesson, in which I will tell and show you how to draw a polar bear step by step. This is another useful lesson dedicated to drawing animals.
The skills you learned in this lesson you can apply to your future paintings. For example, if you want to draw a polar bear against the backdrop of nature.
The polar bear is also called the polar bear because of its white fur. This is a beautiful, noble animal, which is considered a living symbol of the Arctic. Also, the polar bear is considered the largest predatory animal on the planet.
Surely, you have already seen the polar bear many times as a character in cartoons, films, or books. Despite their large size, polar bears are very fast animals.
Polar bears have well-developed hearing and vision, as well as an excellent sense of smell, which allows them to smell their prey at a great distance.
Materials
Pencil
Paper
Eraser
Coloring supplies
Time needed: 30 minutes
How to Draw a Polar Bear
Draw the outline of the bear's head.

Depict a shape that looks like a slightly deformed circle using a curved line.

Depict the outline of the bear's torso.

To complete this step, you need to draw one long, curved line.

Add facial features.

Inside the previously drawn outline of the head, add two ovals as well as a few curved lines.

Sketch out the ears of the bear.

Draw two symmetrical ears on top of the bear's head using arcs of different sizes.

Add the front legs.

Depict the legs of the bear using curved lines. One leg is partially covered by the other.

Depict the bear's hind legs.

Now draw two more paws at the back of the bear's torso.

Sketch out the tail.

Above the previously drawn hind legs, add one arc.

Correct inaccuracies.

Use the eraser to remove any unnecessary guidelines.

Color the drawing.

To color the polar bear, use shades of blue, gray, and black.
I have prepared a PDF file for your convenience, which contains a short version of this lesson and additional useful materials. Download this file for free to return to this lesson at any time convenient for you.
How to Draw a Polar Bear: Alternative Method
The picture shows a small polar bear. This drawing is presented in a cartoon style, so the bear looks very cute. Try to draw the same cute bear with the help of simple instructions.