In this drawing lesson, you will be able to learn how to draw a police car step by step. This lesson consists of only nine steps.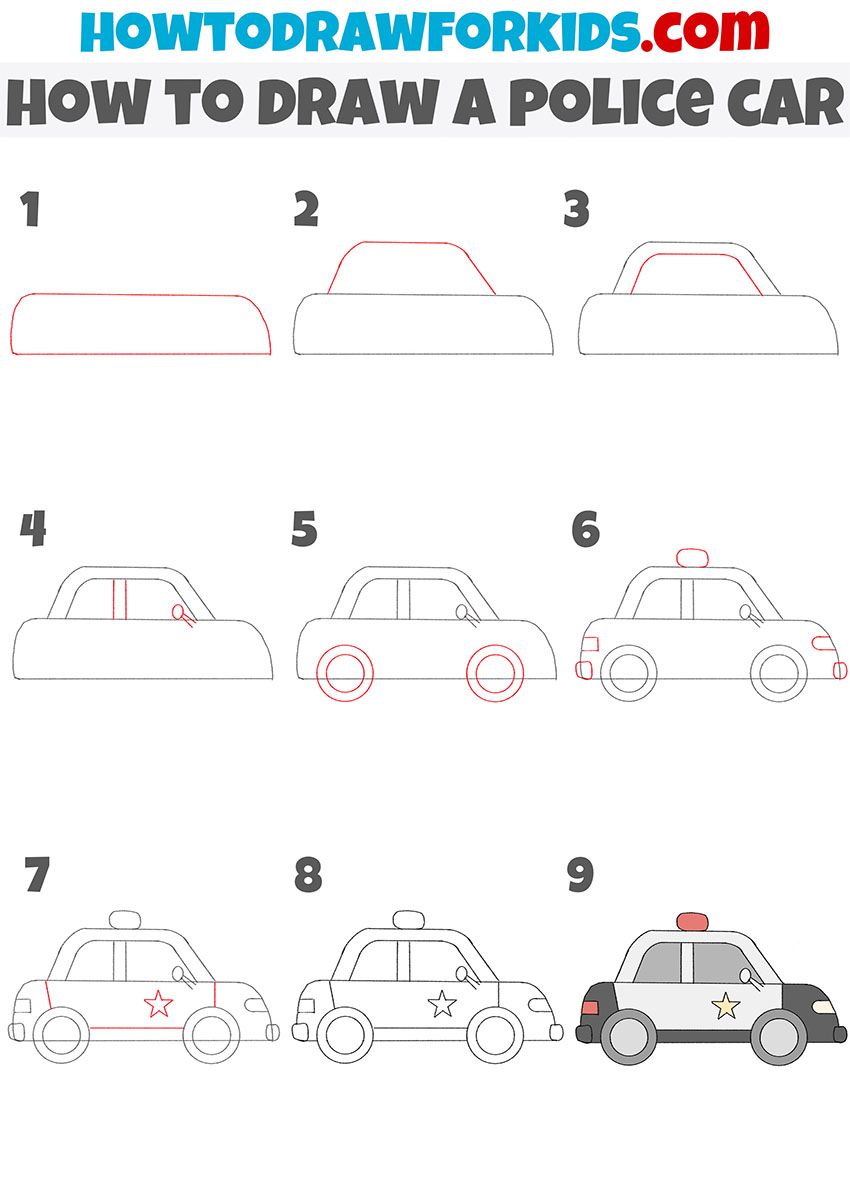 This lesson will be useful to you if you want to learn how to draw a police car step by step. Surely, you know that a police car is a vehicle that is used by the police to patrol the streets and various public places.
The police car is always different from ordinary cars, with its special decals. Typically, police vehicles are equipped with sound and visual systems that warn other drivers of their approach.
For example, the car you'll draw with this tutorial has a visual warning star, as well as a light fixture on top of the car that flashes with different colored lights.
Materials
Pencil
Paper
Eraser
Coloring supplies
Time needed: 30 minutes.
How to Draw a Police Car Step by Step
Draw the main body of the car.

Depict two straight parallel lines and connect them at the edges with curved lines.

Add the top of the car.

Above the previously drawn shape, draw a few straight lines connected to each other.

Depict the outline of the car windows.

Inside the previously drawn shape, add a slightly smaller, similar shape.

Draw the side mirror and the inner outline of the windows.

Add two straight parallel vertical lines, as well as an oval and straight lines on the side of the car.

Sketch out the wheels.

At the bottom of the car, draw two identical large circles, as well as two identical circles.

Depict the headlights and flashing beacon.

Draw a curved line and add straight and curved lines around the edges at the bottom of the car.

Add details.

Sketch out a straight line at the bottom of the car and also add the star using straight lines.

Correct inaccuracies.

Use the eraser to remove all unnecessary auxiliary lines.

Color the drawing.

To color this police car, you should use four different shades of gray, as well as red and yellow.
I want to remind you that you can now download a PDF file that contains a short version of this drawing lesson, as well as additional useful materials. Save this file so that you can use it when you want to return to this lesson again.