In this lesson, you will learn how to draw a pumpkin step-by-step. With this simple tutorial, you will gain very useful drawing skills.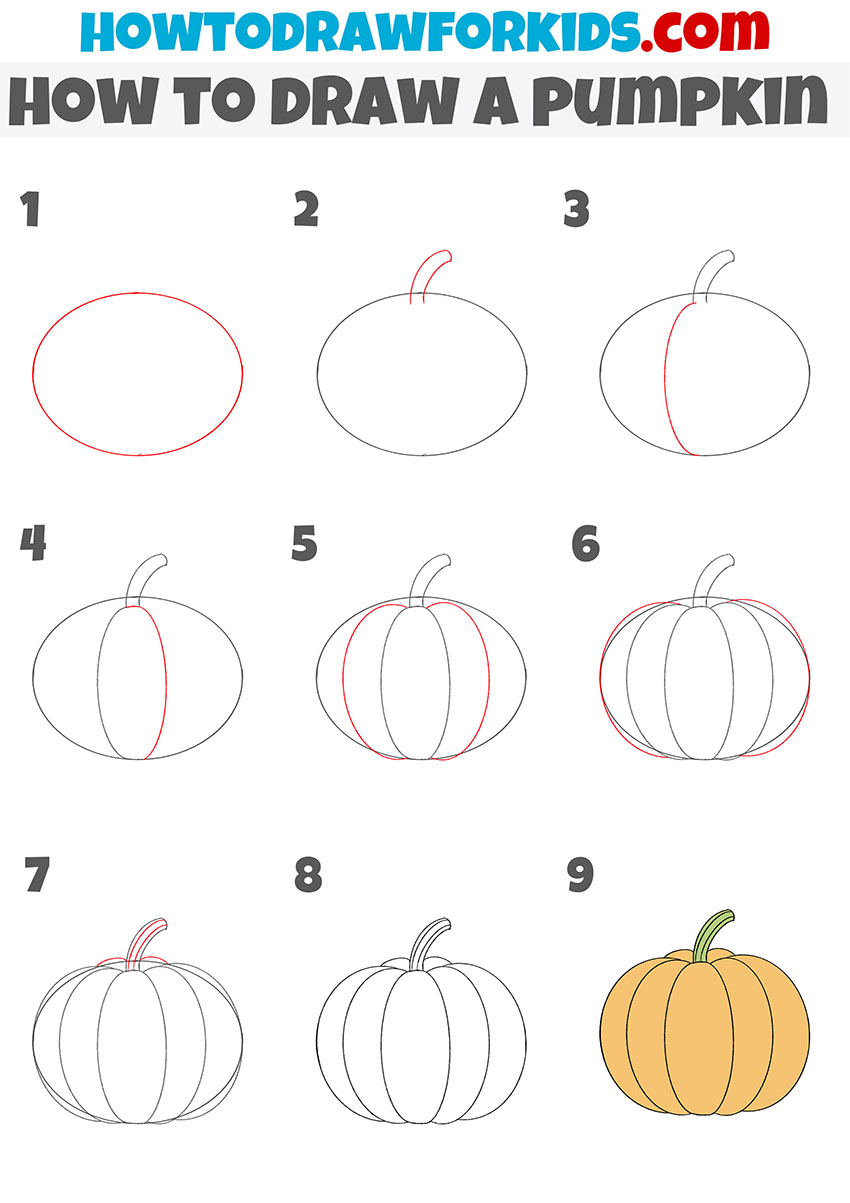 In this tutorial, I want to show you how to draw a pumpkin step by step. I hope that this lesson will help you improve your artistic skills and the process of drawing will give you pleasure.
Here is a simple instruction that shows you how to draw a pumpkin step by step. You may have already completed similar lessons on my site, and this step-by-step guide will solidify your skills.
If you have not drawn a pumpkin before, then you have a great opportunity to learn how to draw this vegetable. The pumpkin has a rounded shape and a smooth, ribbed surface, so in this lesson, you will practice your ability to make smooth, rounded lines.
Drawing a pumpkin is very interesting. It is a vegetable that has been grown for centuries. There are different varieties of pumpkin that differ in color, size, and taste. In this lesson, you will draw the most common shape of a pumpkin.
Materials
Pencil
Paper
Eraser
Coloring supplies
Time needed: 20 minutes
How to Draw a Pumpkin Step by Step
Draw the main outline.

Determine what size your drawing will be and draw an even oval.

Depict the stem.

At the top of the oval, add the small stem.

Add stripes on the pumpkin.

Draw a smooth rounded line from the bottom of the pumpkin to the stem.

Sketch out more stripes.

Depict a symmetrical line nearby.

Add more details.

On the sides, draw smooth symmetrical lines from the stem to the bottom of the pumpkin.

Sketch out the outer outline.

Add smooth, rounded lines along the outer path.

Detail the top of the pumpkin.

Add the stripes on the stalk and depict two small rounded lines.

Correct inaccuracies.

Carefully remove all extra lines in your drawing.

Color the pumpkin.

You will need orange and green.
Now you have the opportunity to download a PDF file with a short version of the lesson for free. Save this file so you can return to the lesson at any time.