In this drawing lesson, you will be able to learn how to draw the solar system step by step. This drawing lesson will be useful for you.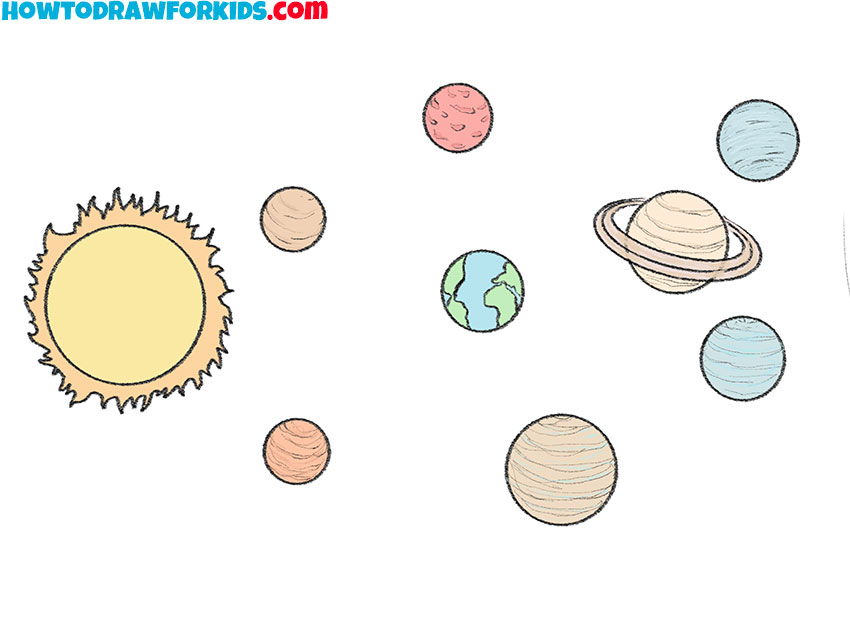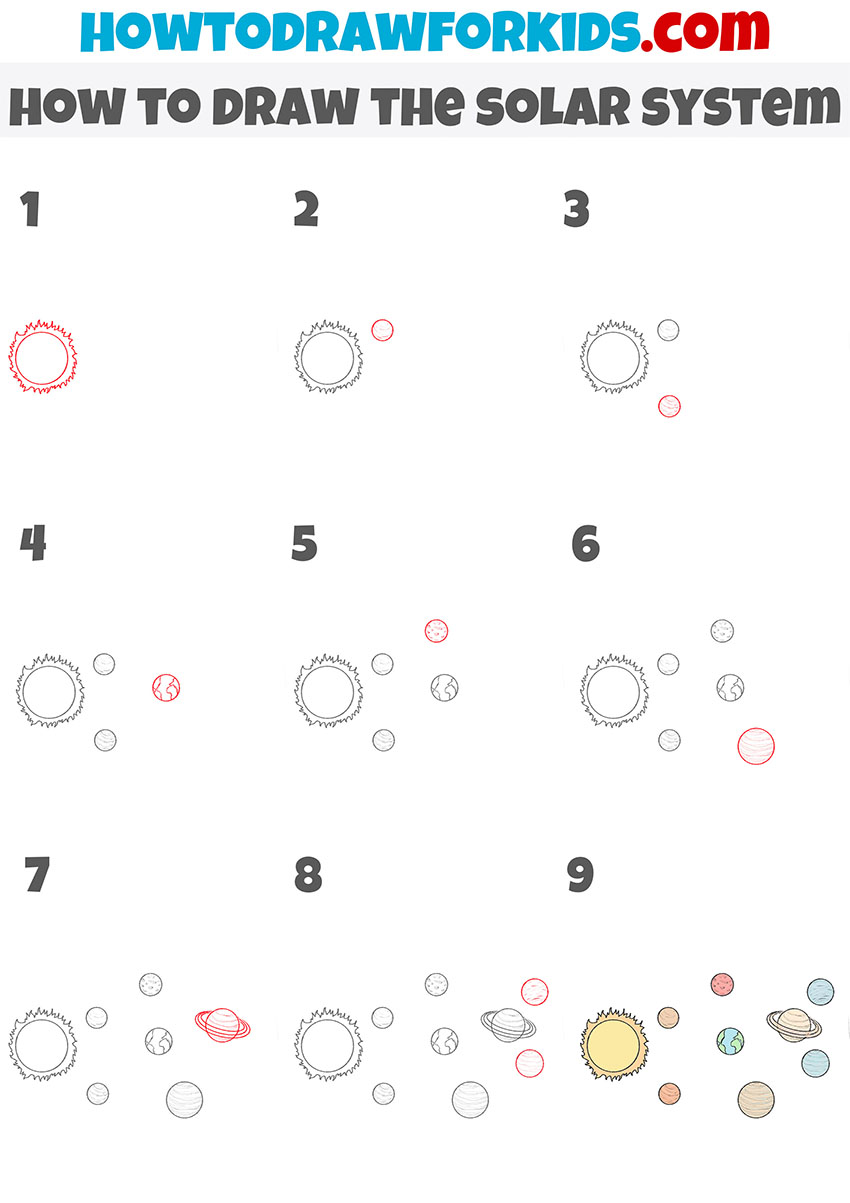 I have prepared for you a very interesting drawing lesson in which you can learn how to draw a solar system step by step. I am sure that this lesson will not leave you indifferent, and you will repeat it with pleasure.
To begin with, I will tell you a little about what the solar system is. Scientists believe that the solar system was formed from a giant cloud of gas and dust.
There are eight planets in the solar system. So let's list these planets: Mercury, Venus, Earth, Mars, Jupiter, Saturn, Uranus, and Neptune.
Also, some scientists single out another planet after Neptune—this is Pluto. These planets are located at different distances from the sun in exactly the same order as we listed earlier.
In this lesson, you will draw the solar system and can use these skills in the future if you want to draw space, as well as the Sun or Moon along with other planets.
In order to complete this drawing lesson, you need to be able to draw circles. Each planet you draw with this tutorial will look like a circle, but each planet will have different features.
Materials
Pencil
Paper
Eraser
Coloring supplies
Time needed: 30 minutes
How to Draw the Solar System
Draw the Sun.

To do this, depict a circle and also add rays using many short, curved lines.

Add the next planet near the Sun.

On the right side, depict a circle and then add some thin, curved lines inside it.

Depict another planet.

Below the drawn planet, add another similar planet in the form of a circle and thin lines.

Sketch out the Earth.

On the right side of the drawn planets, draw a circle, and add some wavy lines inside it.

Draw the Mars.

Above the drawn Earth, depict the Mars as a circle and rounded lines inside its outline.

Add another planet.

Depict a slightly larger planet as a circle, as well as thin intersecting lines.

Draw the next planet.

Add the planet in the form of a circle, thin lines inside it, as well as incomplete ovals around it.

Depict the next planets.

Add two small planets and lines inside them.

Color the solar system.

To color the drawing, use yellow, orange, red, blue, green, and shades of brown.
As usual, I've prepared a PDF file that contains a short version of this lesson, as well as additional useful materials for your training. Download this file so as not to lose it and return to this lesson at any time convenient for you.