Rattlesnakes are very moody ladies and you must be careful when meeting these snakes. I would like to show you how to draw a rattlesnake.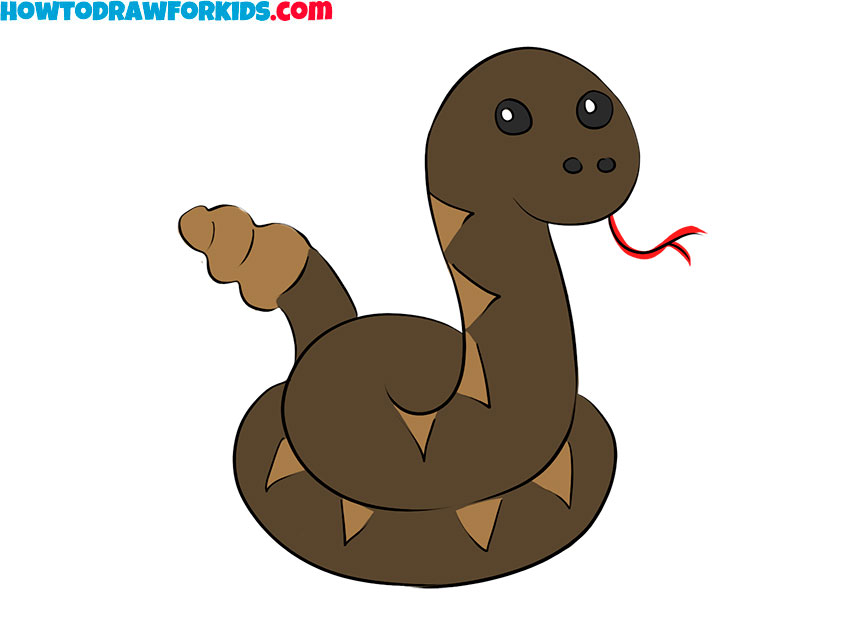 In this tutorial, I will show you how to draw a rattlesnake. The most important feature of a rattlesnake is a rattle at the end of its tail. A rustling of a rattle on the tail of this snake indicates that a rattlesnake was taken by surprise and it is better not to disturb this animal.
Rattlesnake venom is really very dangerous and can be fatal to humans. However, this poison is included in some medicines.
Let's get down to the rattlesnake drawing tutorial! I think that this drawing will turn out to be very cute and funny.
Materials
Pencil
Paper
Eraser
Coloring supplies
Time needed: 18 minutes.
How to Draw a Rattlesnake
Draw the head of the rattlesnake.

Portray the rattlesnake's head using a curved line.

Sketch the part of the rattlesnake's torso.

To do this, draw two curved lines – one opposite the other.

Draw the rounded section of the torso.

To do this, you need to depict a semi-oval.

Add the lower part of the rattlesnake's torso on the right.

Draw this using a curved line, as shown in the example.

Portray the lower part of the rattlesnake's body on the left.

Sketch this using a curved line similar to the previous step.

Create the rattlesnake's tail.

To draw it, you will need to depict a curved line.

Add details to the rattlesnake's head.

Portray the eyes, nostrils, and tongue of the rattlesnake, as shown in the picture.

Draw the pattern on the torso.

Decorate the rattlesnake's body with the triangular patterns, and add the stripes on the tail.

Color the finished drawing.

Color the tongue of the rattlesnake in red, and the torso in light brown and dark brown.
This interesting lesson has come to an end. I hope that in the rattlesnake drawing tutorial everything was clear to you and you did not have any difficulties.
Write in the comments if you managed to draw a rattlesnake? I am sure that your drawing turned out to be very pretty and cute. I will gladly consider your suggestions and ideas for new drawing lessons step by step.
If you are satisfied with the result of your work, be sure to share this lesson with your friends, and do not forget to subscribe to us on social networks. I have also prepared a PDF file for your convenience. You can download it and return it to the lesson at any convenient time.