How to Draw a Realistic Turkey
In this tutorial, I want to show you how to draw a realistic turkey. The lesson consists of nine steps that you can easily follow.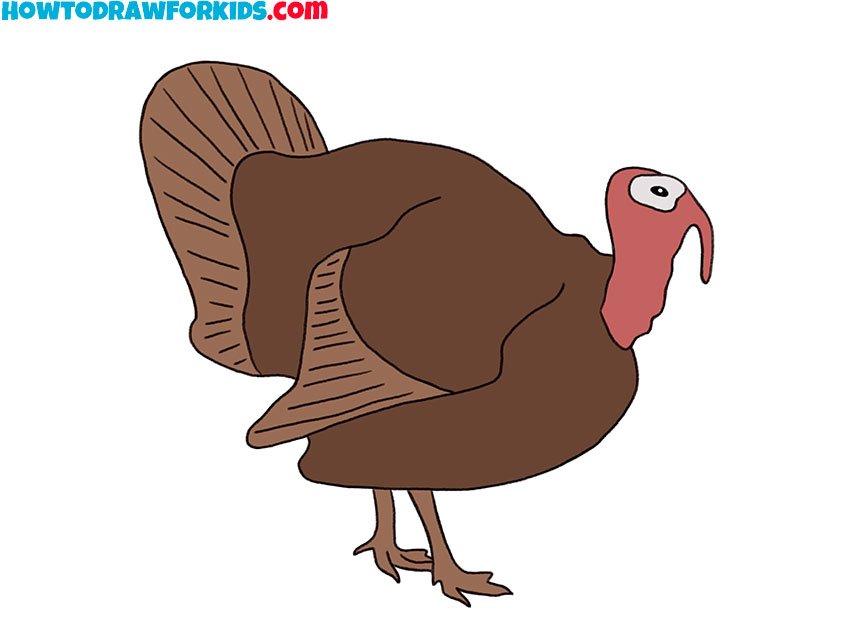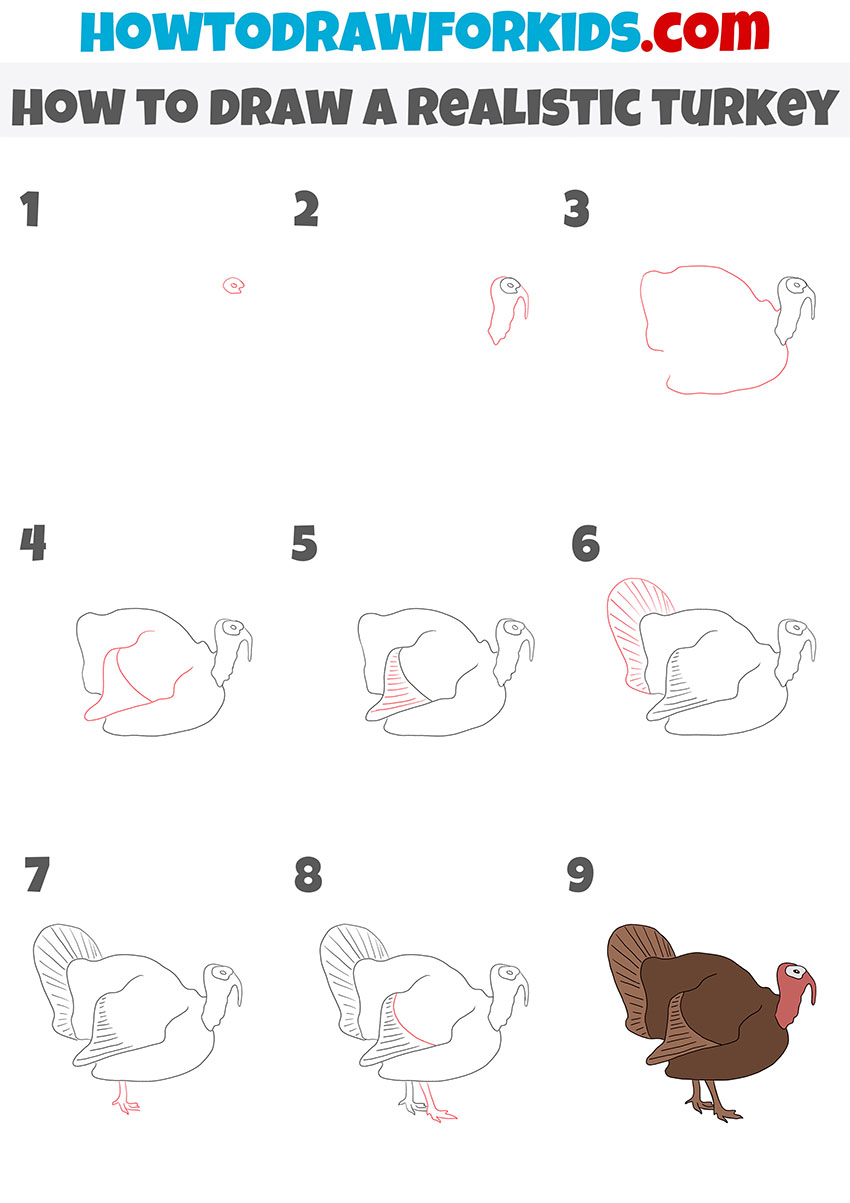 Here is a simple instruction from which you will learn how to draw a realistic turkey. This poultry is well known to you, and you have repeatedly seen a turkey in a picture or in real life.
Before I start drawing, I want to tell you some interesting facts. Male turkeys are capable of making unusual loud sounds, while females are very quiet. Turkeys are large and have lush plumage.
There are no feathers on the head and neck, and on the beak there is a long proboscis made of leather. It is noteworthy that in some countries turkeys were bred for decorative purposes and only after many years they began to be eaten.
Currently, turkeys are kept at home and on large poultry farms. It is worth noting that raising turkeys is a little more difficult than raising chickens. By the appearance of a bird, you can determine its mood. When a turkey is scared or agitated, the skin of the head and neck takes on a brighter color.
Materials
Pencil
Paper
Eraser
Coloring supplies
Time needed: 30 minutes
How to Draw a Realistic Turkey
Draw the eye area.

Depict an oval shape, draw the small eye inside.

Depict the head.

Use a smooth wavy line to outline the head and neck, add the proboscis above the beak.

Add the torso.

Draw smooth lines from the head and depict the back and belly.

Sketch out the wing.

On the side of the body, draw the wing of the same shape as in the example.

Detail the plumage on the wing.

Sequentially, depict several straight lines of different lengths.

Detail the plumage on the tail.

Draw thin, straight lines along the tail, just as you did on the wing.

Sketch out one paw.

At the bottom, add the paw and depict the pointed fingers.

Depict the second paw.

Draw the paw in the same shape as in the previous step and add the stripe on the wing.

Color the turkey.

For coloring, you will need pink and different shades of brown.
I recommend doing other exciting lessons and learning how to draw other birds. Improve your skills with my simple instructions. In conclusion, I suggest you download a short version of the lesson as a PDF file for free.