This time I will tell you how to draw a simple dragon face step by step. This drawing lesson is very simple and consists of nine steps.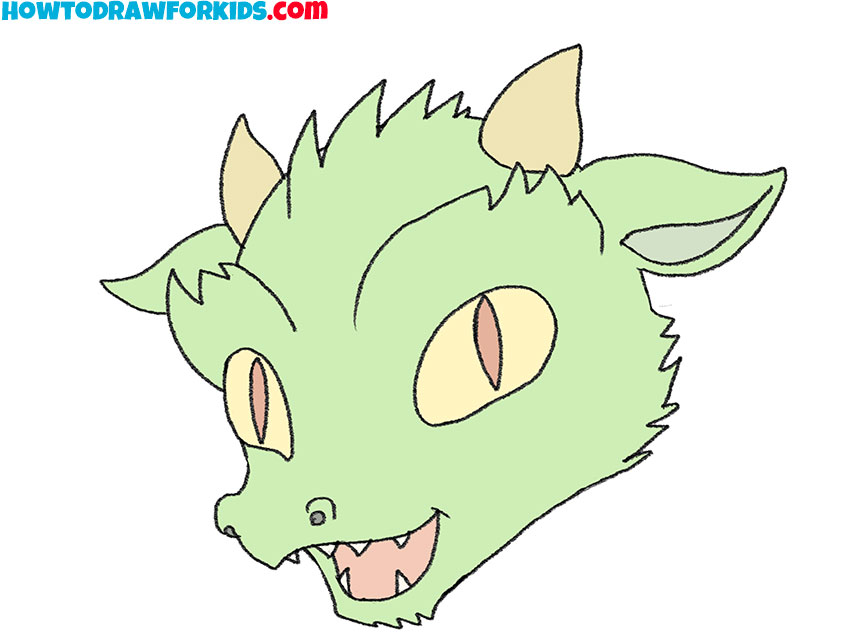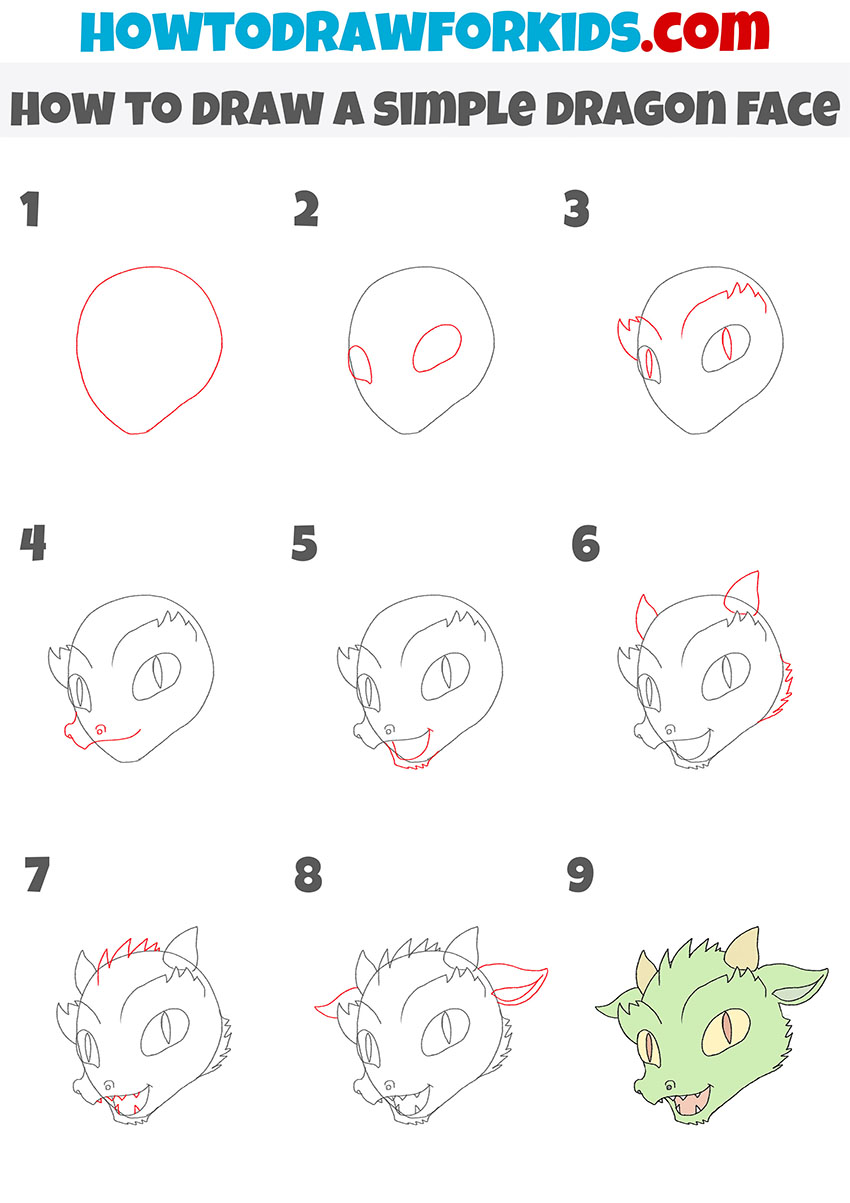 So, in this drawing lesson, you will learn how to draw a simple dragon face step by step. I am sure that this drawing lesson will be interesting for each of you and will help you improve your artistic skills. This instruction is sure to appeal to anyone who is fond of studying and drawing dragons. This is another wonderful lesson that is dedicated to depicting amazing ancient mythical creatures.
When you learn how to draw a simple dragon face, you can easily use it as the main subject of your drawing, as well as draw this animal in its entirety. The simple dragon face that you will soon be able to draw with this tutorial will look very cute and funny.
Now you should prepare your art supplies and carefully follow my recommendations. I wish you good luck in completing this drawing lesson, and I am sure that you will easily cope with this work, and also enjoy the creative process!
Materials
Pencil
Paper
Eraser
Coloring supplies
Time needed: 30 minutes.
How to Draw a Simple Dragon Face
Draw the outline of the dragon's head.

To complete this step, you need to depict the shape as shown in the image using a curved line.

Add the outlines of the eyes of the dragon.

Depict two shapes inside the previously drawn outline of the head using curved lines.

Finish drawing the eyes and add elements above them.

Use arcs as well as curved and zigzag lines to draw the pupils and features above the eyes.

Depict the nose on the face of the dragon.

Below the eyes, draw the protruding nose and nostrils using curved lines, a circle and an arc.

Sketch out the mouth and chin.

Below the nose, draw the wide open mouth and chin using curved and zigzag lines.

Draw the fur on the side of the face, and also add the horns.

On the right side of the head, add a zigzag line and also draw two horns at the top of the head.

Add the teeth and fur on the dragon's head.

Draw teeth inside the dragon's mouth, and add a zigzag at the top of the head.

Sketch out the ears.

At the top of the head, draw the ears pointing in different directions using curved lines.

Color the drawing.

To color the simple dragon face, use green, yellow, red, gray, and pink.
I remind you that you can download the PDF file that I have prepared especially for your convenience. This file contains a short version of this lesson and has additional useful training materials. Download this file so as not to lose it and return to this lesson at any time convenient for you.