I have prepared for you a new exciting drawing lesson in which you can learn how to draw a werewolf step-by-step.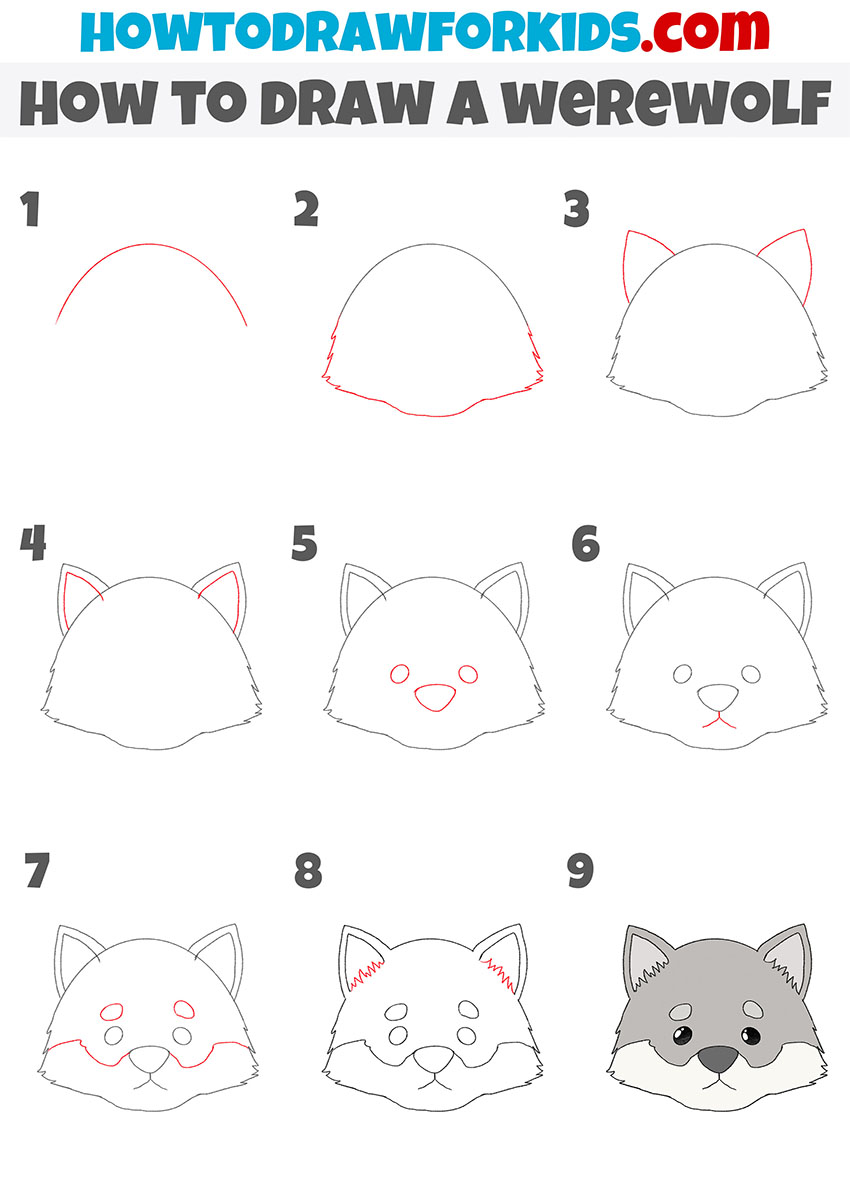 In this drawing lesson you will be able to learn how to draw a werewolf step by step. Surely, you have heard about this mythical creature many times. A werewolf is a creature that can change its appearance through superhuman powers or sorcery.
Werewolves are found in the cultures of many peoples, so you may have heard about them in various fairy tales, books, films, or cartoons. Usually a werewolf is a person who has been transformed or able to turn into a wolf for a certain period of time.
In this lesson, in order to depict a werewolf, you will draw the face of a wolf. The skills you gained during this lesson will definitely help you in the future for drawing many of your interesting paintings.
If you want to draw a werewolf in full growth, then you can use the information from this lesson to draw his head in more detail.
Materials
Pencil
Paper
Eraser
Coloring supplies
Time needed: 30 minutes.
How to Draw a Werewolf Step by Step
Start drawing the outline of the head.

In order to complete this step, you need to draw one arc, as shown in the figure.

Depict the bottom of the head.

Below the previously drawn arc, add several curved lines of varying lengths.

Add the outline of the werewolf's ears.

At the top of the outline of the head, depict two symmetrical ears using curved lines.

Sketch out the inside of the ears.

Inside the previously drawn shapes, draw similar shapes a little smaller.

Add facial features.

Depict the eyes as two ovals and also add the nose using a curved line.

Draw the mouth of the werewolf.

Below the previously drawn nose, depict the mouth using short, curved lines.

Finish drawing the elements of the face.

Add two eyebrows above the eyes, using curved lines, draw two curved lines along the face.

Finish drawing the ears.

Connect the lower ends of the previously drawn lines of the inside of the ears using zigzags.

Color the drawing.

To color the werewolf, use different shades of gray and black.
For your convenience, I have prepared a PDF file that contains all the useful information from this lesson, as well as additional practice materials that will help you develop your artistic abilities. You can download this file right now so as not to lose it in the future, and also return to this lesson even without an internet connection.