How to Draw an Apple Step by Step
Today I will show you how to draw an apple step by step. This lesson will be interesting and useful for any aspiring artist.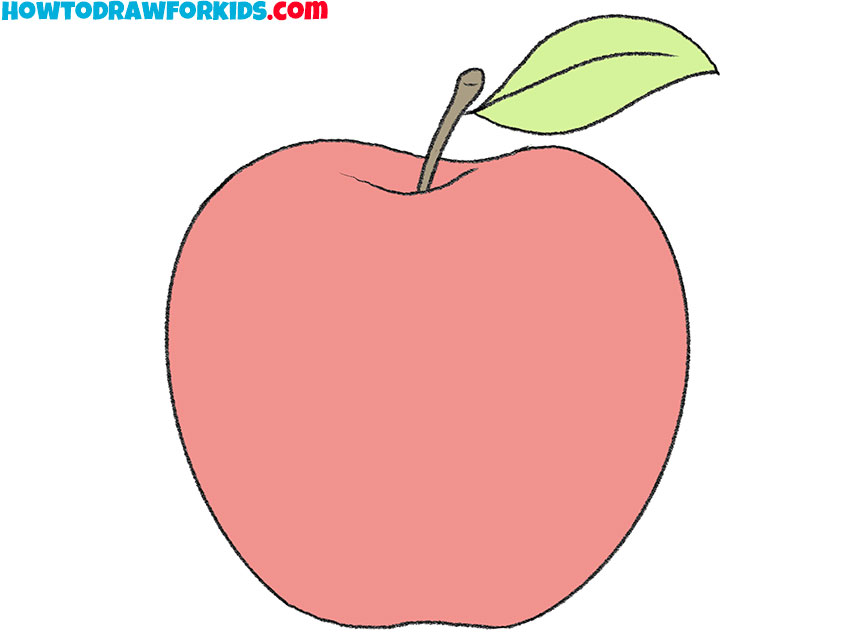 So, in this tutorial you will learn how to draw an apple step by step. This fruit is very popular, and many young artists learn how to draw it. Surely you are very fond of apples and also have a desire to master useful skills.
Apples are very tasty and healthy fruits. The apple has a round shape, there are small indentations in the lower and upper parts. Usually the top is slightly wider than the bottom. At the top of the apple there is a stalk and a leaf. These are very simple elements that you can easily repeat.
To color the apple, you can choose the same colors as in my example, or you can color the apple in a different color, such as yellow or green. It will be nice if you make a smooth transition from one color to another. So, take all the necessary art supplies and get to work.
Materials
Pencil
Paper
Eraser
Coloring supplies
Time needed: 20 minutes
How to Draw an Apple Step by Step
Draw the outer outline.

With smooth lines draw the outer contour of the apple of the same shape as in the example.

Add the indentation.

At the top of the apple, draw the small indentation using a short, curved line.

Depict the stem.

Near the indentation, add the small thin stem.

Start drawing the leaflet.

From the stem, draw a smooth line to the side.

Draw the outline of the leaf.

Using two curved lines, mark the sides of the leaflet.

Correct inaccuracies.

Check your drawing and if you notice errors, then remove them at this stage.

Color the drawing.

For coloring, use red, green, and brown.
Especially for your convenience, I have prepared a PDF file in advance, in which you will find a brief instruction and additional training materials. Rather, download the file and draw at any convenient time.