In this lesson I want to show you how to draw an easy anime girl. I promise that a pleasant and useful pastime awaits you ahead.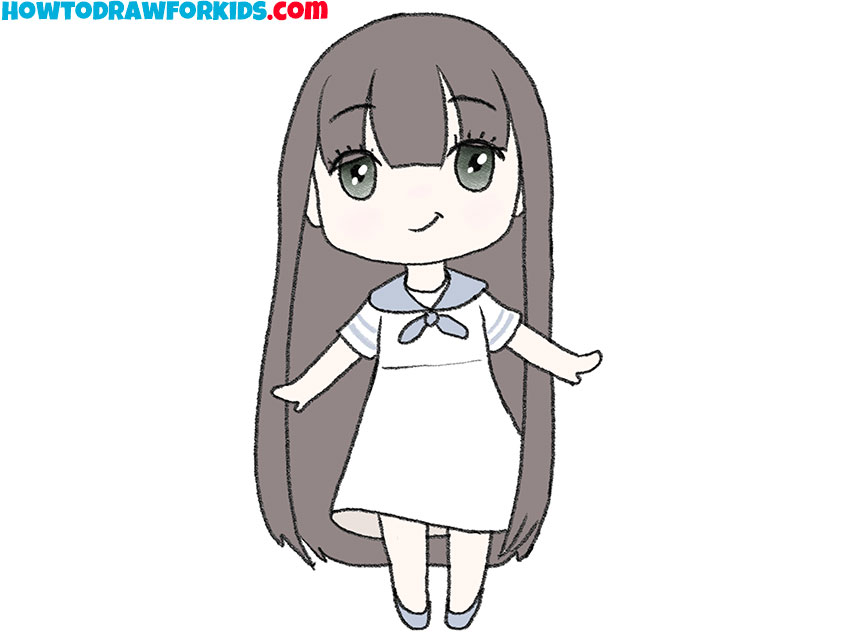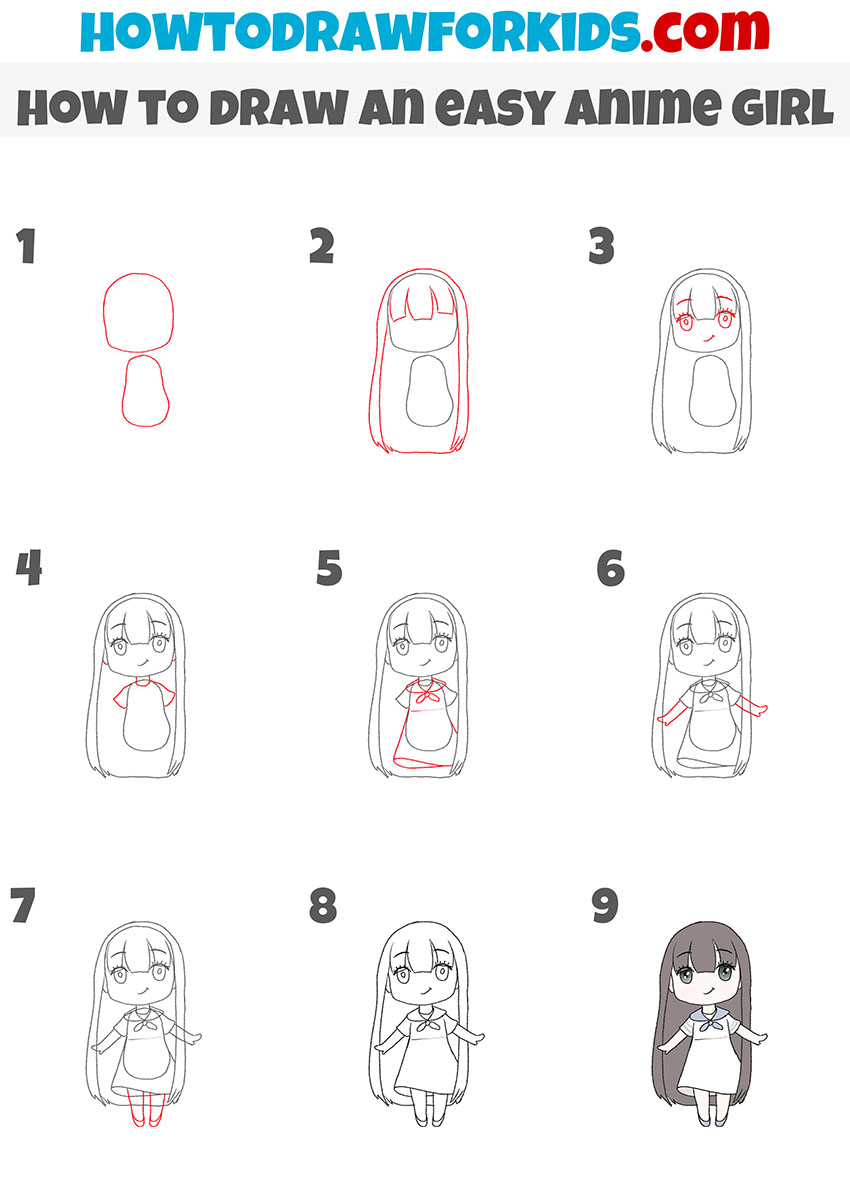 If you are interested in anime characters and want to improve your creativity, then follow the new lesson on how to draw an easy anime girl. Here is a picture of a pretty girl who has long beautiful hair.
Pay attention to body proportions. The girl has a large head and a relatively small body, the limbs are short and not detailed. The eyes are very large and expressive. Try to keep these proportions in your drawing.
If you master this lesson, you will acquire useful skills and in the future you can easily draw other anime characters. And now take your art supplies and start carefully and carefully follow all the steps in this instruction, try to draw the same lines as in the example.
Materials
Pencil
Paper
Eraser
Coloring supplies
Time needed: 30 minutes
How to Draw an Easy Anime Girl
Draw the head and torso.

The lower part of the head is square, and the torso is pear-shaped.

Depict the hair.

Draw a few strands of the hair on the forehead and add the rest of the hair outline.

Sketch out the elements of the face.

Draw two large eyes, draw the eyebrows at the top and depict the mouth using a short line.

Add the ears, neck and upper part of the clothes.

Depict the visible part of the ears, draw the short neck and sleeves on the clothes.

Draw the rest of the clothes.

Depict the scarf tied around the neck, and draw the bottom outline of the clothes.

Depict the hands.

With the help of smooth lines depict the arms that are raised and directed to the sides.

Sketch out the legs.

At the bottom draw the legs and add the outline of the shoes.

Correct inaccuracies.

Take the eraser and carefully remove all the extra lines in your drawing.

Color the drawing.

Use any natural shades to color the skin and hair. For coloring clothes, you will need blue.
Now you have completed all the steps in this tutorial, and you know how to draw an easy anime girl. Share your impressions about this lesson in the comments and suggest your ideas for the next lessons. Don't forget to download the PDF file that I have prepared especially for your convenience. In this file you will find a brief instruction and additional training materials.