In this lesson you will learn how to draw an easy bed. The instruction includes seven simple steps that you can easily follow.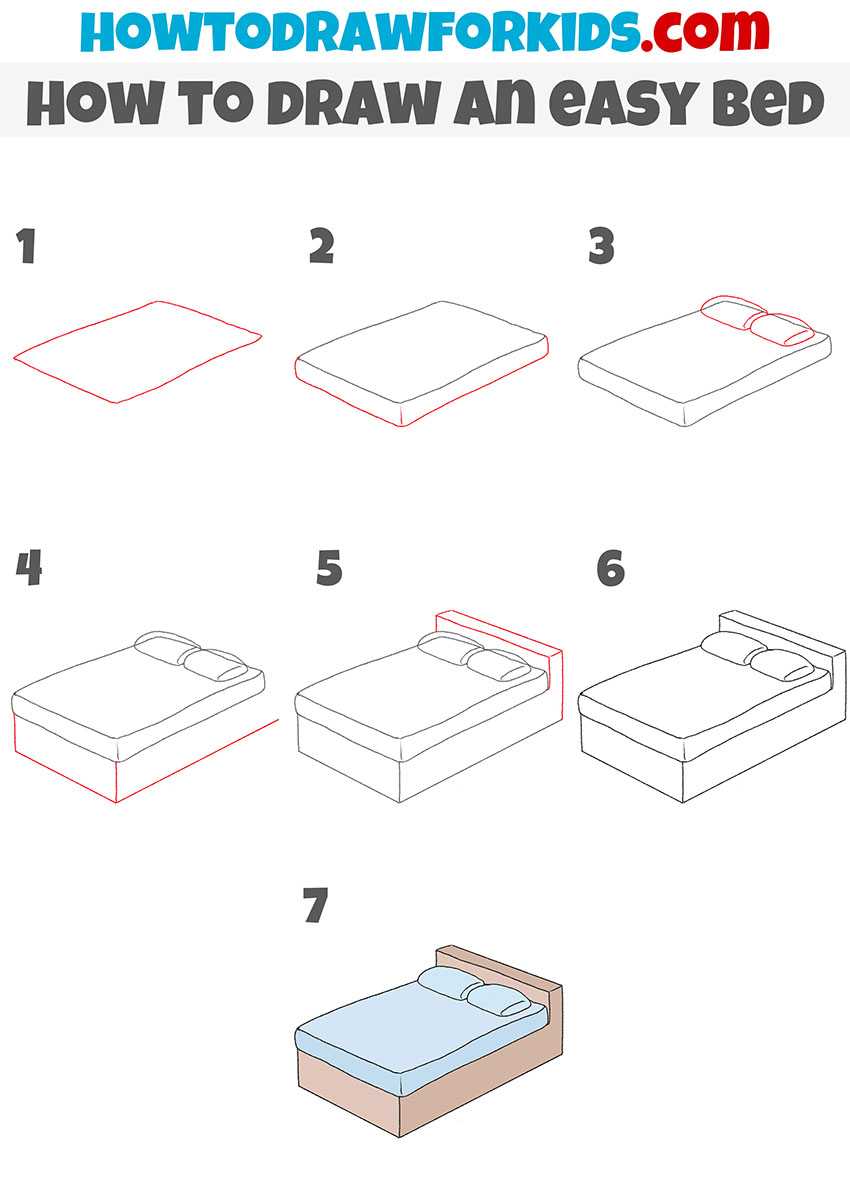 Now I will show you how to draw an easy bed step by step. Here is a double bed, which has a simple shape. Doing this lesson will be a great exercise for your creativity, because now you will once again practice drawing even straight lines, as well as train your spatial imagination.
Consistently follow all the steps in this instruction and carefully draw the lines that are marked in red. Strive to ensure that your drawing is as similar as possible to my example.
For coloring the mattress and pillows, you can use the same color that is suggested in the instructions or any other color of your choice.
Materials
Pencil
Paper
Eraser
Coloring supplies
Time needed: 30 minutes
How to Draw an Easy Bed
Draw the top outline.

With the help of a few smooth lines, depict the upper outline of the bed, which has a rectangular shape.

Add the height of the mattress.

Draw short lines down from each corner and add the bottom outline of the mattress.

Depict the pillows.

With smooth lines draw two identical pillows of the same shape as in my example.

Sketch out the bottom outline of the bed.

Draw down two vertical lines and use straight lines to draw the bottom outline of the bed.

Draw the headboard.

Use several straight lines to represent the headboard.

Correct inaccuracies.

Using the eraser, carefully remove all the extra lines in your drawing and correct the mistakes.

Color the drawing.

Color the bed in brown, color the mattress and pillows in blue.
Now you know how to draw a bed quickly and easily. You can use the acquired skills in the future when you want to draw the interior of the bedroom. By tradition, at the end of the lesson, I prepared a PDF file for you, in which you will find a simplified version of this walkthrough and additional useful content. Download the file and draw at any convenient time.