In this drawing lesson I want to show you how to draw an easy dragon head. The instruction consists of nine steps.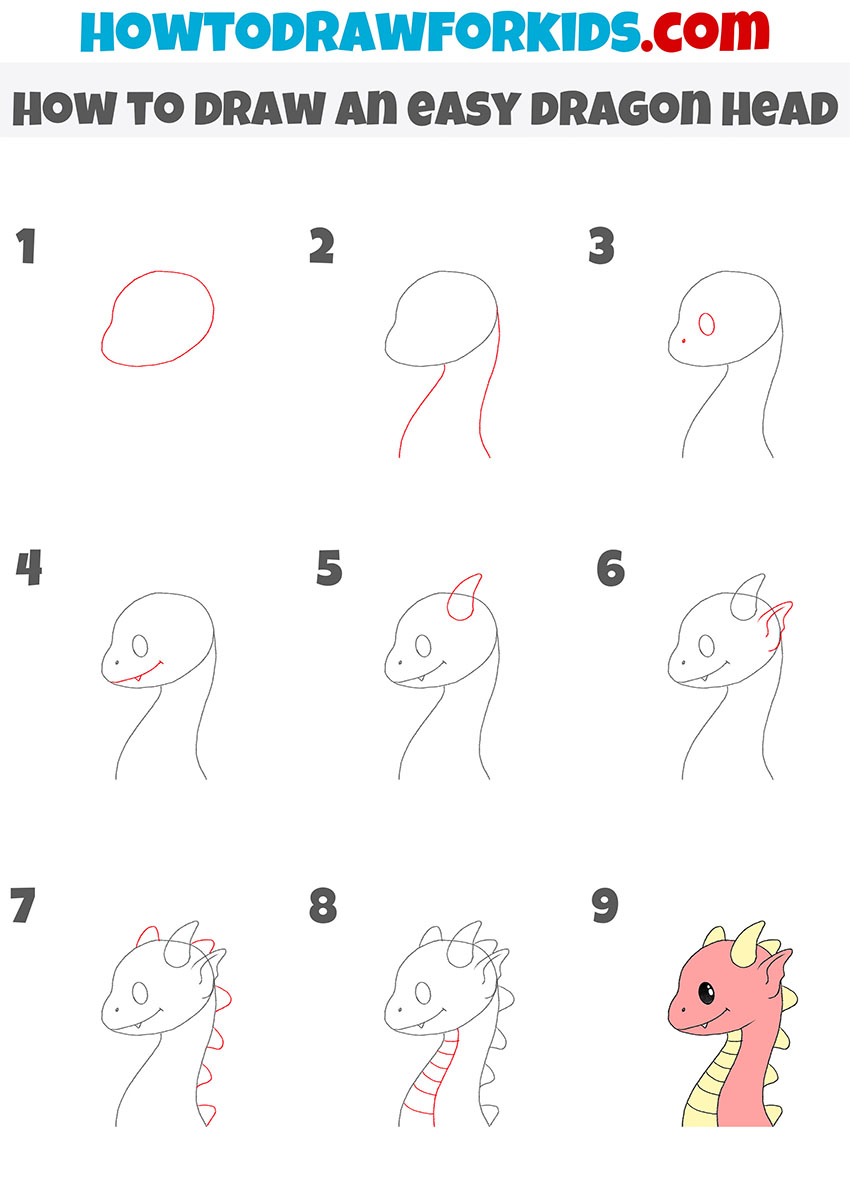 I am glad that you are interested in the drawing lessons presented on this site, and now I want to show you how to draw an easy dragon head. The instruction is very simple and in the process of work you will not have any difficulties.
The dragon is a formidable fairy-tale creature that has wings and is able to exhale flames. But in this tutorial, the dragon looks really cute, and it's not scary at all. When you learn how to draw a dragon head, you can easily draw a whole dragon in the future.
I hope you enjoy this tutorial and have a pleasant experience. Check if all the art supplies are at hand and if everything is ready, then you can start the lesson.
Materials
Pencil
Paper
Eraser
Coloring supplies
Time needed: 30 minutes
How to Draw an Easy Dragon Head
Draw the head.

The head has an oval shape, while the front part is more convex.

Depict the neck.

From the head, draw down two smooth, curved lines to outline the neck.

Add the elements of the muzzle.

Draw the eye in the shape of an oval and add the small nostril just below.

Sketch out the remaining elements of the muzzle.

At the bottom of the head, draw a line to represent the mouth and add the pointed tooth.

Draw the horn.

At the top of the head, draw the horn that has a wide base and a sharp end.

Depict the ear.

On the side of the head, add the ear of the same shape as in my example.

Add the spikes.

Depict the small spikes, starting from the top of the head and down to the bottom of the neck.

Detail the neck.

On the neck, draw a vertical curved line and successively add several transverse lines.

Color the drawing.

In this tutorial you will need pink, yellow and black.
I hope that you have followed all the drawing steps correctly, and you have a great drawing. Share your opinion in the comments. I remind you that now you can download a PDF file for free, which contains a brief instruction and additional training materials. Save the file and draw at any convenient time.