How to Draw Deadpool Step by Step
Now you will learn how to draw Deadpool step by step. With the help of a simple guide, you will quickly learn how to draw this character.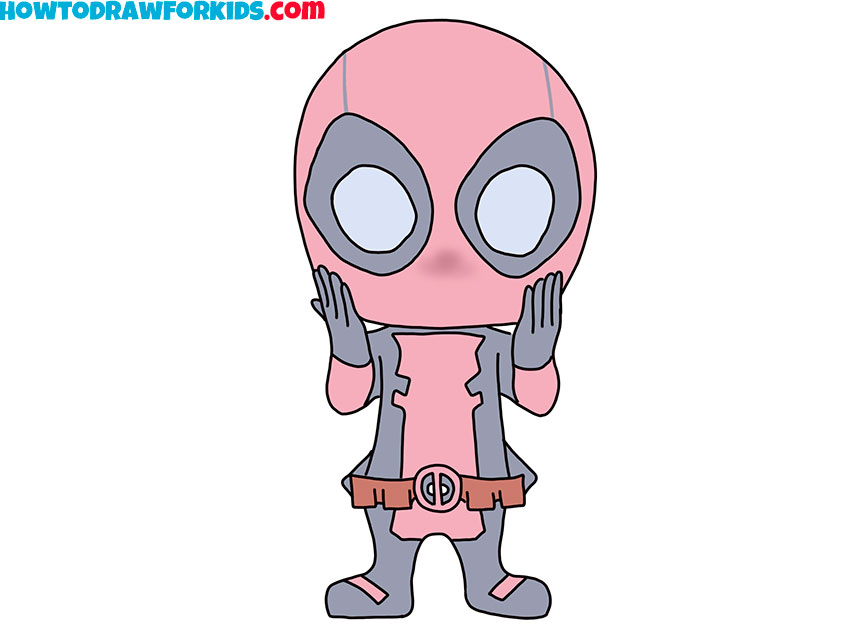 I hope you enjoy drawing popular characters, and I am glad to offer you an instruction with which you will learn how to draw Deadpool step by step.
This is the hero of comics published by Marvel Comics, where Deadpool is presented as a hired killer. He has a bright temperament, a sense of humor and excessive talkativeness. According to the plot of the comics, the young guy became seriously ill and, as a result of treatment, received the ability to regenerate, gained tremendous strength and endurance.
In this tutorial, Deadpool is presented in chibi style. This style of drawing is characterized by unrealistic body proportions, with a large head, small torso, and short limbs. Deadpool is dressed in a special suit, he wears a mask on his head. Be careful at every stage of drawing, carefully draw all the lines that are marked in red. Now I suggest you take your art supplies and start this lesson.
Materials
Pencil
Paper
Eraser
Coloring supplies
Time needed: 30 minutes
How to Draw Deadpool Step by Step
Draw the outline of the head.

Depict a rounded figure in which the lower part is flatter.

Depict the mask.

Use smooth lines to draw the outer contour of the mask and holes for the eyes.

Add the torso.

With the help of several lines, depict the small torso below the head.

Sketch out the hands.

Deadpool's arms are bent at the elbows and his fingers touch the bottom of his face.

Draw the belt.

In the lower part of the body, draw the belt, which consists of several elements.

Depict the outline of one leg.

Sketch out the upper part of the leg and the foot, which is turned to the side.

Add the other leg.

Continue the line and draw the second leg, just like you did in the previous step.

Detail the costume.

On the front of the torso, draw a figure of the same shape as in the figure.

Color the drawing.

For coloring, use different shades of purple and burgundy.
Especially for your convenience, I have prepared a PDF file that contains useful information about this lesson in a simplified form. Download the file so that you can always return to the lesson and do it again at any convenient time.