In this lesson, I want to show you how to draw Denki Kaminari. I hope that this simple and fun tutorial will please any aspiring artist.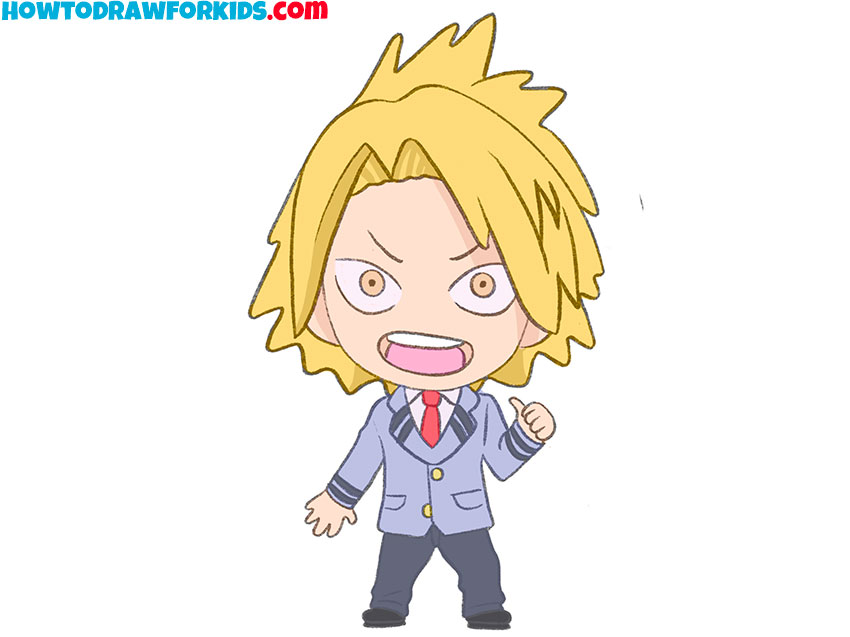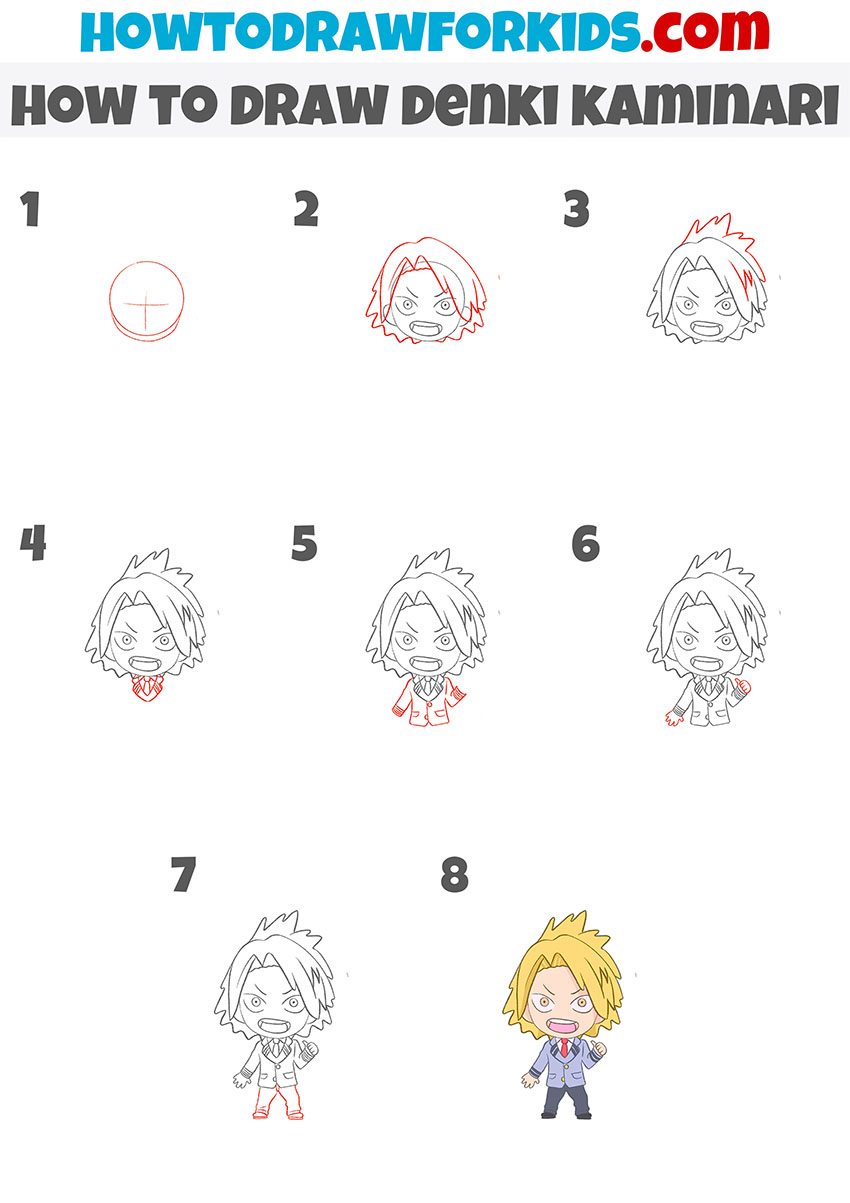 So, I decided to dedicate this step-by-step guide to drawing an anime character, and now you will learn how to draw Denki Kaminari step by step. He is a teenager student at Yuuei Academy who trains hard to become a professional hero. Denki has blond tousled hair and is dressed in a hero costume. Denki Kaminari is kind and sociable, but sometimes he can be overly chatty and a little silly. The negative qualities also include the fact that Denki cannot control himself in battle.
In this tutorial, Denki Kaminari is presented in chibi style. You can see that the character has a large head, a relatively small torso and short limbs, while Denki is easily recognizable. Try to draw this character using my instructions, and you will see that it is interesting and not difficult.
Now I will ask you to prepare all the necessary art supplies and start the lesson.
Materials
Pencil
Paper
Eraser
Coloring supplies
Time needed: 30 minutes.
How to Draw Denki Kaminari
Draw the head.

Depict an even circle, mark the lower part of the face and mark up the elements of the face.

Depict the elements of the face and hair.

Draw the large eyes, short eyebrows and the wide open mouth. Draw the hair with jagged lines.

Add the rest of the hair.

With the help of jagged wavy lines, add a few strands at the crown.

Sketch out the top of the suit.

At this stage, draw the collar and tie below the head.

Draw the upper body.

Depict the jacket, while one hand is lowered down and the other is raised up.

Depict the hands.

Carefully draw the hands in the same position as in the example.

Add the legs.

Depict two legs and draw the character's shoes at the bottom.

Color the drawing.

Use beige, yellow, red and several shades of gray.
The Denki Kaminari is ready! I hope that you enjoyed drawing this character and now admire the result of your work. Share your impressions in the comments, and write what other anime characters you know and want to learn how to draw. I will take into account all your wishes when compiling new, exciting lessons. Now you can download a PDF file for free, which contains a brief instruction and additional useful content.