In this drawing lesson, I will show you how to draw Groot easy. I am sure that this lesson will be useful to you. I have specially adapted this Groot drawing tutorial for kids and aspiring artists.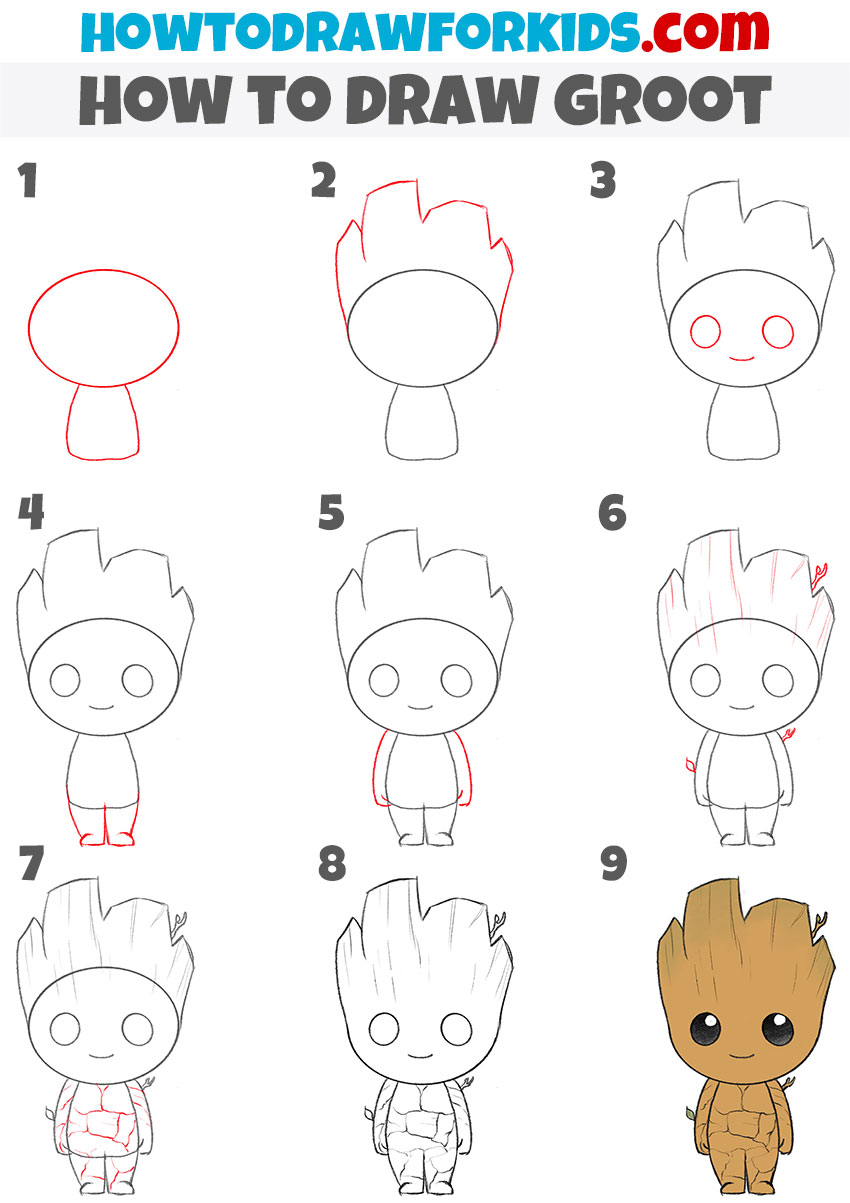 So let's start this drawing tutorial on how to draw Groot. I find this character very unusual and interesting. Do you know anything about this hero? In this guide, you can learn a little more about Groot and draw him step by step.
Groot is a fictional character appearing in American comic books published by Marvel Comics. He is a hyper-intelligent, tree-like organism from the species Flora colossus native to planet X. Groot has superhuman strength and the ability to quickly regenerate after enduring physical damage.
If you're a fan of Marvel Comics, you're sure to love this tutorial! The finished image of this character will look very cute. Follow the instructions step by step and have a great time drawing Groot!
Materials
Pencil
Paper
Eraser
Coloring supplies
Time needed: 20 minutes.
How to Draw Groot Easy
Draw the hero's head and torso.

Draw his head as an oval and his body as a curved line. His head is slightly bigger than his torso.

Add the top of the head.

Depict the tree bark at the top of the tree-like character's head.

Draw Groot's facial features.

Add the character's eyes as ovals, and draw his mouth with a short curved line.

Outline the hero's legs.

Picture them below the torso. Groot's legs look thick and short.

Draw the hands.

The character's hands are down along the torso and are similar to each other.

Add decorative elements.

Draw streaks on the head to represent the tree bark. Add branches and leaves around his body.

Depict the texture of the wood on Groot's body.

Use the curved lines to draw the tree bark pattern all over the character's body.

Erase the auxiliary lines.

Take an eraser and remove all unnecessary lines from your drawing.

Color the drawing.

Use brown and green to paint Groot's body. Color his eyes black, adding highlights.
Now your drawing skills have improved greatly! I would be happy to read your comments on this drawing lesson. You can suggest your own ideas for new drawing tutorials. As before, I have prepared the PDF file, especially for your convenience. You can download and use it whenever you want, even if you are not connected to the Internet.