If you want to learn how to draw Naruto step by step, then start this tutorial. This guide is very simple and helpful.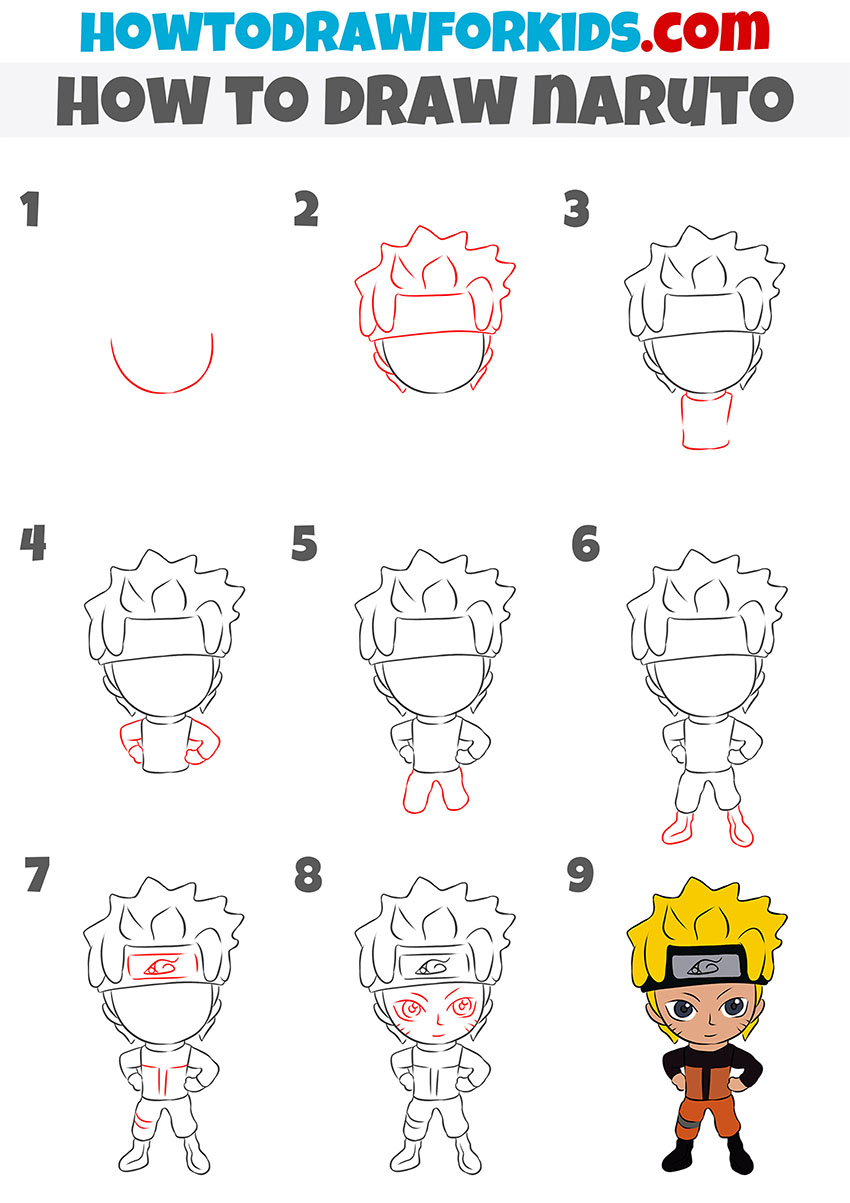 In this lesson, you will learn how to draw Naruto step by step. As a result, you will train your ability to draw a human figure and have a good time.
With the help of simple instructions, I will show you how to draw Naruto step by step. You can easily do this because the lesson is designed for beginners and simple lines are used here.
Naruto is the main character of the manga and anime series. This is a very active and purposeful teenager ninja who has supernatural powers. The teenager was possessed by the Nine-Tailed Demon Fox, which has a significant impact on all of Naruto's actions.
The teenager is dressed in a special costume, there is a bandage on his head, on which a mystical symbol is depicted. Naruto has blonde hair and blue eyes. You can easily draw all the elements of this character if you are careful at every stage of drawing.
Materials
Pencil
Paper
Eraser
Coloring supplies
Time needed: 30 minutes.
How to Draw Naruto Step by Step
Draw an oval for the face.

This is a very simple step in which you have to draw a semi-circular line.

Add the hair and outline of the bandage on the head.

Sketch out lush hair. Draw two smooth lines over your forehead to depict the bandage.

Depict the torso.

The body is much smaller than the head.

Draw the arms.

With smooth lines draw short arms, in the same position as in the example.

Sketch out the legs.

Below the torso draw short legs that are widely spaced.

Detail the clothes and headband.

Draw short lines to add elements of the costume and draw the magic symbol on the headband.

Add facial features.

Sketch out eyes, eyebrows, nose and mouth.

Color Naruto.

Choose black and orange for clothes, yellow for hair, beige for skin, and blue for eyes.
You can download a simplified version of the manual in PDF format. This will help you to return to the lesson and repeat it at any convenient time.