In this lesson we will show you how to draw Naruto. You can draw this super popular anime character in just eight steps.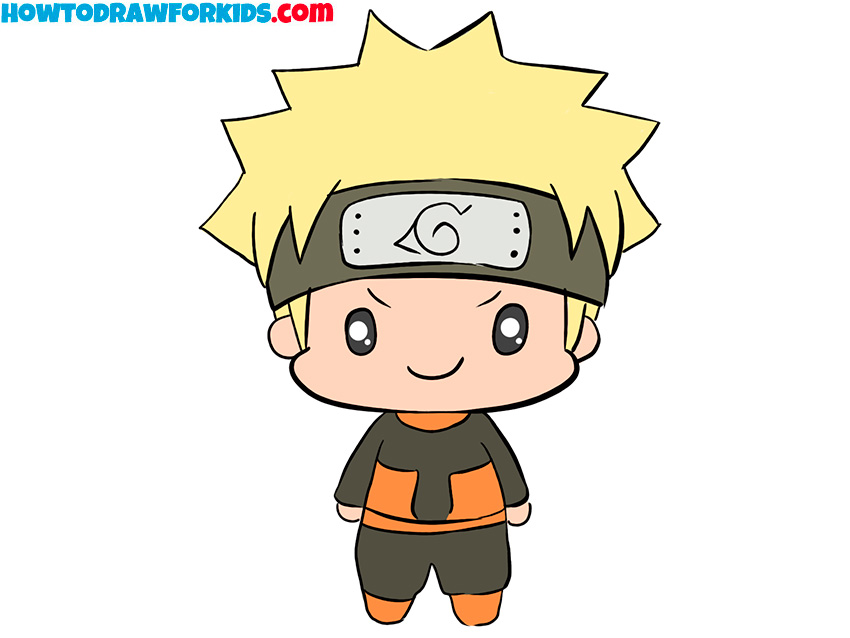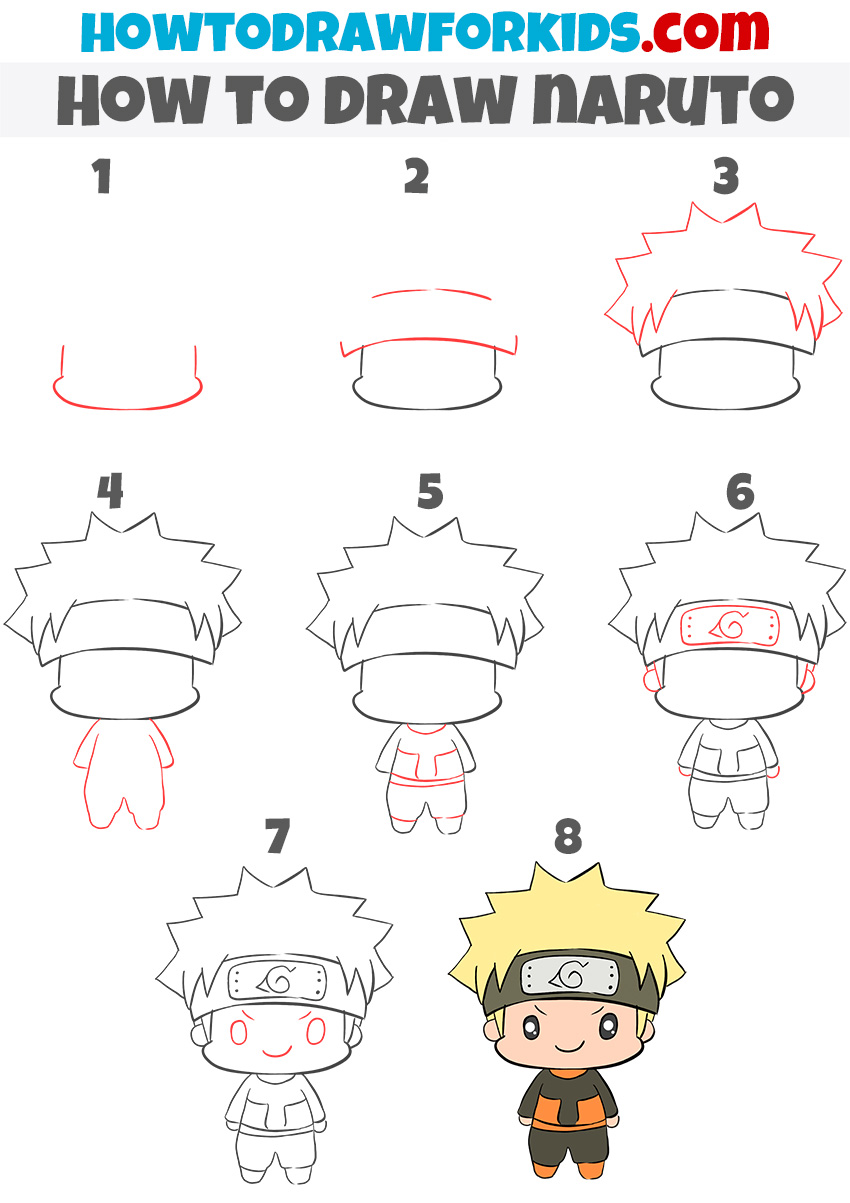 Naruto is one of the world's favorite anime characters. The story about a teenager who dreams of becoming a Ninja is known to every lover of this style of animation. Kind and sympathetic Naruto has a huge number of fans, even among those who do not like anime.
Naruto is a great character to draw. There are no difficult tasks or complicated proportions here – you can only see the typical chibi pattern.
You can draw Naruto now or use the PDF version of the tutorial, which is located a little below. With this, you can draw this anime character at any time, even in the absence of the Internet.
Materials
Pencil
Paper
Eraser
Coloring supplies
Time needed: 20 minutes
How to Draw Naruto
Depict the outlines of the face.

Draw the bottom of Naruto's head. Place this shape in the center of the piece of paper.

Draw a bandage.

The bandage looks like a large arch. Please note that the headband is wider than the head of our character.

Draw the hair.

A thick head of hair is one of the most recognizable features of Naruto's appearance. Draw the outlines of the hair using large angular shapes.

Draw the torso.

The weird proportions are typical enough for Chibi Style, aren't they? Draw a very small torso and limbs like in my reference.

Draw the clothes.

Add some details to the main elements of the clothing.

Add accessories.

Draw a recognizable logo on the headband. Add rounded ears and rounded palms.

Add facial features.

Draw the eyes, eyebrows and mouth of our character.

Color Naruto.

Use classic colors to create a recognizable Naruto look.
So, this was really easy Naruto drawing guide. Please, do not forget that you can save and print the PDF version of the lesson in order to have access to it at any time.
How to Draw Naruto Step by Step
Naruto is the main character of the manga and anime series. This is a very active and purposeful teenager ninja who has supernatural powers. The teenager was possessed by the Nine-Tailed Demon Fox, which has a significant impact on all of Naruto's actions.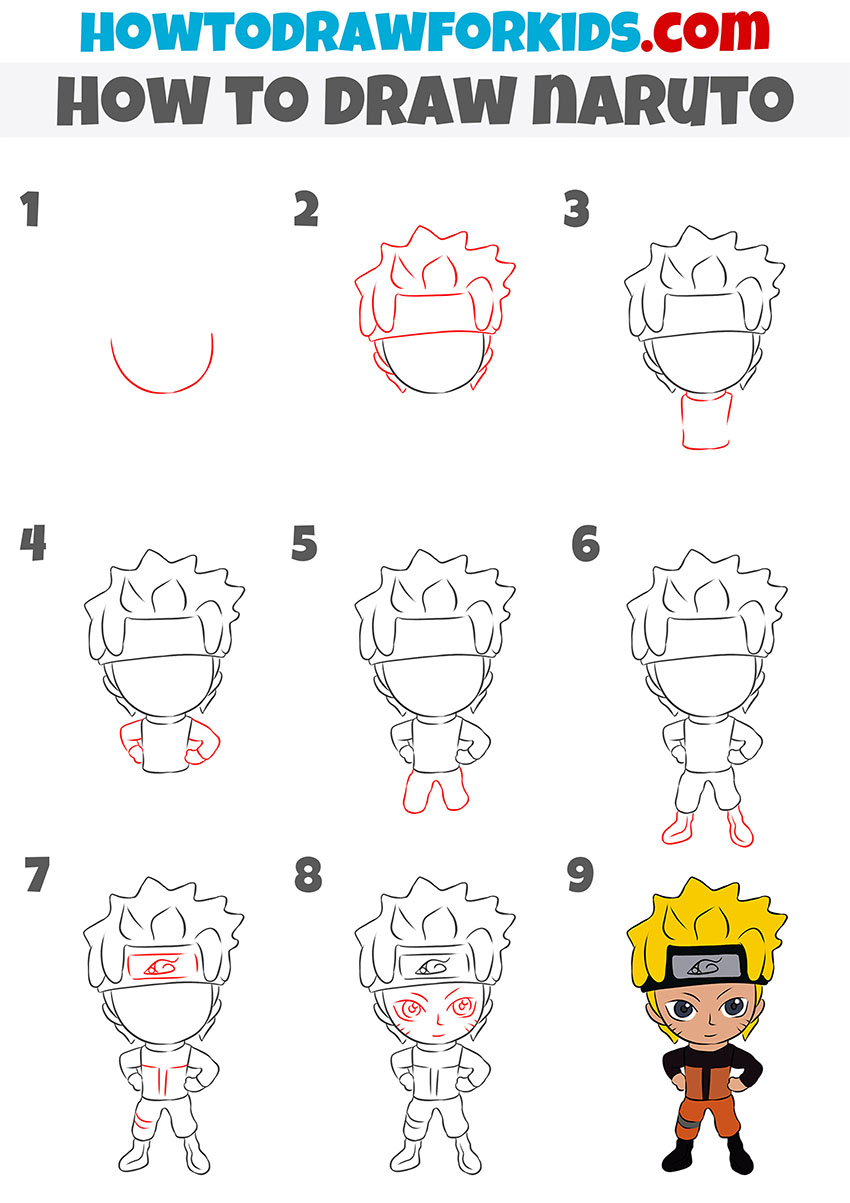 How to Draw Easy Naruto
I hope that this character is of interest to you and that you will be happy to complete the drawing lesson. Here is a very easy way how to draw Naruto step by step. You only need to be attentive and accurate at every stage of drawing.