Today I suggest you complete a fascinating drawing lesson in which you will learn how to draw Sally step by step.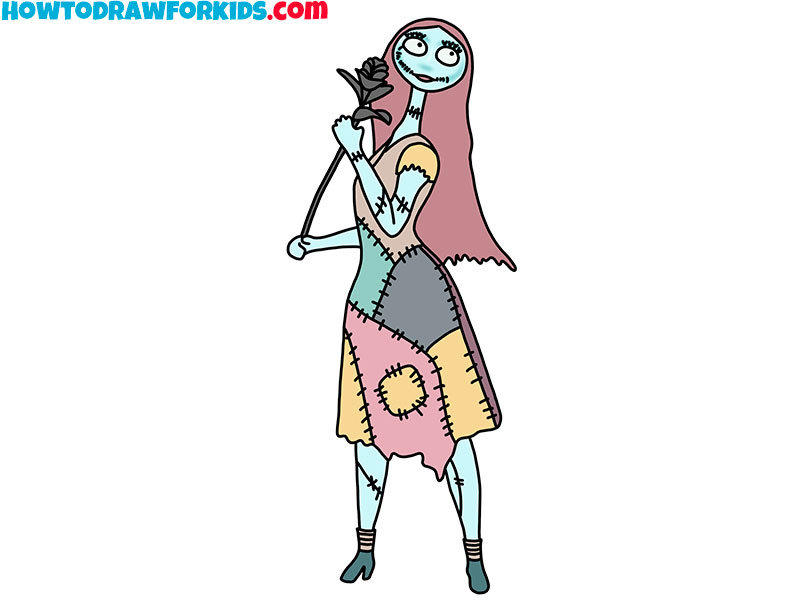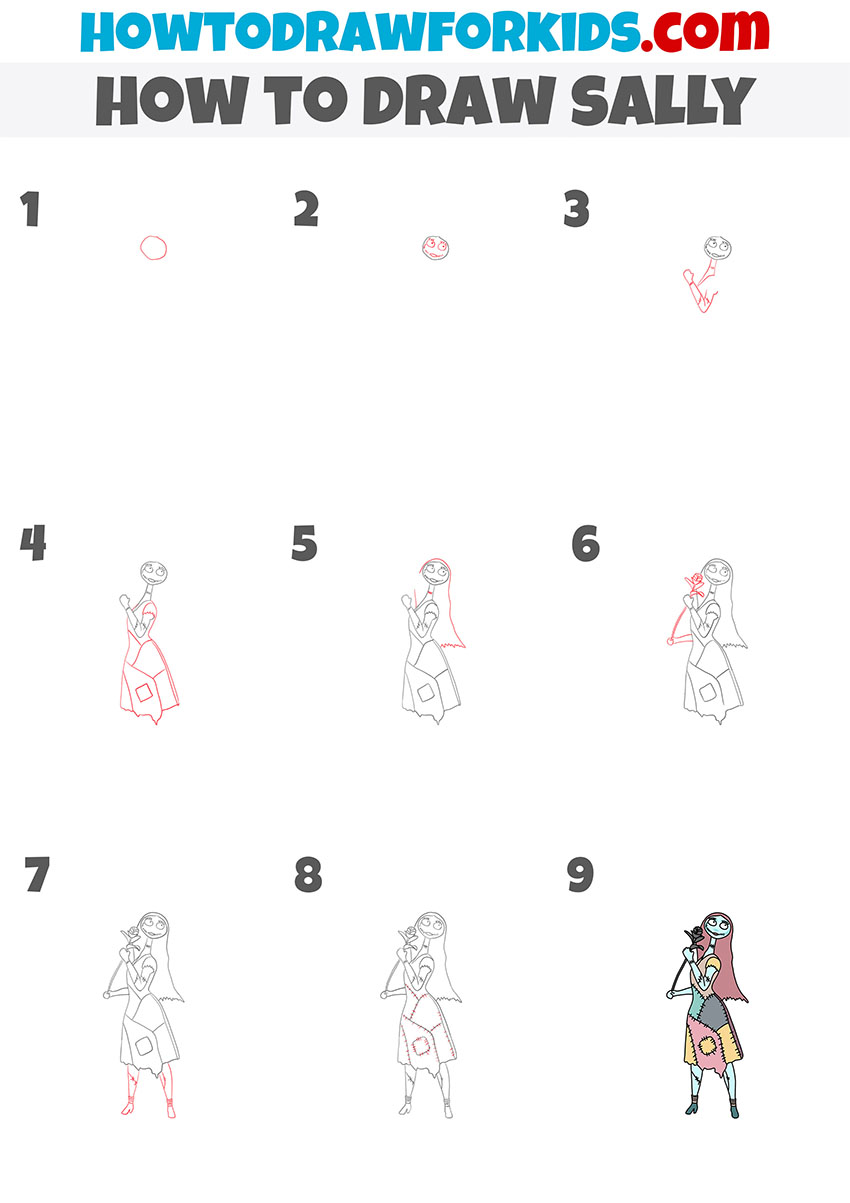 With the help of this drawing lesson, you will learn how to draw another famous character, because here I will tell you how to draw Sally step by step. Each of you who watched this movie will definitely appreciate this manual.
This drawing lesson consists of nine steps, each of which has a detailed description. The finished drawing will turn out very cute and beautiful. Sally is a supporting character in The Nightmare Before Christmas and the main character in the novel Hail the Pumpkin Queen.
She is a rag doll from Halloween town. Sally is dressed in a colorful ragged dress, also sewn from different patches and fabrics, and wears black shoes on her feet. Brown hair, waist length. Sally has a thin neck, large eyes and two seams at the corners of her scarlet lips.
When you learn how to draw Sally from the Nightmare before Christmas, you can depict it as the main subject of your drawing or to complement any scene from the movie that you know. I wish you have a great time doing this tutorial, and also get beautiful work as a result.
Materials
Pencil
Paper
Eraser
Coloring supplies
Time needed: 30 minutes
How to Draw Sally Step by Step
Draw the outline of the character's head.

To draw the Sally's head, you need to draw the figure that looks like a slightly deformed circle.

Add the character's facial features.

Draw the eyes, eyebrows, mouth and decorative elements inside the head.

Depict the neck, chest and one arm of the character.

Sketch out the thin neck and the bent arm below the head, and add decorative elements.

Sketch out the Sally's dress.

Depict the dress, consisting of many patches of various shapes, using curved lines and a zigzag.

Draw the element on the character's neck and hair.

Depict short lines on the Sally's neck, add the hair in the form of curved lines and a zigzag.

Add the outlines of the second hand and the rose in the Sally's hands.

Use curved lines of different lengths to draw the hand and the flower as shown.

Sketch out the legs.

Add the thin legs and shoes, and draw decorative elements using straight and curved lines.

Add decorative elements to the dress.

On the borders between the drawn patches on the dress, draw a lot of short straight lines.

Color the drawing.

Use shades of blue, turquoise, shades of gray, pink, brown, beige, and purple.
Don't forget to download the PDF file, which contains a short version of this lesson, as well as additional practice materials to help you complete it.