How to Draw Santa Claus for Kids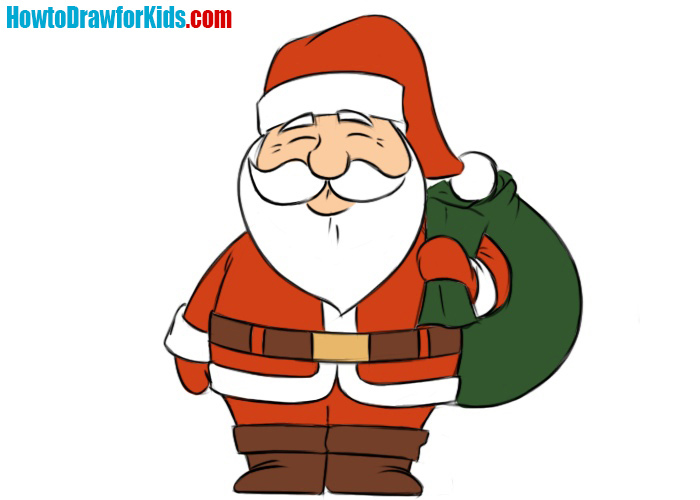 I recently heard an incredibly strange thing. They say that Santa Claus does not exist. It is a lie, of course. Santa Claus is so real that I could not resist creating a new drawing instruction. That is why now we will work with a drawing instruction on how to draw Santa Claus for kids.
Step 1
You are probably used to the fact that in the first stage, the contour of the head is much larger than the contour of the body. We draw in cartoon style and it really is. But in this instruction, the body should be much larger than the head.
Step 2
In this stage, we will draw limbs to get an approximate silhouette of Santa Claus. You can see short and thick legs. The contour of the legs tapers slightly downwards. Arms should be tightly attached to the body. At the end of this stage, we will draw two intersecting lines on the face. Pay attention that the horizontal line is higher than in other drawings.
Step 3
Have you ever seen a smooth-shaven Santa Claus? I also do not. Therefore, in this stage, we will depict the outlines of the mustache, beards, and facial features of our character. Also in this stage, we will draw the famous Santa Claus hat.
Step 4
Time to work with Santa Claus clothes. Our kind Christmas wizard always wears outerwear. Therefore, we will depict the contours of the belt, fur coats, and warm pants.
Step 5
In this stage, we erase the excess construction lines and draw several wrinkles on the face of our Santa Claus.
Step 6
Repeat the same actions from the previous stage. Draw in details the belt buckle and the folds of the fabric on the bag. There are probably a lot of gifts. I heard that Santa loves not only good guys but also those who draw well.
Step 7
Draw the bottom of the coat of our Santa. Also in this stage, we will draw the contours of the legs and boots in detail.
Step 8
In this stage, paint Santa Claus in traditional Christmas colors. Avoid too bright colors. To convey the atmosphere of a Christmas card, you should use dark red and dark brown.
This was a step-by-step instruction on how to draw Santa Claus for kids. As you can see, it was very easy and fast. You can depict additional details to make your drawing of Santa Claus more interesting and cute. For example, you can depict gifts sticking out of a bag or Rudolph the Red-Nosed Reindeer in the background.