In this lesson, I will tell you how to draw a Tweety Bird step by step. This lesson is designed for beginners to complete.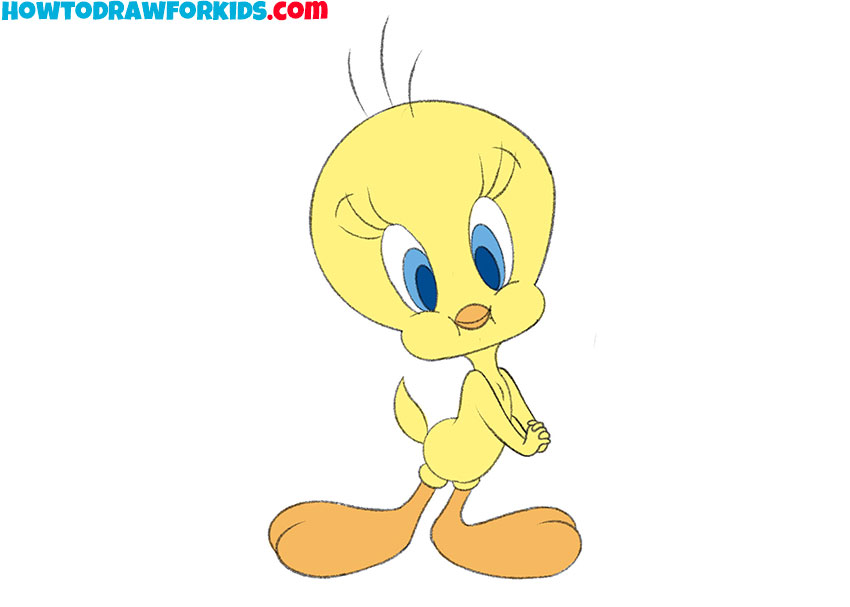 I suggest you complete this wonderful drawing lesson, in which I will tell you how to draw a Tweety Bird step by step. This is another fascinating lesson dedicated to drawing cartoon characters.
Tweety is a yellow canary, a cartoon character who gained popularity in a duet with the cat Sylvester. In the first cartoon "The Story of Two Cats", the hero appears as a small chick without fluff, and in subsequent episodes he acquired bright yellow plumage.
Together with Sylvester, he became the most famous cartoon character of the mid-20th century. Tweety is smart, cunning, and quick-witted. And the description of a defenseless chick does not fit him at all, because he is very brave and cheerful.
So, if you want to learn how to draw this funny cute character, then I recommend that you start doing this drawing lesson right now.
Materials
Pencil
Paper
Eraser
Coloring supplies
Time needed: 30 minutes
How to Draw Tweety Bird
Draw the outline of the head and add markings.

Depict the character's head with rounded lines, add two circles and some lines.

Add facial features.

Inside the previously drawn shape, add some ovals of different sizes and rounded lines.

Finish drawing the character's facial features.

Draw several arcs and incomplete ovals of various sizes.

Depict the outline of the neck and torso.

Below the previously drawn outlines of the head, add a circle and some curved lines.

Add the contours of the upper limbs.

Draw several curved lines near the previously drawn torso.

Sketch out the hands.

Depict the character's hands crossed using curved lines.

Add the tail and top of the legs.

Sketch out several incomplete ovals, as well as curved lines of various sizes.

Finish drawing the legs of the character.

Below the previously drawn elements, draw long curved lines, as shown in the figure.

Color the drawing.

To color this character, use yellow, orange, and shades of blue.
If you liked this tutorial and found it useful, you can share it with your friends. I remind you that you can download the PDF file that I have prepared especially for your convenience. This file contains a short version of this lesson and has additional useful training materials. Download this file so as not to lose it and return to this lesson at any time convenient for you.