According to fairy tales, a chicken is a bird that lays golden eggs. I would like to show you how to draw a chicken face for kindergarten.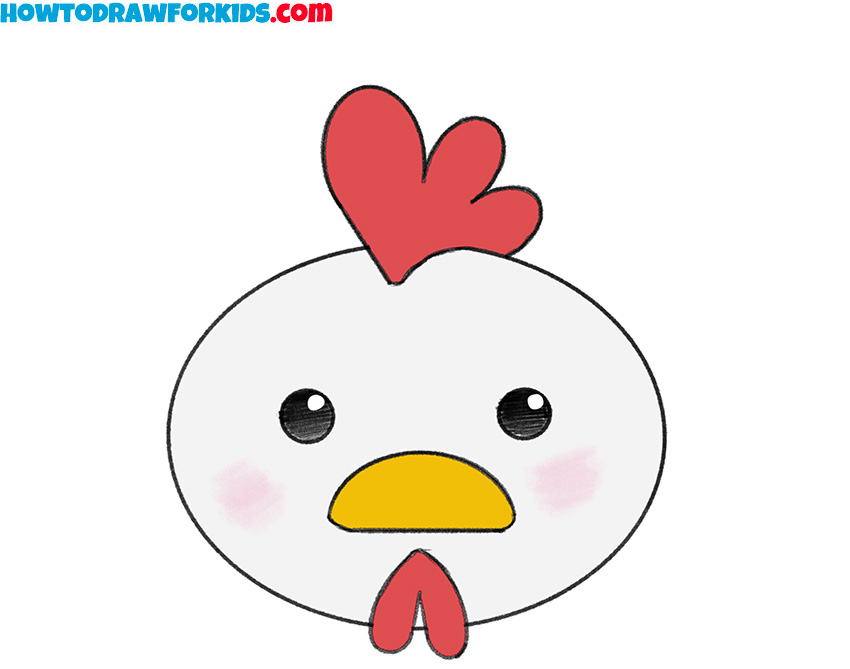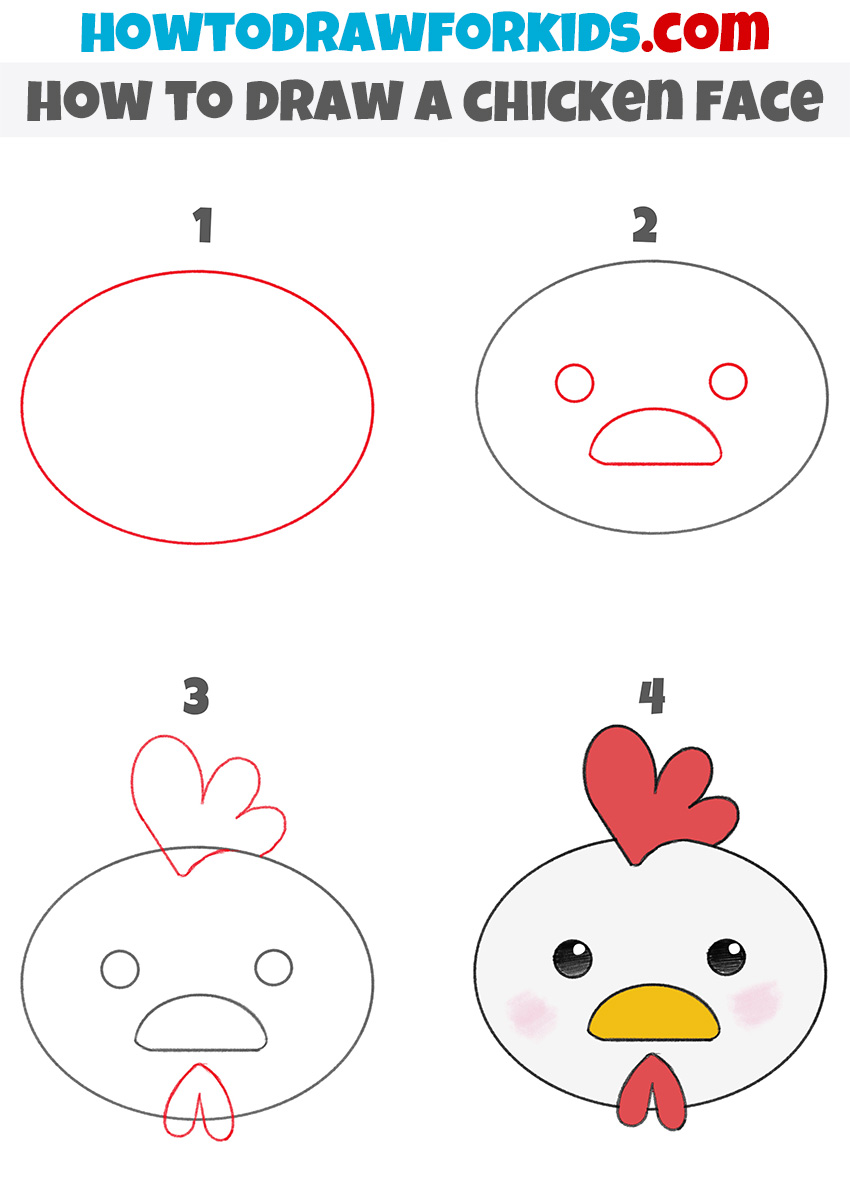 In previous tutorials, I showed you how to draw a chicken. In this step-by-step tutorial, I will show you how to draw a chicken face for kindergarten. If you enjoyed doing the previous tutorial, then this tutorial will be interesting too. You already know that the pages of the site contain the simplest shapes that are easy to repeat. This guide will also be accessible, straightforward, and easy to follow.
The chicken face drawing tutorial consists of four easy steps. Here you will not draw the whole bird as a whole, but only the chicken's face. The lesson is specially adapted for young artists who are just learning to draw birds and animals. Train your skills with this simple example and over time you will easily draw more complex shapes.
The drawing is made in a cartoon style, so there is no complex construction. The chicken's face looks very funny. You can draw all the lines without much difficulty.
For coloring, you can use any color you like. You can leave the chicken's face white, or you can use gray or brown. Try to draw a chicken's face in different versions and then evaluate which option is better.
So, get down to doing this fun tutorial.
Materials
Pencil
Paper
Eraser
Coloring supplies
Time needed: 12 minutes.
How to Draw a Chicken Face for Kindergarten
Draw the outline of the head.
Determine the location and size of the muzzle and depict the even oval.

Add the elements of the face.
Draw the eyes in small circles and draw the beak in the middle.

Portray the scallop and wattle.
Using smooth, rounded lines draw the scallop at the top and the wicker at the bottom.

Color the chicken's face.
Color the scallop and wattle in red, the beak in yellow. Color the rest at your discretion.
That's all! The chicken face drawing tutorial is over and you can rate your work. Hope you tried every step of the way and now you like the result. What color did you choose for coloring the chicken? Did you keep the white color or did you get creative and use a different color? Write about it in the comments.
Share the result with your friends. Take drawing tutorials cute animals together. This way you improve your drawing skills and have a good time.
Finally, I suggest downloading the PDF of this tutorial to get free access to additional materials. This will help you complete drawing tutorials even when there is no Internet access.