In this lesson I will show you how to draw a cute boy. The step-by-step guide will be very helpful for everyone.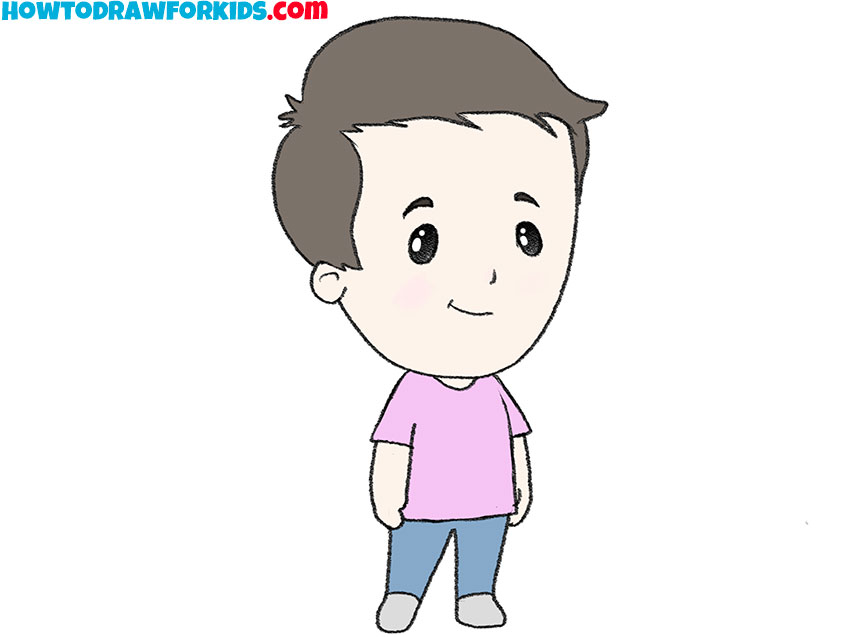 With the help of clear and accessible instructions, you will learn how to draw a cute boy. I tried to make this tutorial as simple as possible so that you get a good result the first time.
The boy is drawn in cartoon style. Usually such characters have unrealistic proportions. Many cartoon characters have a large head, expressive facial features and a small torso. This is exactly what drawing principle you will use in this lesson.
You see that the boy has a large head, a small body and short limbs. Try to keep these proportions in your drawing. For coloring clothes, you can use the same colors that are suggested in the instructions or any other colors of your choice.
Materials
Pencil
Paper
Eraser
Coloring supplies
Time needed: 30 minutes
How to Draw a Cute Boy
Draw the head and torso.

First draw the head in the shape of an oval and then add the small torso.

Depict the elements of the face.

Draw the small oval-shaped eyes, add the nose and the mouth.

Add the rest of the elements of the head.

Draw the small eyebrows and on the side of the head draw the rounded ear.

Sketch out the hair.

With the help of smooth curved lines draw the outline of the hair on the head.

Draw the legs.

In the lower part of the body, draw the short legs in the same position as in the example.

Sketch out the hands.

From the head, draw down smooth lines and draw the arms that fit snugly against the body.

Depict the clothes.

Draw the neckline, sleeves, and bottom outline of the T-shirt. Add the outline of the shoes.

Correct inaccuracies.

Look at the drawing and if you notice any mistakes, correct them. Remove extra lines.

Color the drawing.

Paint the hair and skin with natural shades, color the clothes with any bright colors.
Another drawing lesson has come to an end, and now you know how to quickly and easily draw a cute boy. If this lesson was interesting and useful for you, then leave a small review in the comments. I recommend downloading the PDF file, which contains a brief instruction and additional training materials.