In this lesson, you will learn how to draw a face looking to the side. This drawing lesson consists of nine easy steps.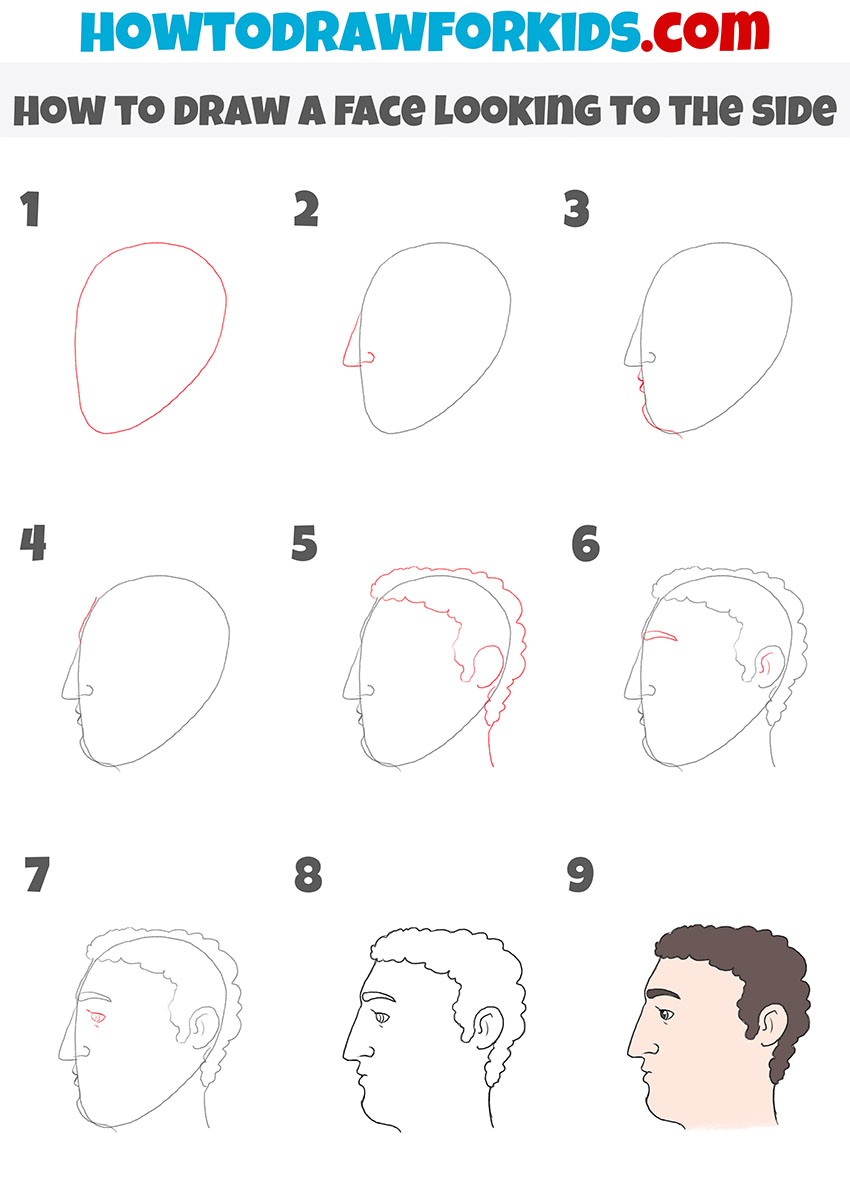 If you want to practice drawing a human face, then this lesson will help you a lot, in which I will tell you how to draw a face looking side step by step.
The ability to draw a person's face will definitely come in handy for drawing your future portraits, so I recommend that you carefully follow this lesson.
The position of the face looking to the side is usually called the position of the head in profile. Thus, only one half of the face is visible, located on either side of the symmetry of the body or head of a person.
Often various writers or prominent personalities are depicted in this way in textbooks, and such pictures are also used by sculptors and scientists in preparation for the creation of portrait images, sculptures and portrait busts, for example, ancient Roman ones.
Materials
Pencil
Paper
Eraser
Coloring supplies
Time needed: 30 minutes.
How to Draw a Face Looking to the Side
Draw the outline of the head.

You need to depict a shape that looks like a deformed oval using a curved line.

Add the outline of the nose.

On the left side of the previously drawn outline, add two curved lines.

Depict the outlines of the mouth and chin.

Below the outline of the nose, add several curved lines of varying lengths.

Sketch out the forehead line.

Above the outline of the nose, draw a small curved line.

Add the outline of the hair, ear and neck.

To complete this step, you need to use wavy, curved lines.

Draw the eyebrow and the inside of the ear.

Depict the eyebrow with a curved line, and also add dashed lines inside the outline of the ear.

Sketch out the eye.

Under the eyebrow outline, add the eye in the form of arcs and short lines.

Correct inaccuracies.

Use the eraser to remove any unnecessary guide.

Color the drawing.

At this stage, choose any colors.
Don't forget to follow us on social networks and download the PDF file prepared by me below. This file contains all the main information of this lesson, with useful materials and templates that will make it easier for you to complete this drawing.