I offer you a new drawing lesson in which you will learn how to draw a Megalodon. This instruction is simple and consists of eight steps.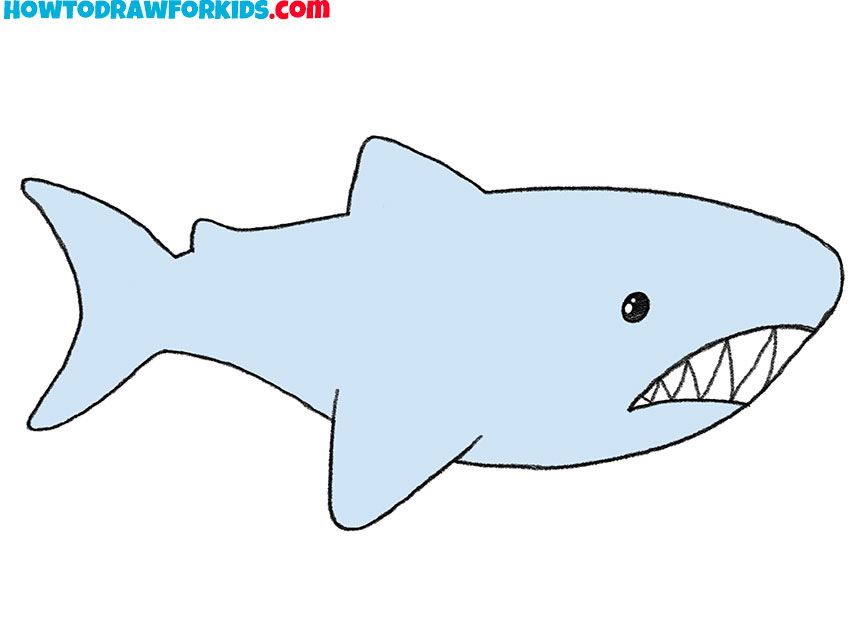 If you want to learn how to draw a Megalodon step by step, then this lesson will be useful to you. With the help of this instruction, both an experienced artist and a beginner or a child can complete the lesson.
Megalodon is a species of shark believed to be extinct. Therefore, now this animal is part of history. In appearance, the Megalodon is similar to an ordinary shark, however, in terms of its size, it was considered the largest predatory shark in the history of the Earth.
In this lesson, you will first draw the outline of the Megalodon's torso, then add the facial features, fins and tail. A distinctive feature of this animal will be huge, pointed teeth.
Materials
Pencil
Paper
Eraser
Coloring supplies
Time needed: 30 minutes
How to Draw a Megalodon
Draw the outlines of the torso.

Depict an arbitrary shape using a long, curved line.

Add the contour of the eye and mouth.

In front of the contour of the previously drawn torso, draw an oval, as well as two curved lines.

Depict the teeth.

Inside the previously drawn outline of the mouth, add a zigzag using lines of different lengths.

Sketch out the fin.

At the top of the previously drawn torso, add one fin using a curved line.

Add another fin.

To complete this step, draw another curved line at the bottom of the torso.

Sketch out the third fin.

Draw the small fin at the back of the animal's torso using a small, curved line.

Depict the animal's tail.

At the back of the previously drawn Megalodon torso, draw the tail using curved lines.

Color the drawing.

Use blue and black. Add the highlights on the eye.
I would like to remind you that at the end of this lesson you can find a PDF file containing a short version of this lesson, as well as other useful materials.