I am sure that you will really like the lesson on how to draw a realistic person, because this guide is simple and consists of nine steps.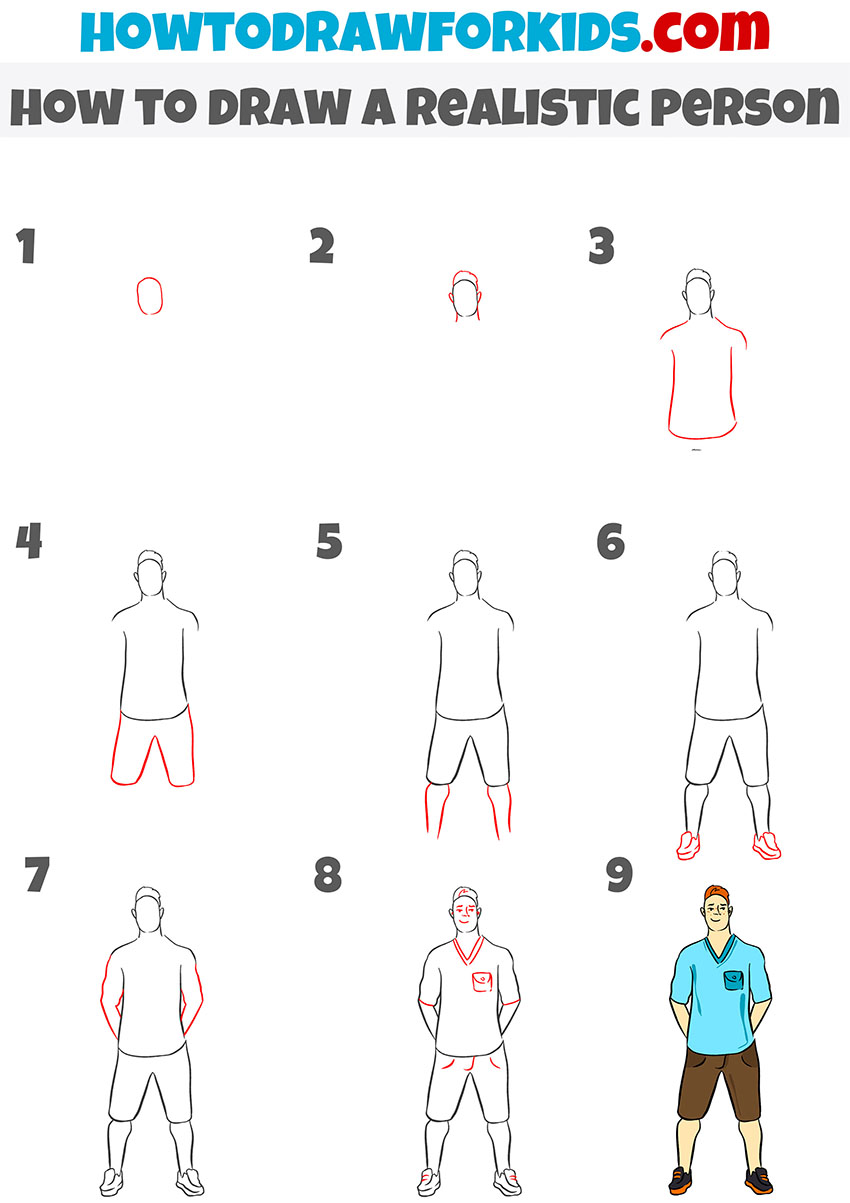 In this drawing tutorial I will tell you how to draw a realistic person. I think you will enjoy this tutorial and be happy with the result.
When drawing, you need to carefully monitor that the parts of the person's body are in the drawing in proportion to each other. If you follow all the recommendations in the instructions, then your drawing will turn out to be very realistic.
If you think this tutorial will be too difficult for you, then you should not worry. I have prepared this guide especially for children and aspiring artists. Therefore, I am sure that you can handle it, even if you have no drawing experience at all.
Materials
Pencil
Paper
Eraser
Coloring supplies
Time needed: 20 minutes
How to Draw a Realistic Person
Draw the outline of the head.

Depict an oval-like shape using a curved line.

Add hair, ears and neck.

At the top of the head, add a hairline, along the sides draw the ears, and then depict the neck.

Depict the main part of the outline of the torso.

Draw the shoulders with curved lines, and add the outline of the sides and bottom of the t-shirt.

Sketch out the outline of the breeches.

Use straight lines to draw the breeches as shown.

Draw the legs.

Depict the lower legs with curved lines.

Add shoes.

Draw roughly identical sneakers at the bottom of the legs.

Sketch out the hands.

Depict the arms slightly bent at the elbows and tucked behind the back.

Add details.

Depict decorative elements of clothing, and also draw the facial features.

Color the drawing.

Choose any colors to paint a realistic person.
I think you have coped with this tutorial and are happy with the result. Now you know how to draw a realistic person. If you liked this tutorial, please share it with your friends. Don't forget to follow us on social media. I have prepared for you a short version of this lesson in the form of a PDF file, which you can download and use at any time convenient for you, even without the Internet.