Now I will show you how to draw a baby animal. I promise that this lesson will be simple and interesting for each of you.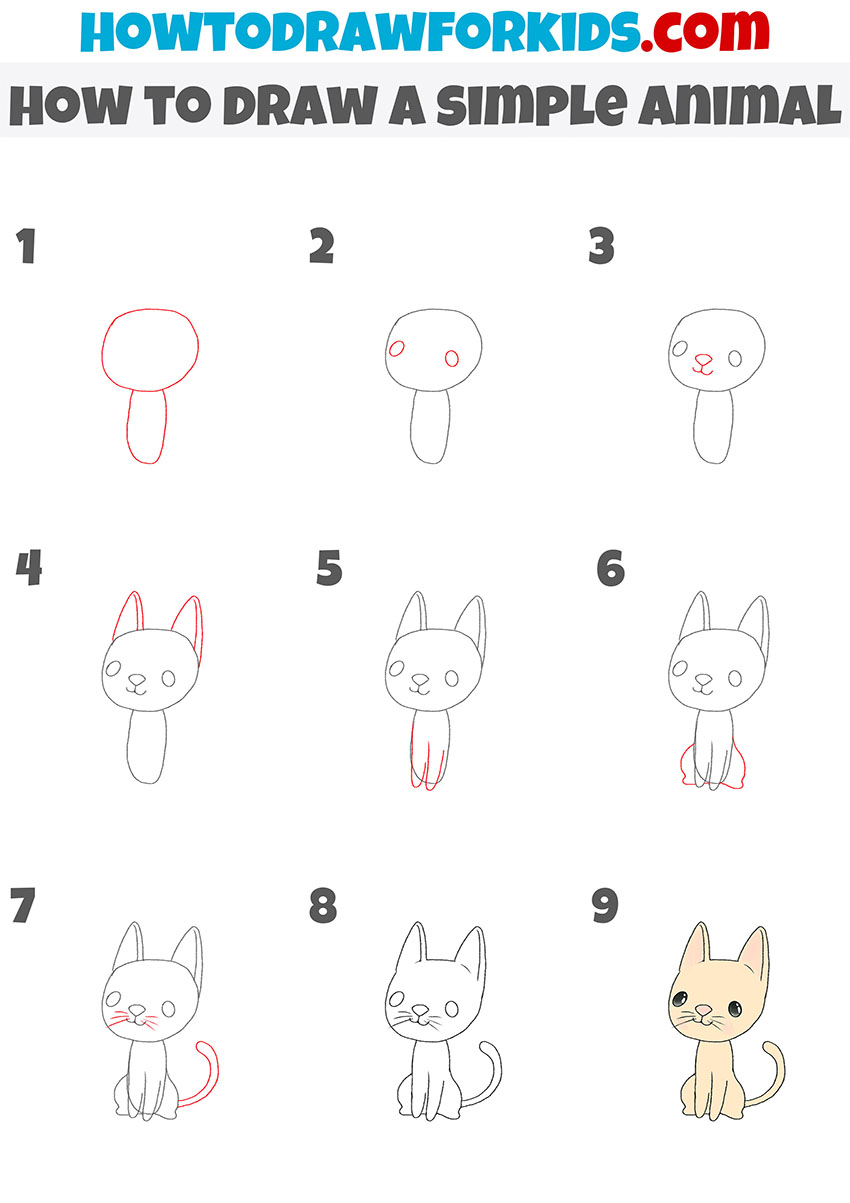 Now I will show you in detail how to draw a baby animal step by step. As an example, I chose a baby cat. In this picture, you see a cute kitten, which is presented in an unusual way.
The kitten has a very large head, expressive elements of the muzzle, large ears and a relatively small body. Thanks to such proportions, the kitten looks very funny. Here the kitten is depicted in a sitting position and slightly turned his head to the side. Try to correctly portray this position.
You can use the acquired skills in the future to create new beautiful drawings. So, I will ask you to prepare all the art supplies that are necessary to complete the lesson, and you can get to work.
Materials
Pencil
Paper
Eraser
Coloring supplies
Time needed: 30 minutes
How to Draw a Simple Animal
Draw the head and torso.

First draw the head in the form of an uneven circle, then add the small torso.

Depict the eyes.

On the sides of the head draw two oval-shaped eyes.

Add the remaining elements of the muzzle.

Draw the nose between the eyes and use two smooth lines to draw the mouth.

Sketch out the ears.

Draw two large pointed ears on the top of the head.

Draw the front paws.

With the help of smooth lines draw two paws that are located side by side.

Depict the hind legs.

Now draw curved lines to the sides and draw the hind legs in a sitting position.

Add the mustache and tail.

With the help of thin strokes depict the mustache and draw the tail that is raised up.

Correct inaccuracies.

Take the eraser and remove all extra lines on your drawing.

Color the drawing.

Color the fur beige, color the nose pink and color the eyes black.
This ended a fascinating lesson on how to draw a baby animal. Share this lesson with your friends and try the lesson together. As usual, I have prepared a PDF file for you in advance, in which you will find a brief instruction and additional useful materials necessary for the quality implementation of the lesson.