How to Draw a Simple Human
This lesson will be very useful for you, because in it, you will learn how to draw a simple human. This guide consists of nine simple steps.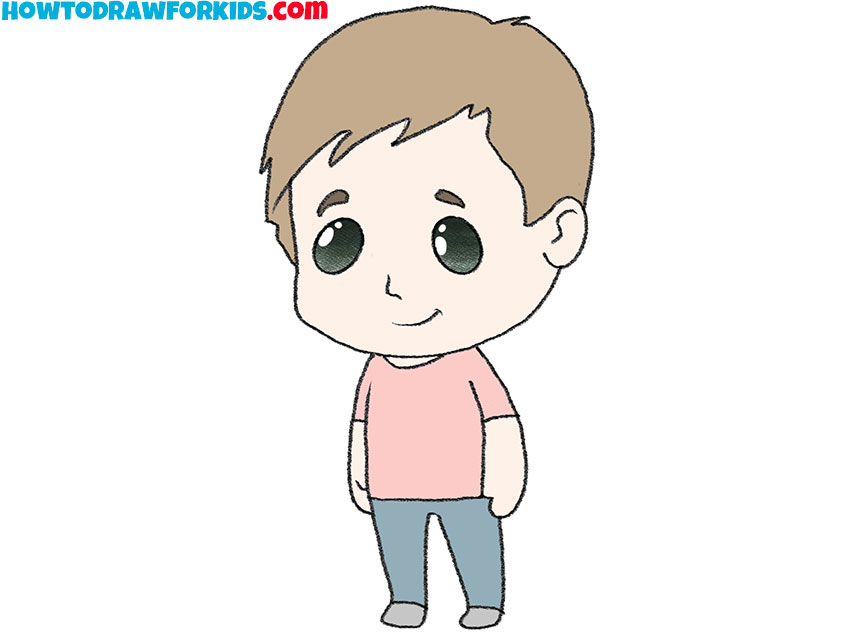 I have prepared for you a great drawing lesson in which I will tell and show you how to draw a simple human step by step. This lesson will help develop artistic skills for novice artists and children.
The simple person that you draw with the help of this instruction will be made in a cartoon style. Note that the human's head looks quite large compared to the proportions of his body, this way of depicting makes your drawing more cute.
By learning how to draw a simple person with the help of this instruction, you will be able to depict different people or characters in the future. And now you can prepare all the necessary art supplies that you will need to draw and get started.
Materials
Pencil
Paper
Eraser
Coloring supplies
Time needed: 30 minutes
How to Draw a Simple Human
Draw the outline of the head and torso.

Depict the head as a slightly deformed oval, add the torso as a curved line.

Add the facial features.

Draw the eyes, nose, and mouth inside the outline of the head, using ovals and curved lines.

Sketch out the hair and ear.

At the top and side of the head, draw broken curved lines and add an arc.

Draw the eyebrows and the inside of the ear.

To draw the auricle, draw a curved line, draw the raised eyebrows.

Add the outlines of the human legs.

Below the drawn torso, depict two symmetrical legs using curved lines.

Draw the contours of the arms.

To the right and left of the human torso draw the arms using curved lines of different lengths.

Depict the outlines of the human clothing.

Add straight lines on the arms and waist, add lines below the head and at the bottom of the legs.

Correct inaccuracies.

Use the eraser to remove unnecessary guidelines.

Color the drawing.

To color the drawing, use any colors.
Subscribe to us on social networks so as not to miss new useful lessons. Now you can download the PDF file that I have prepared for your convenience. This file contains all the necessary useful materials for this lesson so that you can not lose this lesson in the absence of an Internet connection, and also return to it at any time convenient for you.