In this drawing lesson, I will tell you how to draw a suit step by step. This lesson will be very useful for every aspiring artist.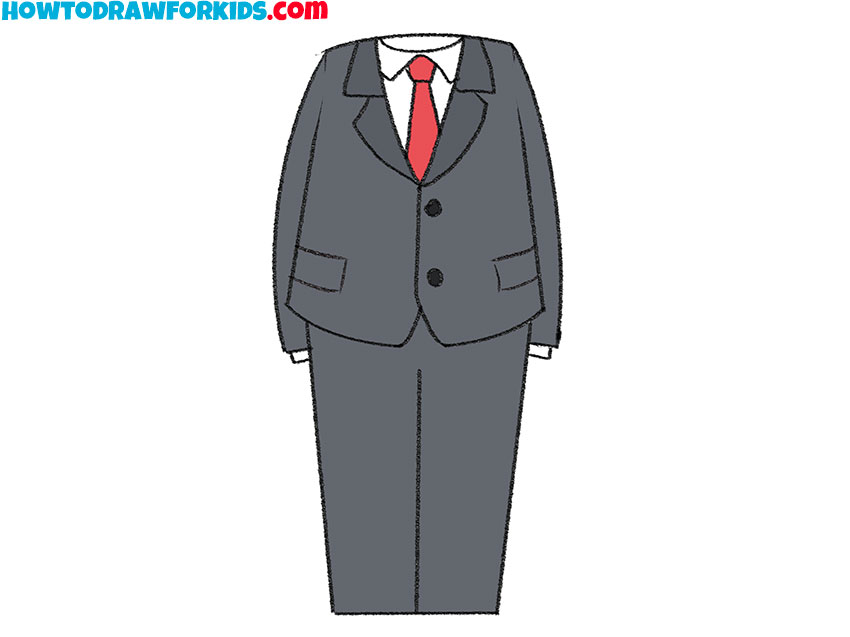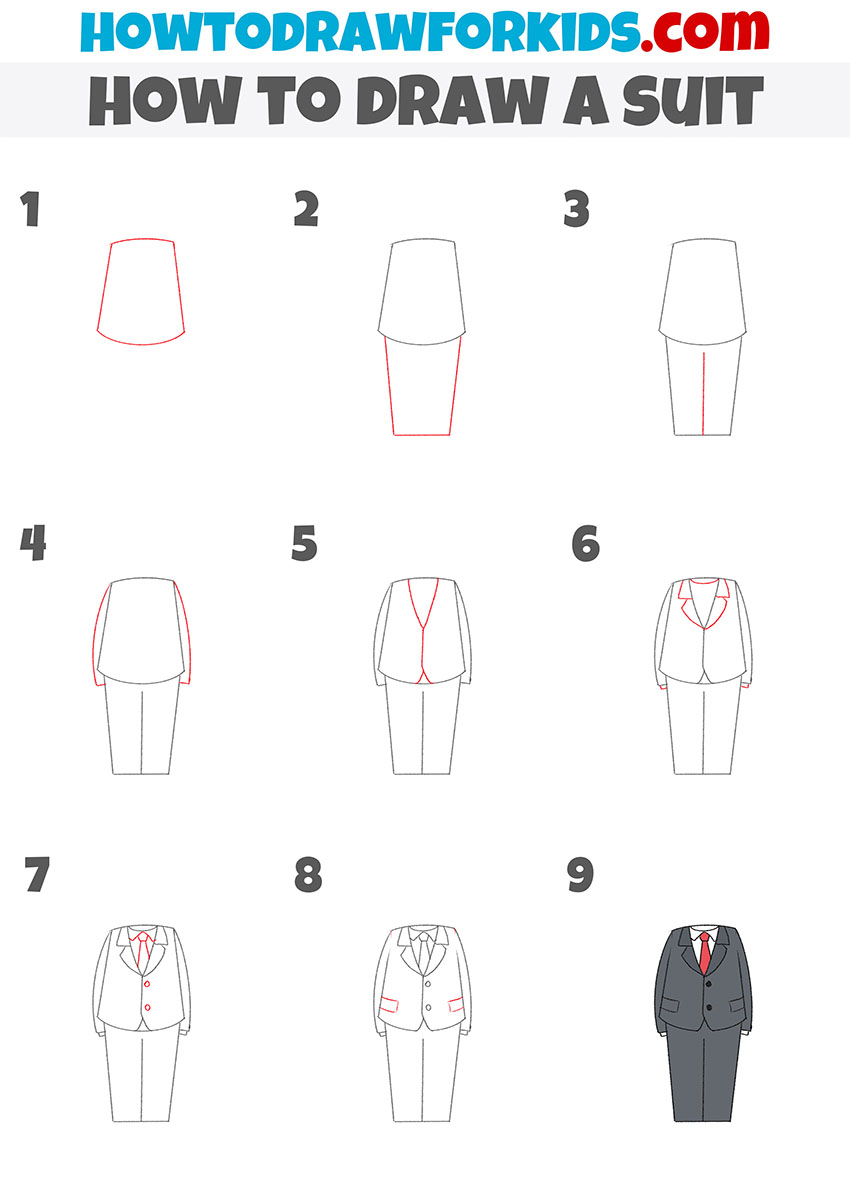 So, I have prepared a great drawing lesson in which I will tell you how to draw a suit step by step. Surely you have seen a suit worn by someone many times.
This type of clothing is considered classic, so the suit is the most commonly used clothing. By learning how to draw a suit with this simple drawing lesson, you will be able to depict any person or character wearing a suit.
The suit is a set of several items of outerwear. Suits are different, but most of them contain the same elements of clothing. The suit includes jacket, pants, vest, shirt, and tie. The skirt, bow tie, and blouse may also be considered a suit.
In order to draw a quality suit with the help of this lesson, you need to be able to draw straight lines. This lesson is prepared specifically for beginner artists and children, so it does not contain complex elements.
Materials
Pencil
Paper
Eraser
Coloring supplies
Time needed: 30 minutes
How to Draw a Suit
Start drawing the top of the suit.

To complete this step, you need to draw two straight lines and connect them with two arcs.

Add the bottom of the suit.

Below the previously drawn figure, draw three straight lines, as shown in the figure.

Sketch out the pants.

To depict two legs on the pants, you should draw one straight vertical line.

Depict the sleeves.

To start drawing the jacket, draw two arcs and two short lines.

Add elements of the jacket.

Draw several curved lines inside the previously drawn outline, as shown in the figure.

Draw the collar and cuffs on the sleeves.

Depict the collar with curved lines, and add straight lines at the bottom of the jacket sleeves.

Depict the tie and buttons on the jacket.

Draw the tie and shirt collar near the collar of the jacket. Add the buttons in the form of circles.

Sketch out the pockets on the jacket.

Inside the outline of the jacket, add symmetrical pockets on the right and left sides.

Color the drawing.

To color this suite, use red, black, and shades of gray.
For your convenience, I have prepared a PDF file in which you can find a short version of this tutorial and additional useful materials for completing it. Download this file to return to the lesson at any time. Don't forget to check out other drawing lessons on our site that will help you develop your artistic skills and learn how to draw other different types of clothes.