I invite you to a lesson in which I will show you how to draw a villager. This instruction will be interesting and useful to each of you.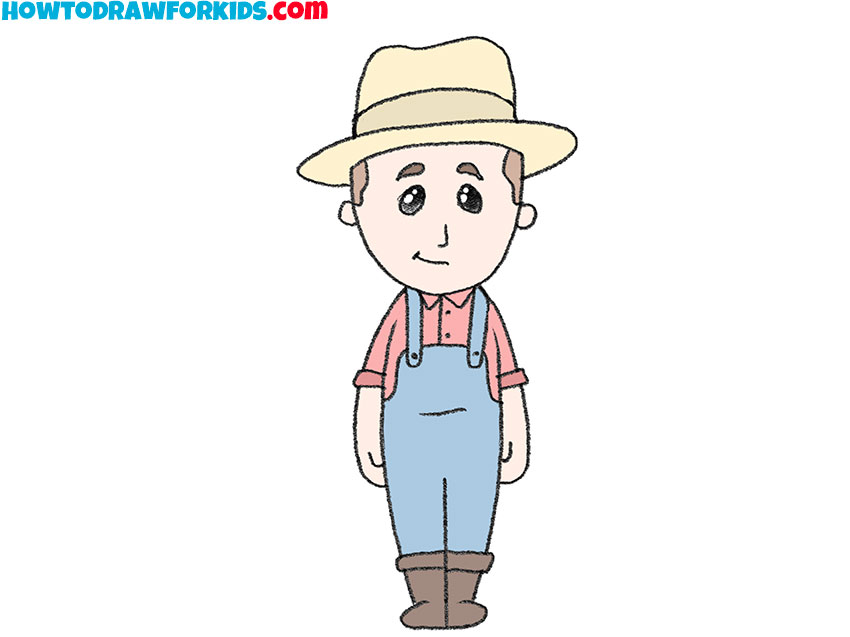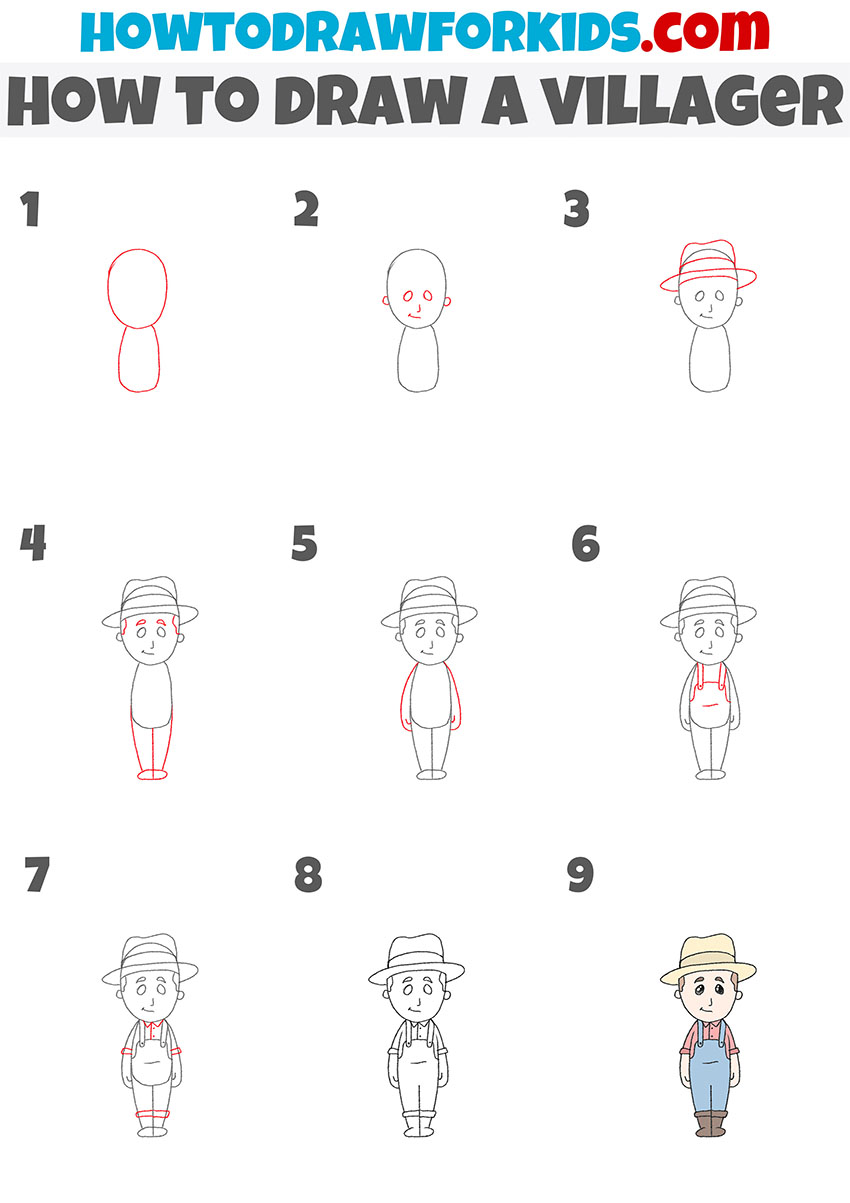 If you complete this drawing lesson, you will learn how to draw a villager. Undoubtedly, the lesson will be very useful for you, as you will once again practice drawing a human figure. Pay attention to the clothes of this man—he has a hat on his head, which protects from the sun while working in the field. The villager is dressed in a comfortable shirt with short sleeves and overalls, and he has boots on his feet. Such clothes are great for doing any work in the countryside.
During the lesson, be careful and patient. Try to draw the same lines as shown in the example. For coloring clothes, you can choose any shades that you like.
Check if you have all the art supplies at hand and start this tutorial.
Materials
Pencil
Paper
Eraser
Coloring supplies
Time needed: 30 minutes
How to Draw a Villager
Draw the head and torso.

First draw the head in the shape of an oval, then add the small torso.

Sketch out the ears and facial features.

On the sides of the head, add the ears, draw the nose, mouth, and eyes in the form of ovals.

Depict the hat.

Use smooth, rounded, curved lines to depict the brim hat.

Add the rest of the elements of the head and the lower part of the body.

Depict the eyebrows and hair at the temples. Draw the legs that are placed together.

Draw the arms.

From the head, draw down smooth lines to depict the arms that fit snugly against the torso.

Depict the jumpsuit.

In the middle of the torso, draw the upper contour of the overalls and add two vertical straps.

Sketch out the rest of the clothes and shoes.

Draw the outline of the sleeves, the collar and the upper outline of the boots.

Correct inaccuracies.

Correct the mistakes if necessary and remove any extra lines.

Color the drawing.

Use natural shades for coloring hair and skin. Color the clothes with bright colors.
Another drawing lesson has come to an end, and now you know how to draw a villager. I hope you did a great job with this creative challenge. If you have any questions, you can ask them in the comments. By tradition, I have prepared a PDF file that contains all the useful information about this lesson. Rather, download the file so that you have access to the lesson at any time.