I have prepared for you an exciting lesson in which you will learn how to draw a wolf with wings. I hope you enjoy this lesson.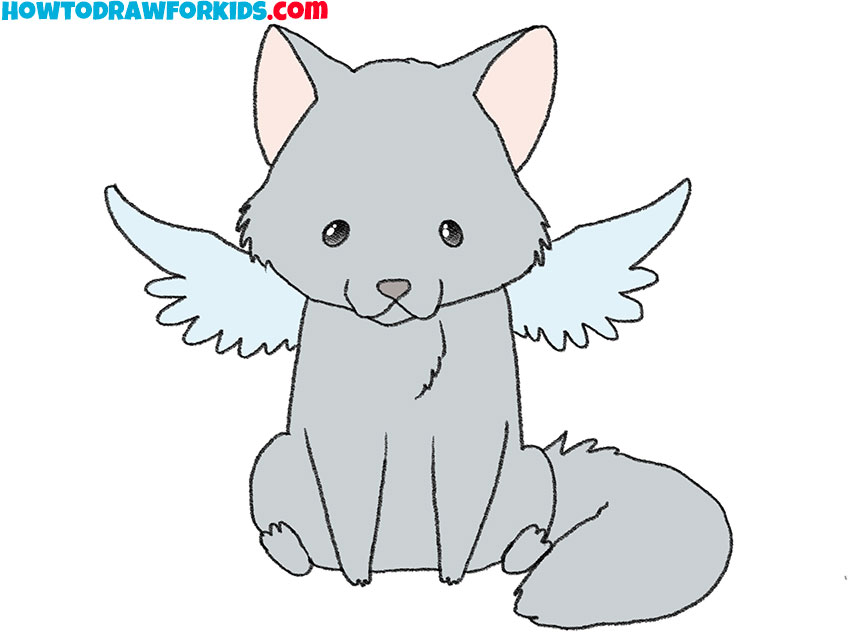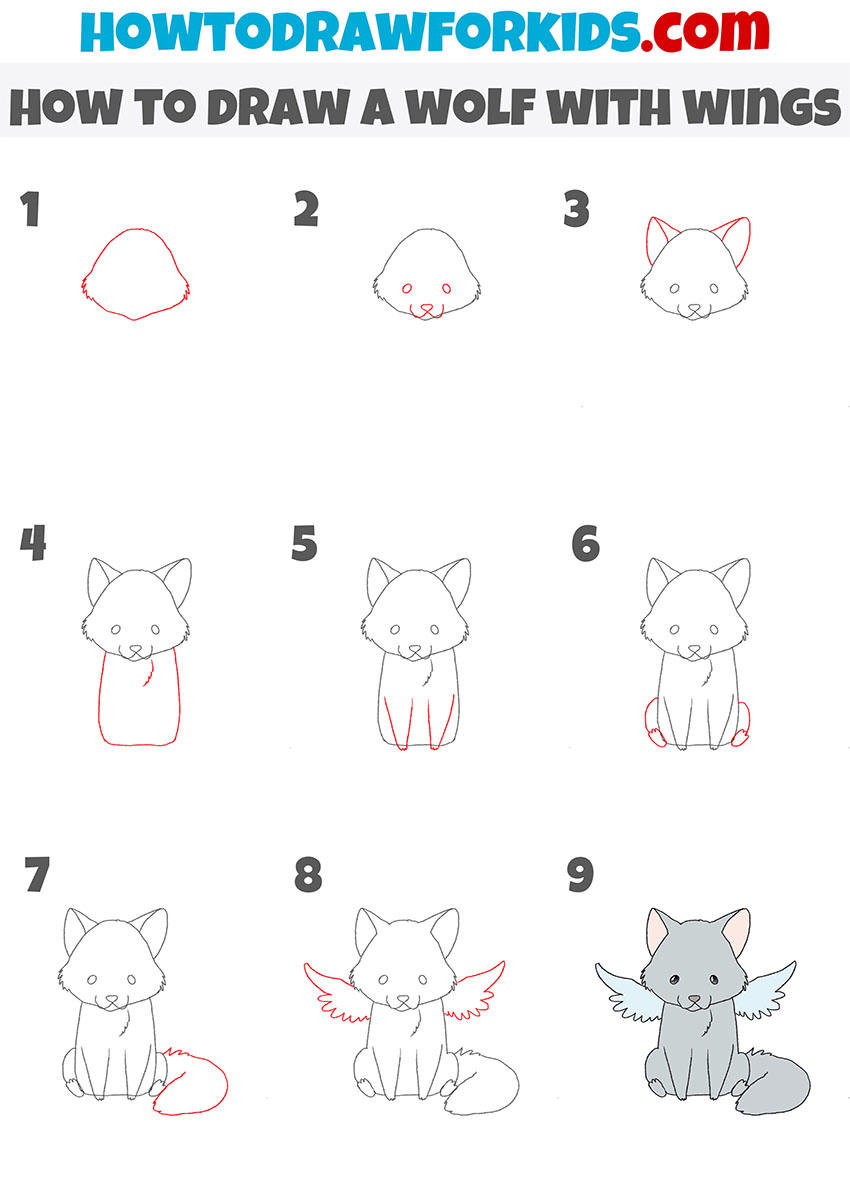 Greetings to all beginner artists, and I propose to complete a simple lesson in which I will show in detail how to draw a wolf with wings. This instruction is very simple and contains nine steps with a description. In the picture, you see a wolf that looks very funny. Here the wolf is presented in an unusual way, since it has two wings behind its back. Such a wolf can not only run fast, but also deftly move in space thanks to its wings.
This lesson will be very useful for you and you can use the acquired skills to create new wonderful drawings. For example, you can easily draw a wolf, a fox, or a dog, as well as a bird that has spread its wings wide. Remember all the drawing steps so that in the future you can easily reproduce a similar animal if necessary. Now I will ask you to take your art supplies and start the lesson.
Materials
Pencil
Paper
Eraser
Coloring supplies
Time needed: 30 minutes.
How to Draw a Wolf with Wings
Draw the head.

Add the head, in which the lower part is wide and has tufts of the fur on the sides, and the upper part is round.

Add elements of the muzzle.

Depict the eyes, and the nose and the mouth with smooth rounded lines.

Sketch out the ears.

With the help of smooth lines, depict two ears, while maintaining symmetry.

Depict the torso.

Below the head, draw the torso in the shape of a rectangle and add the hair on the chest.

Draw the front paws.

In the lower part, draw the front paws, which have a wide base and taper towards the bottom.

Depict the hind legs.

Use rounded lines to draw the hind legs and add small feet.

Add the tail.

Draw the fluffy tail on the side of the body.

Sketch out the wings.

Draw two wings of the same shape as in the example.

Color the drawing.

For coloring, you will need pink, black, gray, and blue.
I want to remind you that now you can download a PDF file with a short version of the lesson for free. The file contains simplified instructions and additional training materials that will help you complete this lesson at any time, regardless of your Internet connection.