Now I will show in detail how to draw an easy cow. This simple instruction will appeal to any aspiring artist.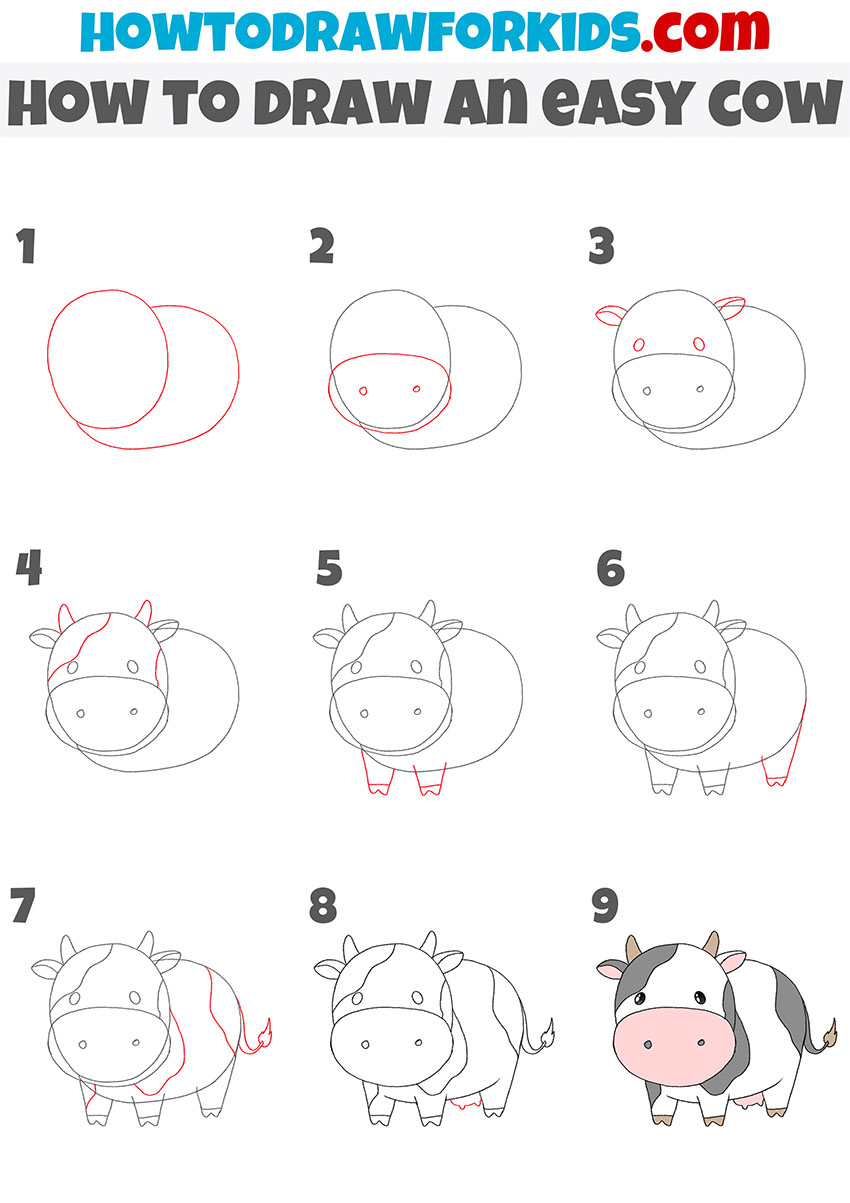 In just a few easy steps you will learn how to draw an easy cow. This pet is familiar to everyone, and you have seen a cow more than once in a picture or in real life.
Here is a very easy drawing method that is great for beginners. In the drawing, the cow looks unrealistic, but very cute. The cow has a large head, a round body, and very short limbs. Try to keep these proportions in your drawing.
Perhaps you want to get to work as soon as possible. If all the art supplies are already at hand, then start sequentially following all the steps in this instruction.
Materials
Pencil
Paper
Eraser
Coloring supplies
Time needed: 30 minutes
How to Draw an Easy Cow
Draw the head and torso.

Depict an oval-shaped head, then add the torso using a smooth line.

Add the front of the muzzle.

Depict an oval at the bottom of the head and add the nostrils as large dots.

Sketch out the ears and eyes.

On the sides of the head, add the small ears and draw the oval-shaped eyes.

Add the horns and detail the coloration.

Draw two small horns and outlines where the fur color will be different.

Draw the front legs.

Depict the short legs at the bottom and add the hooves at the bottom.

Depict the back leg.

With smooth lines draw the back leg, which has a wide base and tapers towards the bottom.

Add the tail and spots on the body.

Draw the tail with the brush at the end and draw spots with smooth curved lines.

Sketch out the udder.

Draw the udder at the bottom of the body with a curved line.

Color the drawing.

You will need gray, brown, pink, and black.
The easy cow is ready! I hope that you did your best at each stage of drawing, and you like the result of the work. For your convenience, I have prepared a short version of this manual in PDF format. You can download this file right now and use it any time you want to get creative.