How to Draw an Easy Ghost
This drawing lesson will help you learn how to draw an easy ghost step by step. This guide consists of nine simple steps.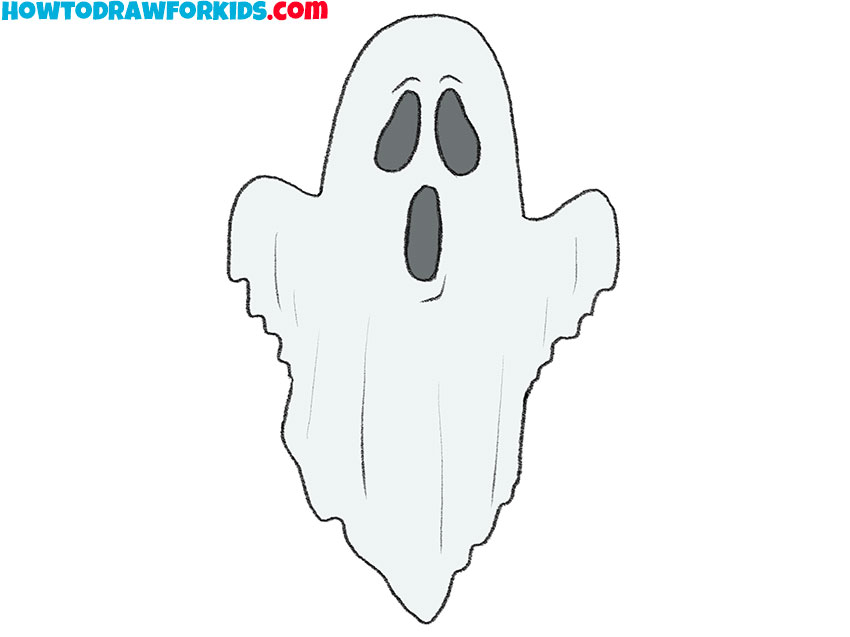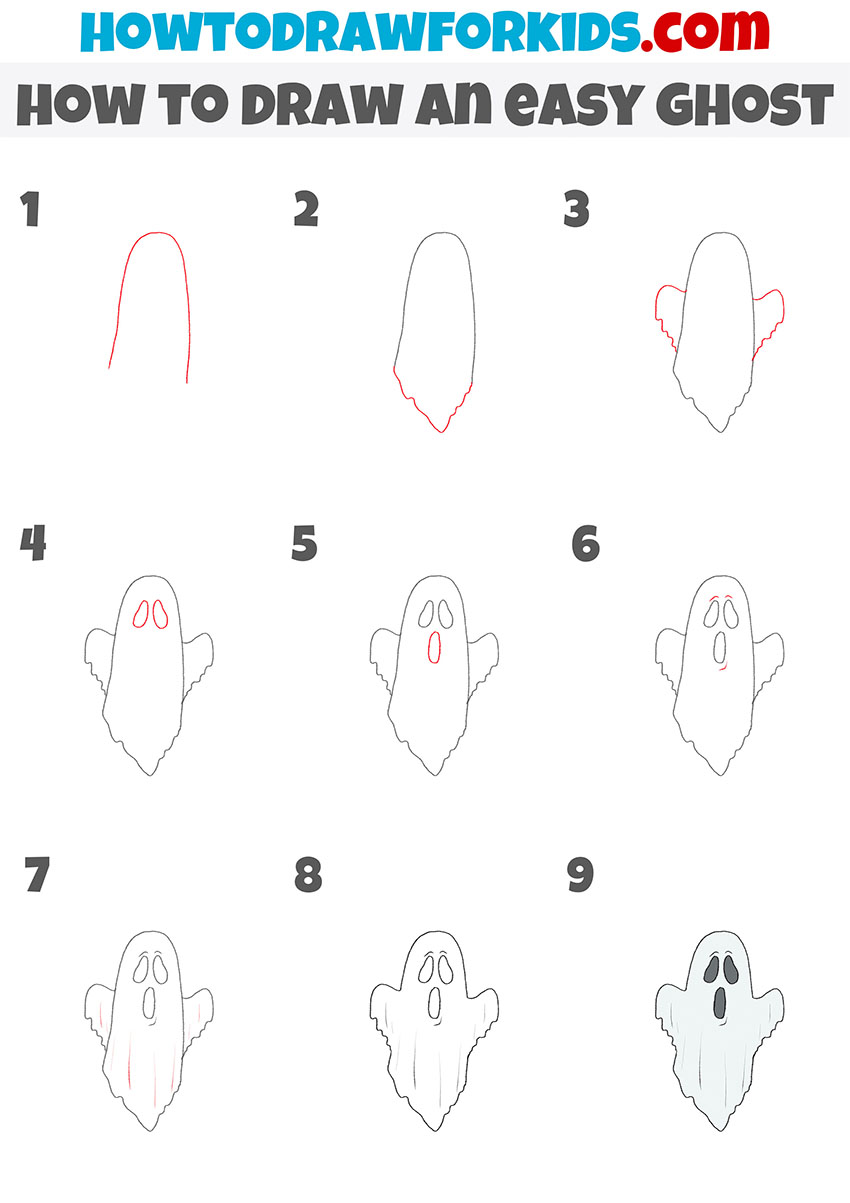 So, I have prepared for you this interesting drawing lesson, in which I would like to tell and show you how to draw an easy ghost step by step. This unusual mythical creature is of interest to many people, is considered not fully understood, and is also an excellent object for drawing. You shouldn't have any trouble following this tutorial, as I've designed it specifically for beginner artists and kids.
The ghost is, in traditional beliefs, the soul or spirit of a dead person or mythical creature, manifesting itself in visible or other form in real life. Belief in the existence of spirits and ghosts is widespread among mankind: it is present in the culture of almost all peoples and obviously goes back to the worship of the spirits of dead ancestors. Often, the ghost is depicted as a figure that looks like a man in a sheet. We can see ghosts in various films and cartoons, where they are typically presented as cute and funny rather than dangerous or evil.
To get a great drawing, you need to follow each step of this manual carefully and slowly. Having learned how to draw a simple ghost, you can depict it as the main object of your drawing or complement any other unusual picture of yours with this image.
Materials
Pencil
Paper
Eraser
Coloring supplies
Time needed: 30 minutes
How to Draw an Easy Ghost
Draw the top outline of the ghost.

To complete this simple step, you will need to draw one long, curved line.

Finish drawing the outline of the ghost.

Now you should connect the ends of the previously drawn curved line with another line.

Add the outlines of the hands of the ghost.

On the right and left sides of the drawn body of the ghost, draw two curved and wavy lines.

Sketch out the outlines of the eyes.

In the upper part of the outline of the body of the ghost, draw two symmetrical eyes.

Depict the mouth.

Below the previously drawn eyes, draw the wide open mouth of the cast in the form of an oval.

Add decorative elements.

To make the face look more realistic, add curved lines above the eyes and below the mouth.

Depict the folds on the torso.

Now you should add some thin lines of different lengths on the torso and arms.

Correct inaccuracies.

Use the eraser to remove extra lines and prepare the drawing for coloring.

Color the drawing.

To color the ghost, you should use blue and gray colors.
I will be glad to read your feedback and ideas for new drawing lessons. Don't forget to download the PDF file, which contains a short version of this lesson, as well as additional practice materials to help you complete it.